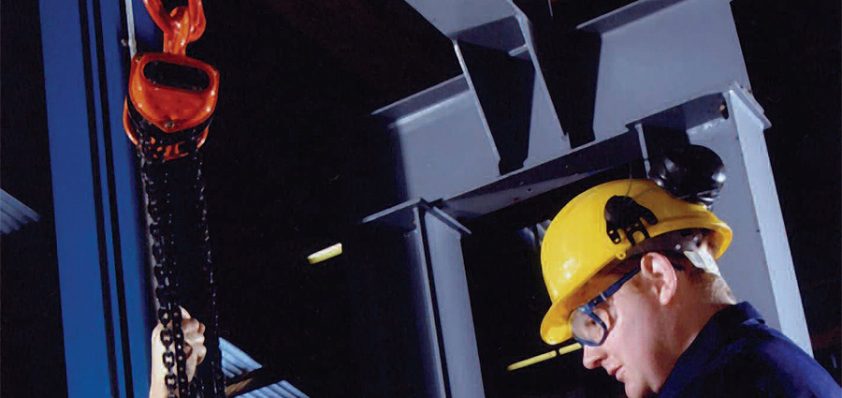 A much needed lift
Certex is one of the UK's leading providers of market leading lifting equipment, and associated servicing, installation and certification.
From 16 service sites throughout the UK, the company serves a number of leading customers in the offshore and manufacturing sectors. As a relatively new business, Certex is looking to continually expand, both through organic growth and acquisitions, and has recently acquired Global Defence Procurement.
Charles Gillespie, sales and marketing manager at Certex elaborates on the company's short, but exciting history: "Certex was established around two years ago as the result of an MBO from Bridon. Today, we offer an extensive range of lifting products and services, ranging from product supply of items including lifting machines, winching machines, fibre ropes and lifting accessories, through to the full installation and servicing of cranes. We offer a complete package that encompasses supply, through inspection, repair and maintenance (IRM), to full certification.
"Certex has a number of key strengths," Charles continues. "Predominantly, we ensure that we always have quality products. If a customer buys from Certex they know that they will get a market leading product with excellent performance and a long life. Secondly, we have tremendous experience and knowledge among our personnel. Our engineers possess Lifting Equipment Engineers Association (LEEA) qualifications, in addition to further training that we provide for them in-house. Importantly, because we are an independent company we can make decisions very quickly, and pick up on fluctuations and opportunities in the market."
As part of its commitment to continually improving its services for its offshore clients, the company has opened a new lifting facility: "We opened the new branch in Aberdeen very recently," says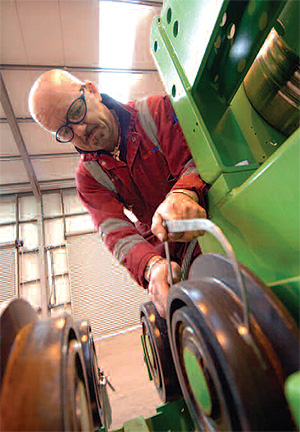 Charles. "It has been designed to provide a complete range of products and services to a broad range of customers. It will be a purpose-built facility, and as part of the programme we have invested around £10,000 in new processing equipment to a full range of testing and refurbishment facilties."
The new lifting centre, based at the Harehill Industrial Estate in Aberdeen, comprises modern manufacturing capabilities, dedicated training facilities, warehouse space and offices. The site will function similarly to the company's other facilities, handling the hire and sale of lifting gear, and completing product inspection, testing, repair and maintenance. The improved space will enable the company to hold larger amounts of product stock in an important offshore area, and to provide services that are tailored to the local requirements.
To further expand its business into new markets, Certex has acquired Global Defence Procurement (GDP), a company with considerable experience in the defence arena: "GDP was a relatively small acquisition, which focuses on the defence industry through the MoD and other defence related customers," Charles explains. "Previously we had been doing a small amount of work in the defence sector, but we want to have a larger focus in the market in the future.
"We are incorporating GDP as a defence division within Certex," he continues. "The
company has premises in Devonport naval base in Plymouth, and Portsmouth dockyards, meaning it is situated very closely to its main clients. GDP has considerable expertise in sourcing products, providing a complete package, and working very closely with its clients. The business uses a lot of ex-service personnel with a lot of accumulated knowledge in their field."
Certex provides leading lifting equipment and associated services to customers in a number of industries: "We supply across the UK to offshore, oil and gas and manufacturing customers, including Sparrows Offshore, Amec, Ensco, Expro, Corus, Associated British Ports, RS Components and the Port of Felixstowe," Charles comments. "Customer focus, and close co-operation is very important throughout our operations. For example, one of our clients occupies an office at our Great Yarmouth facility. For this agreement we provide labour, warehouse space and a refurbishment space. In addition, we have a number of contracts where our personnel are permanently on site completing maintenance and inspection duties."
Aside from its vast product range, Certex is renowned for its inspection and maintenance services. The company provides both loose and fixed gear inspection, with a complete service for test and certification, either on site of at local Certex facilities. All tests are carried out by highly skilled engineers according to Certex and LEEA standards, and can encompass inspection of all types of manual, hydraulic, pneumatic and electric lifting equipment, inspection of overhead crane systems and mobile and pedestal deck cranes, and proof load tests of all varieties of lifting equipment.
Charles explains that despite recent consolidation in the industry, he is confident Certex can continue to expand: "We believe there are a lot of opportunities in the market at present, particularly to grow in our existing customer base and focus on our larger customers. There was some consolidation in the industry recently, but there is still a lot of fragmentation. We aim to continue to expand the range of products that we provide, whilst looking to expand our geographical coverage through a number of acquisitions. Where we see an opportunity to grow the business we will always quickly move into that area," he concludes.
Certex UK Ltd
www.certex.co.uk