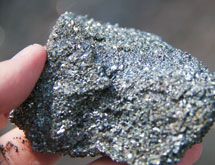 In the rush to take advantage of the recent rise of the price of gold into the stratosphere and to find rare earth minerals, the price increases in metals used for more practical purposes can get trampled. But steel built North America, and iron is the source of steel. Now steel is building China, the Middle East, India and developing economies worldwide, and the price of iron in China has risen to $120 a tonne. This is at a level that makes development of iron ore deposits discovered in Quebec in the 1960s economically profitable. Taking advantage of this "iron rush" is Champion Iron Mines, which has 17 strategically located projects covering 714 square kilometers near existing producers in the Fermont iron ore district in northeastern Quebec.
Additionally, Champion Iron Mines has claims covering 310 square kilometers in the Schefferville region of northeastern Quebec and western Labrador. Champion also has majority control of two copper projects in central Newfoundland.
The advantages of mining in Quebec are plentiful. The region is politically stable and has existing infrastructure. Four companies currently are producing iron ore in the Fermont Iron Ore District (FIOD), which is renowned for its iron ore. It is located in the southern region of the Labrador trough and is in northeastern Quebec and western Labrador.
Money and Mouths
Champion Iron Mines Inc. began drilling in the Fire Lake North area in the FIOD at the height of the economic crisis. "In January 2009, we started drilling," recalls Jeff Hussey, executive vice president of business development. "We took pretty well the last million we had at that time – which was right after the global financial crisis in October 2008 – and we continued with our vision to drill these compelling projects and put our money where our mouth was. The drilling returned some very good initial results that year."
With these favorable drilling results from exploration in the Fire Lake North area over the last three years, the company has increased the net present value of this project from $1 billion to $4 billion, as estimated by two separate preliminary economic analysis studies, Hussey declares. This helped the company to obtain an additional $30 million in financing in 2012.
Southern Labrador Trough The Labrador Trough has three different types of iron ore. The southern Fermont Holdings in Quebec are where Champion has focused its current efforts, more specifically in Fire Lake North.
This area hosts a coarser-grained meta-taconite. This coarser grain size requires only 10 percent of the energy needed to liberate the iron compared to the finer-grain size of taconite ore located in the northern portion of the trough. Additionally, the coarser the ore is, the softer it is and the faster it goes through the autogenous grinding mill that grinds and liberates the iron. "When you're dealing with 23 million tonnes a year and you have 10 percent of the energy cost, it makes a significant difference," Hussey notes. The Fermont area is serviced by route 389 and the QNS&L Railway, along with 315 kilovolt and 161 kilovolt power lines. "Quebec is a great place to be developing a mine," Hussey declares. "The Quebec tax incentive for exploration has a 40 percent tax rebate on the exploration costs. The electrical power is some of the cheapest in the world. It's a really good place to be for iron ore development."
Life Expectancy
Champion Iron Mines estimates the Fire Lake North project can produce 8.7 million tonnes annually of concentrate grading 65 percent iron over the first 25 years of the mine's 40-year life."Spending $1.4 billion to build a mine and having a payback period of 2.3 years is a very robust economic model," Hussey points out. Additionally, during the first five years of mining, the ore is significantly coarser and higher grade. This could increase production up to 10 million tonnes annually.
The ore also is below industry specifications limits for all deleterious elements, such as aluminum, phosphorous, manganese and sulfur. Because of this and its coarseness, it can be sold as sinter fines, a granular concentrate of iron. Finer-grained taconite has to be pelletized in a rotating kiln to make marble-sized pellets for sale. This is a step that Champion Iron Mines does not need for its sinter fines.
"So 80 percent of the world market wants this sinter product – only 20 percent wants the finer grain-sized concentrate known as fines," Hussey emphasizes. "It's a better market to be in – that's what differentiates us."
More to Come
Recently, a press release announced that definition drilling has outlined more mineralization outside the open pit limits in the preliminary economic assessment. That update to the resource estimate will be announced sometime before the feasibility in October.
In early July, the OilCan resource was announced, adding another billion tonnes of oxide ore as well as an additional billion tonnes of oxide ore mixed with silicates. This deposit also was amalgamated into the Consolidated Fire Lake North (CFLN) project. At the same time, the Bellechasse project hosting 215 million tonnes was also included in the new CFLN project. This project bodes well for Champion Iron Mines' future growth profile, with more than 2 billion tonnes in proximity to a centralized concentrator complex.