Small in scale, big in potential
The last 12 months has been a good period for Chart Ferox (Chart). In that time, this recognised global specialist in the design and manufacture of highly engineered cryogenic equipment that is used in the liquid gas supply chain, has experienced strong sales growth. While all of its product lines have seen growth in line with its projections, it has been the company's LNG projects that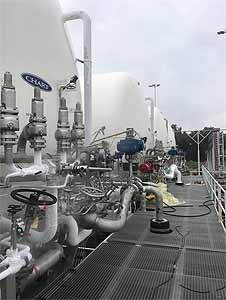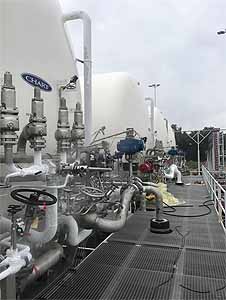 have excelled.
For its part, Chart is the world's leading single-source LNG equipment and solutions provider across the complete LNG value chain, from liquefaction and distribution, to storage and end-use fuelling. It is what the company describes as 'small-scale' LNG terminals that have been the biggest drivers of growth. One prominent example of this work can be found at the port of Klaipeda, Lithuania. It is here that Klaipedos Nafta is in charge of the development of the Lithuanian LNG terminal project, creating a small-scale LNG infrastructure and establishing the port as an LNG hub for the Baltic countries and north-eastern Poland.
"Chart is partnering with the German company PPS Pipeline Systems to deliver this exciting complete turnkey project," explains Chart's European President, Hans Lonsain. "Our involvement in this project sees us providing most of the key equipment and technology, including the preparation and delivery of the cryogenic section, comprising storage tanks, two truck loading bays, marine bunkering jetty and the regasification plant."
Both Chart and PPS Pipeline Systems were recently on hand in late September 2017 when the terminal experienced the successful offloading of its first LNG product and the filling of two of the five Chart engineered and built 'Decinske Giant' cryogenic storage tanks with LNG. "This represents a significant milestone for the timely finalisation of this project," Hans continues. "The delivery of LNG to Klaipedos Nafta was only made possible as a result of the unloading infrastructure and associated safety equipment being installed on time, and this event sends out a strong signal to the market that small-scale LNG distribution from the terminal is a reality."
Another area in which Chart has been making great progress is the delivery of LNG/ LCNG fuelling stations for vehicles. In addition to the successful delivery of its seventh station to Shell in the Netherlands, the company has just recently announced the opening of its latest station in Ennshafen, Austria, by major European gas storage operator RAG, in cooperation with Iveco Austria. Like previous European stations, Chart engineered and manufactured the complete CE marked package which incorporates the Dynaflow 3000 LNG dispenser, remote monitoring and control systems, and other technical features for optimum safety, reliability, convenience and zero emissions to atmosphere. Furthermore, this latest skidded design facilitated full assembly and pre-testing in Chart's workshop to significantly reduce on-site installation time and cost.
"Our specifically designed skidded stations meet the industry's demand for low cost solutions and short delivery times," Hans states. "Upon receiving a customer's order, we have the ability to
begin building said stations immediately, and their design is such that installation and commissioning time is kept to a minimum, further reducing the cost for the customer. Nevertheless, it is important to point out that every skidded station we build includes all of the safety features present in our larger stations and can be equipped with all approved metering systems."
In addition to the number of projects the company has completed in the past few months, September 2017 also saw the finalization of Chart's acquisition of VCT Vogel, a trusted German business, servicing cryogenic and other mobile gas tank equipment and trucks, and a European leader in truck mounted drive and control systems for the operation of cryogenic pumps on trailers, rigid trucks and containers. The acquisition expands and strengthens Chart's service and after-market presence in Southern Germany, Austria and Switzerland, and adds highly complementary truck drive systems to Chart's mobile equipment offering.
Hans, commenting at the time said; "VCT Vogel GmbH (VCT) is a market leading company for cryogenic services in Germany, Austria and Switzerland with a proven competence to fulfil customer needs on short notice while maintaining a high-quality standard. It has an excellent reputation for outstanding technical capabilities throughout the markets it serves. In addition to its service offering, VCT manufactures state-of-the-art systems that are needed to drive and control cryogenic pump units. We are impressed by the long-term customer relationships VCT has built based on its technical competence, problem-solving capabilities and hands-on, extremely professional approach. Both VCT's services and its product range are a great complement to Chart's existing European offering. In the future, VCT will become a regional service provider for Chart Ferox, Gofa and Flow Instruments products. We are very excited to welcome the VCT employees to Chart."
With the industrial gas market also growing steadily in line with European GDP growth, Hans foresees a healthy continued interest in LNG ship fuelling systems and bunkering facilities. "Our own aim is to remain the supplier of choice for all of our customers by continuing to deliver high quality engineered products. We want to grow significantly and we will carry on developing new products and expanding into new markets in order to achieve this."
Chart Ferox a.s.
Products: Cryogenic storage and distribution infrastructure