Delivering excellence
A wholly owned subsidiary of Chart Industries, Inc., Czech Republic based Chart Ferox supplies equipment for the cryogenic storage and distribution of liquefied gases, including air gases (nitrogen, oxygen, argon), carbon dioxide (CO2), liquefied natural gas (LNG) and other hydrocarbons.
The range of equipment and systems available from Chart Ferox is very comprehensive, and thanks to its wealth of expertise and industry knowledge, the company is no stranger to working with blue chip clients on major contracts. For example, recently it has been involved with a groundbreaking project where 35 nations are collaborating to build the world's largest 'tokamak', a magnetic fusion device. Called ITER, ('The Way' in Latin) it is one of the most ambitious energy projects in the world today, with the aim to prove the feasibility of fusion as a large-scale and carbonfree
source of energy.
In May 2016, Chart Ferox manufactured two massive tanks each measuring 35 m x 4.5 m for ITER, which will form part of a cryoplant and will require special arrangements to be transported from the port of Marseille, Fos-sur- Mer, to the ITER construction site at Cadarache. The tanks will be used as 'quench tanks' for helium storage when needed, and represent a fundamental part of a project that includes a number of world firsts.
While the Chart Ferox name is synonymous with standard and custom engineered cryogenic storage technology, in fact the organisation's portfolio extends far beyond these products and the company is paving the way for the adoption of LNG as a safe, economic and green alternative to diesel in Europe.
"The majority of our business is still focused on technical gases, however we are slowly moving towards a bigger portion of LNG, and we will be focusing on that area as that is where we see the most opportunity for growth," commented Hans Lonsain, President of Chart D&S Europe. "Since we were last featured in Energy, Oil & Gas in 2013 the maritime LNG segment has seen expansion and we have been developing mobile bunkering solutions, including a project for a hybrid power ship in Hamburg, multiple LNG fuelling systems for maritime applications as well as nitrogen vaporisation and storage packages for floating LNG (FLNG). There are still big opportunities in the marine space, which is only just starting to develop and I think that sector will continue to mature and expand geographically."
He added: "In a joint venture with VTG, Chart Ferox has developed a rail car for the safe transportation of LNG on Europe's rail network. The rail car has been fully approved and tested and made available to the market."
Hans also noted that Chart Ferox is seeing clear opportunities in LNG for vehicle fuelling, with LNG fuelling stations being constructed across Europe. "This used to be a one off event but there is now a developing infrastructure of stations and an ever increasing amount of vehicles equipped to run on LNG in this emerging segment," he said. "Despite the recent fall in global oil prices, LNG continues to offer an attractive, cost competitive alternative to diesel, while proving to be a more environmentally friendly option as well."
A perfect example of how Chart Ferox works in this area is Shell's first European LNG Fuelling Station, which opened in Rotterdam in March 2015. Chart Ferox's detailed scope of supply included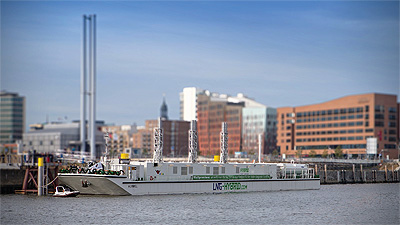 engineering, fabrication, installation and commissioning of the LNG storage tank, off-loading, pump skids, control and safety system, interconnecting pipe work and the LNG dispensers. The station has the capacity to fuel around 170 heavy-duty vehicles every day and, with Chart's technology, meets the industry's highest technical and safety standards. All Chart Ferox LNG stations can be supplied with a CNG fuelling option making them suitable for fuelling all natural gas powered vehicles.
From speaking to Hans about the variety of sophisticated projects Chart Ferox is undertaking, it is clear that the organisation's commitment to continuous improvement is setting it apart from the competition. "I do believe our dedication to innovation, combined with our global supply capability and end-to-end product portfolio has put us where we are today," Hans confirmed. "We have a global presence, which means we are one of the only cryogenic suppliers who can really supply in every country in the world, and we have a manufacturing presence in all the major world economies, which is a huge asset. We supply throughout the complete LNG value chain, from liquefaction plants through to end use equipment, so I would say we are the most complete and innovative supplier in the market today."
Maintaining this position is where the company's focus remains and Hans believes the key to continued future success lies in a flexible approach: "We see demand for products is changing quickly, so what we need to do is create an adaptable, flexible and responsive organisation able to satisfy a range of different requirements with short lead times and without sacrificing quality.
"This will bring challenges such as retraining staff, changing the layouts of factories and finding the balance between just in time manufacturing while maintaining the level of expertise and excellence synonymous with Chart. But, the market is asking for flexibility and that is what we will be striving to deliver."
Chart Ferox
Services: Supplies equipment and systems for storage and distribution of liquefied air gases and hydrocarbons