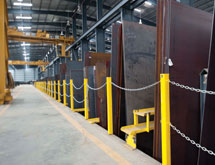 Some firms are not always completely open with their clients, but Chatham Steel Corp. succeeds by going in the opposite direction. The firm has built its business by being honest and forthcoming, President Bert Tenenbaum says. "We say what we will do and we do it," he declares. "We don't promise something we can't do."
The Savannah, Ga.-based firm provides structural shapes, plates and sheets, hot and cold rolled bars, pipes and tubing. Founder Samuel Tenenbaum started the company in 1915 as a scrap metal firm.
Throughout the years, it grew by branching off into different directions, Bert Tenenbaum says. "After World War II, [my family] determined there was an opportunity to sell new steel products."
In the late 1960s through the '80s, the company began to expand its distribution operations to include locations in Columbia, S.C.; Durham, N.C.; Orlando, Fla.; Birmingham, Ala.; and in 2011, Ironton, Ohio. In 1998, the firm became a subsidiary of Reliance Steel & Aluminum Co., a metals service center with more than 200 locations around the world.
One aspect that made the acquisition attractive to Chatham Steel, Tenenbaum says, was that Reliance had no desire to change the way it ran its business. "To this day, Chatham runs under the original Chatham Steel name and with some of the original management in place," he says. "Reliance has stayed true to their word and has provided Chatham and its customers access to products and services from Reliance's vast network of service centers and subsidiaries."
Chatham Steel's staff of approximately 300 workers strives to provide quality customer service. "We have built a reputation around that," Tenenbaum says. "When [our customers] place an order with us, they can trust us to make sure they're going to get what they ordered, when they order it."
Family Oriented
Tenenbaum has been with the company for 36 years. "It's a great company to work for," he says, noting that even though Chatham Steel is no longer a family owned firm, it keeps the atmosphere of one.
"We treat our employees like family," he explains. "We endure the tough times together, we share the good times together and we've got a great group of dedicated employees."
Chatham Steel also enjoys a low rate of employee turnover. "Once we find someone who fits in well, they tend not to go anywhere," he says. The firm not only provides its employees with strong benefits, but helps them grow their skills.
For instance, "We will give an employee who wants to go back to school part-time [hours]," he says.
Testament to Service
Chatham Steel has won many client service awards for its work, and the latest includes the GE / Hitachi Ltd. 2012 Supplier Award for Fulfillment Excellence provided by its nuclear program. "We have developed a very strong nuclear products and service program," Tenenbaum says.
"We [delivered] everything [to GE / Hitachi] on time," he recalls. "When you're in the nuclear arena, quality is absolutely tantamount to anything. It's a very demanding market to match the right products with the quality requirements for safety-critical materials. All of our orders to GE / Hitachi were delivered on time and with all required safety documentation done perfectly. You can't have one without the other and still be successful in this business."
Committed to Serve
This August, Chatham Steel will appear at the COAL-GEN conference in Louisville, Ky. "These are great shows for us," Tenenbaum says, adding that Chatham Steel places a strong focus on the Kentucky, Ohio and West Virginia markets. "We are very committed to serving in a much more defined capacity than we have in the past." This commitment is demonstrated by Chatham's recent opening in 2011 of a new facility in Ironton to better service the market. EMI