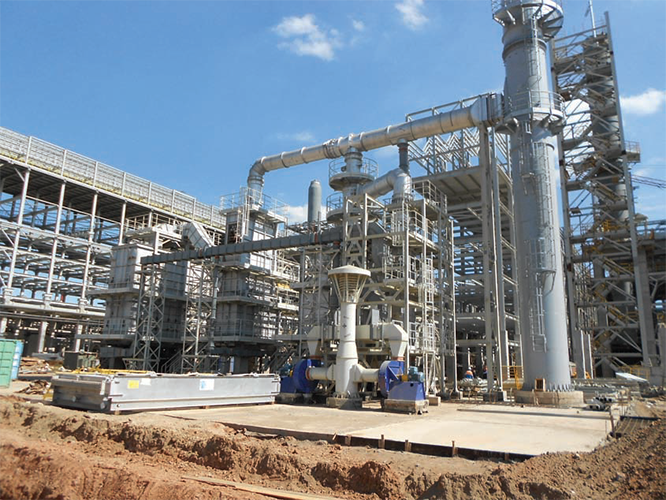 A warming market
Chempex-HTE is a highly specialist engineering company operating within the refining, petrochemical and chemical industries.
The company originally existed as a state-owned venture, until 1991 when it became a private organisation. Today, Chempex is a private Czech joint-stock company owned by current or former employees and currently employs around 35 specialists. As such, it retains decades of experience and continues to focus on the design and supply of fired heaters, waste heat recovery systems and burner systems.
The company manages an independently approved quality control system that is ISO 9001, environmental management ISO 14001, health and safety management OHSAS 18001, compliant and is strictly observed to ensure customer satisfaction and peace of mind. This dedication to ensuring its client's needs are met, coupled with over a decade of experience has allowed Chempex to supply its heat transfer systems across the world and collaborate with some of the market's largest names, as managing director Radomir Pospíšil elaborates: "Chempex' knowledge and skills are demonstrated by hundreds of fired heaters and accessories installed in Europe, Asia, Africa and Australia.
"The majority of the company's customers are formed by large supplier companies such as CB&I, Lurgi, Foster Wheeler, Bertrams Heatec, Schwitzerland, Prokop Engineering and UNIS, Czech Republic, which provide complete infrastructure for refineries. Apart from these, Chempex is also involved in projects commissioned by individual refineries directly including Česká rafinérská Litvínov, Slovnaft Bratislava, Pančevo Refinery, Kirisi Refinery, Mozyr Refinery, Rjazan Refinery, Płock Refinery, and Gazpromneft, Russia, for example."
At present, Chempex is primarily focused on the design of fired heaters for the refinery industry and secondarily on pyrolysis heaters. It maintains a thermal and chemical engineering department that is responsible for carrying out heat transfer studies, while the technical realisation of projects is supported by the company's mechanical department, static calculations team and piping strength analysis specialists. Its sales and procurement department represents a key point of communication between Chempex and its clients to ensure that every requirement is fulfilled. "Chempex wields highly specialised knowledge in the field of heat transfer, which has been cultivated by years of experience and close co-operation with customers," Radomir says. "The company not only provides the design of heater units, but offers supervision during erection, precommissioning and commissioning. The insights that are gained on construction sites are then used on new projects.
"Due to the variety of customers who have different technical requirements and company standards, Chempex employees remain in close contact with current developments in the field. High flexibility and a willingness to visit customers on-site are some of the key strengths of the company."
The strong reputation and leading industry knowledge that Chempex commands are powered by its investment in finding the most qualified engineers and in the development of its knowledge base and development tools. The company profits from close co-operation with the relevant departments of the Technical University Brno and offers topics for study and supervision of diploma theses. Promising students are often given the opportunity to go on to become Chempex employees, which ensures that skilled engineers are developed for the future market. Furthermore, its engineers are continuously developed through handson experience and regularly attend courses on new computation software and language courses to ensure that Chempex employees are ready to meet the challenges of the market as it continues to develop.
In addition to its focus on the development of its personnel, Chempex strives to ensure that it uses state-of-the-art, specialist equipment and tools to enable it to deliver first-rate design solutions to its customers. The company employs cutting-edge design programmes to aid its engineers that range from well known industry tools to custom applications that are designed in-house, as Radomir explains: "Apart from standard commercial software tools, Chempex has its own algorithms for thermal computations that have been developed by its employees since the very beginning of the company's existence. The results of the in-house computing software are comparable to other existing tools of the same type and by owning the source codes, the company's engineers are able to adjust the software tools as needed."
The company's collaboration with important scientific institutions including VUCHZ Brno and Technical University Brno allows it to access specialised equipment. Burner testing rooms and intensive computational fluid dynamic modelling of burning processes can be solicited from the university, allowing Chempex to create designs with a full package of design tools.
All of the equipment designed by the company is fabricated by reliable suppliers on the basis of long-term co-operation, so that Chempex customers can order with completepeace of mind. It offers full turnkey solutions, including the delivery of cylindrical heaters that are manufactured entirely in-shop and can be delivered at sizes of up to five metres in diameter as a single part. This greatly reduces the cost of installation and Chempex is able to produce any type of heater used within the refinery industry, such as heaters for platforming units, HDS units, hydrocracking, crude oil and vacuum distillation units as well as hot-oil units, visbreaking and various heaters of special use. The only limit to size and complexity of heaters is in transporting the finished products.
Currently, Chempex is completing deliveries for refineries in Russia, Belarus, Iraq and Poland, where it is undertaking the revamp of a convection section of a pyrolysis heater in Płock refinery. In addition to these projects it has invested into quotations for future projects including hydrocracking units for Mozyr refinery and block of heaters for crude and vacuum distillation units, distillate unionfining unit and CCR platforming process in Moscow refinery. Throughout 2014, Chempex considers Russia to be its key market with several emerging opportunities. With its strong portfolio of completed projects, world-class industry knowledge and first-rate facilities, Chempex is well placed to continue to lead the way in specialist fired heater design.
Chempex-HTE
Services: Specialised fired heater design