The history of Chesapeake Utilities Corporation (Chesapeake Utilities) stretches back to 1859
Record-breaking performance
Chesapeake Utilities Corporation is gearing up for a new era of sustainable energy, with trials already underway to blend hydrogen and natural gas at its Eight Flags Combined Heat and Power (CHP) plant in Nassau County, Florida
The history of Chesapeake Utilities Corporation (Chesapeake Utilities) stretches back to 1859, with the founding of the Dover Gas Light Company in Dover, Delaware. It was not until 1947 that the company was officially incorporated under its current name, a reflection of the company's growing service territories. Today, Chesapeake Utilities delivers energy to over 300,000 customers in nine mid-Atlantic and Southeastern states. Still headquartered in Dover, the company remains focused on delivering essential energy services to meet customer demand as well as the needs of its communities.
Chesapeake Utilities' foundational regulated natural gas transmission and gas and electric distribution utility operations represent approximately 80 percent of its total assets. Complementing its regulated businesses, the company operates several non-regulated businesses, including natural gas gathering and processing systems in Ohio, a CHP plant in Florida, a mobile compressed natural gas transport business serving customers across many parts of the country, propane distribution to customers in eastern states from Florida to Pennsylvania, and an emerging renewable energy business.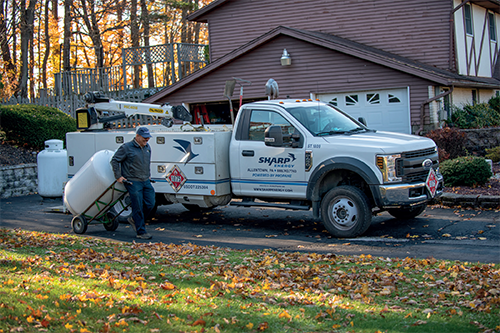 "Over a long period, we've built a stable business that effectively manages risk, sticks to a time-tested strategy, and consistently produces attractive results," insists Jeff Housholder, President and CEO at Chesapeake Utilities. "Our strategy dates back to 2004, when we formally adopted a fundamental and straightforward growth strategy that even today, continues to apply and serve our stakeholders well: to build on our solid foundation of growing regulated energy delivery businesses, and to invest in related non-regulated businesses that provide opportunities to produce returns greater than those of the regulated units.
"On the surface, that sounds fairly obvious," Jeff continues. "However, executing that strategy requires the discipline to optimize growth in our regulated units, control costs, and walk away from deals or projects that don't align with our strategy or financial targets. It's not growth just to get bigger. It is managed growth, operating an intentionally designed portfolio of regulated and non-regulated businesses that are similar in function and frequently work together to provide creative customer solutions and opportunities for enhanced margins."
It's been a busy few years for Chesapeake Utilities. After navigating the challenging economic conditions imposed by Covid-19, the company has welcomed a number of significant developments across its businesses. In 2021, Aspire Energy completed Chesapeake Utilities' first RNG pipeline project, while Eastern Shore Natural Gas Company and Chesapeake Utilities successfully expanded their natural gas service to Somerset County, Maryland, displacing wood chips and fuel oil. In addition, Sharp Energy's acquisition of propane assets in North and South Carolina expanded the company's Eastern Seaboard service territory, during a year in which the company eclipsed an impressive $2 billion in total assets.
For Jeff, Chesapeake Utilities' success is thanks in part to a track record of tackling adversity. "We have a long history of responding to natural disasters," he points out. "When you operate utility systems in hurricane-prone Florida, planning and executing a recovery response is second nature. While managing a viral pandemic is different in many ways from managing a storm event, the fundamental principles of staying calm, focusing on keeping people safe, working the plan, communicating expansively, and finding solutions to whatever comes up, are much the same.
"Our company ended 2020 strong, and we reported yet another year of record performance," Jeff goes on. "The challenges from 2020 continued into 2021, and we added a few hurricanes, energy price volatility, and the transition back to more typical customer billing practices. Despite that, we performed strongly and achieved record performance in 2021. It's difficult for me to adequately express my pride and appreciation for the focus, dedication, and hard work exemplified by our team members. As a direct result of their efforts, we kept our workforce safe, and grew diluted earnings per share from continuing operations by 12.4 percent in 2021, the 15th year in a row that we reported record earnings performance."
Chesapeake Utilities is continuing its growth into 2022. Earlier this year saw Sharp Energy's acquisition of Davenport Energy's Siler City propane division, expanding the company's operating footprint further into North Carolina. This was preceded by Marlin Compression's launch of a high capacity compressed natural gas (CNG) truck and tube trailer fueling station in Port Wentworth, Georgia, at the thriving Port of Savannah, in what is one of the largest public access CNG stations on the East Coast. In addition to CNG, the new fueling station will offer a renewable natural gas (RNG) option to customers in the near future.
"We continue to find opportunities to grow our traditional natural gas, propane, and electric businesses, even as we look to increase our renewable energy portfolio," Jeff reflects. "Our businesses continue to organically add new natural gas customers across our service territories at levels well above the national average. Annual residential customer growth for the second quarter of 2022 was 5.7 percent and 4.1 percent in Delmarva and Florida respectively, and the company's Delmarva natural gas distribution operations surpassed 100,000 customers during the second quarter of 2022. While the housing and lending markets have shifted as of late, our home building partners see continued demand in the communities we serve. Our significant natural gas distribution investments reflect the strong customer interest in natural gas service in residential and non-residential markets."
One of Chesapeake Utilities' most significant recent sustainability achievements came in February, when the company successfully blended hydrogen with natural gas to power its Eight Flags Energy CHP plant in Nassau County, Florida. Part of a test program intended to refine the operational practices and requirements for the safe transportation and injection of hydrogen into a distribution system, it follows the company's strategic decision to actively support and expand the sustainability efforts of the communities it serves.
"Our company vision is to lead the way in delivering energy that contributes to a sustainable future," Jeff says. "Included in that is an active engagement in environmental stewardship and the development of lower carbon energy sources. The results of the Eight Flags CHP hydrogen test program will help to develop hydrogen operating and safety processes, and serve as a model for industrial gas customer emission reductions.
"We see a number of opportunities to support customers of all types and sizes as they pursue lower carbon energy options," he continues. "A number of large energy companies are engaged in research to determine the feasibility of system-wide distribution of hydrogen. We also see opportunities for more immediate deployment of hydrogen as an industrial fuel, as many industrial customers are looking to reduce carbon emissions, but prefer a high heat-producing fuel for their processes. Blending hydrogen with natural gas provides even lower carbon impacts without sacrificing the qualities that make natural gas a desired industrial fuel choice."
The Eight Flags CHP plant is a statement of Chesapeake Utilities' commitment both to sustainability and innovation. But it's also a reflection of the hard work and dedication of the company's employees. "You need great people to build a great company," Jeff emphasizes. "Chesapeake Utilities' employee-centered culture is dedicated to equity, diversity, and inclusion, and attracts, develops, and retains high-functioning team members who share the values that drive our business. We see the benefits of diverse ideas and solutions from employees who feel included in our strategy and decision-making, and we understand that investing in the development of our people encourages ingenuity and creative problem-solving."
In 2019, the company identified several scenarios that projected significant change for the energy industry. Alongside an inevitable transition to more sustainable energy sources, it became evident that the company should expect to double in size within the next few years.
"We took a hard look at our existing organizational structure, employee skill sets, internal processes, and business technology," Jeff confirms. "That internal review launched a business transformation process. We restructured our operating units, began a continuous improvement process, developed a multi-year technology upgrade plan, and launched an employee engagement initiative. Since then, we've been working to strengthen the level of engagement among all employees. This year, we plan to link our individual employee goal setting and performance review process to our mission, vision, and values. We've also instituted a change management process to ensure we communicate effectively, thoughtfully consider employee input, and continue to transform our business."
Equipped with this strong, diverse, and engaged workforce, the future is bright for Chesapeake Utilities. The company continues to increase its operational efficiency, modernize its infrastructure, and invest in advanced technologies as it looks to position itself for the future. Through collaboration with industry-leading organizations on the development and supply of lower-carbon energy sources, the company is providing ever more resource options to its customers.
"We make meaningful and valuable capital investments to ensure the safety, affordability, and reliability of our energy delivery systems for the benefit of our customers and the communities we serve," Jeff reiterates. "In 2021, we established our capital investment guidance at $750 million–to–$1 billion for the five years ending in 2025. This reflects our confidence in the expansion of our existing core businesses to meet the significant demand for the energy services provided by our business units, and to reflect the increasing opportunities in the RNG market. We remain committed to growing our stable utility operations and investing in complementary businesses, including renewable natural gas and other energy delivery solutions that position the company for long-term sustainable success."
Chesapeake Utilities Corporation
www.chpk.com
Services: Natural gas transmission and electric distribution