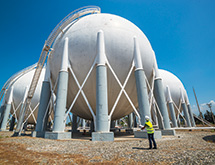 Some firms focus only on one service, but CH•IV International offers several. "From gas treatment and liquefaction for peak shaving or export, through marine and land transportation to final import regasification and delivery of the gas to the consumer, CH•IV has the experience to handle it all," the company says.
Based in Hanover, Md., the company explains it offers "a full spectrum" of liquefied natural gas (LNG) consulting and design services. President Jeff Beale founded the company from its predecessor, CH•IV Corp., in 2001. Both firms have provided services to the LNG value chain since 1991.
"CH•IV's staff of employees has a combined total of over 150 years of engineering experience covering the entire LNG value chain," it states.
The company is part of Clough Ltd., an Australia-based engineering company that acquired it in 2014. "The acquisition by Clough complements CH•IV with growth through the provision of project management expertise and engineering resources from Clough's global offices," CH•IV says.
Seasoned Veterans
CH•IV's leadership team carries extensive expertise, including Beale, who has 30 years' experience in the LNG industry. "He specializes in design, safety, security and operations of LNG import terminals," the company says.
Beale also has published more than 50 articles, papers and journal publications on the subjects of cryogenics, LNG and LNG vehicles. "He is the author of 'Introduction to LNG Safety,' a world-renowned book explaining the properties of LNG and how these impact personal and public safety," the company says.
Vice President and General Manager Arthur Ransome has gained 25 years' experience in operating and managing power generation and LNG terminal assets, the company adds. "[His] expertise includes project management, asset development, asset management, regulatory permitting support and also facility operations," it adds.
Michael Diemert, who also holds the title of vice president and general manager, joined CH•IV in 2002 and has been in the LNG industry for 41 years.
Committed to Excellence
Based in West Perth, Australia, Clough Ltd. serves energy, minerals, water, infrastructure and power markets around the world. "Our full-asset lifecycle services range from early concept evaluation and feasibility studies through to design, construction, commissioning and long-term asset support and optimization," the company says.
Clough partners with some of the largest firms in the world to engineer, build, commission and maintain facilities for oil and gas, metals and minerals, and infrastructure projects. "The company's full project lifecycle delivery model reduces risk and optimizes safety, productivity and cost across every phase of a project," it says.
Clough achieves success through its focus on project execution excellence. "Our integrated engineering, construction and asset support service aims to deliver on our clients' objectives first time, every time, no matter the size or complexity of the project," it says.
Clough has delivered oil and gas projects for more than 50 years. "Over time, we have developed high-value skills to support the complex and global nature of the industry," it says.
"Today, we specialize in the delivery of project management, 3-D design, sophisticated process engineering, modular construction, commissioning services and brownfield engineering, operations and maintenance services for oil and gas projects of all sizes and complexities," it states.
"We aim to maximize the value of our clients' projects through excellence in project execution, cost efficiency and enhanced productivity performance," Clough explains. The company's services cover civil infrastructure, unconventional gas, gas processing facilities, load-out jetties, offshore platforms and floating LNG facilities.