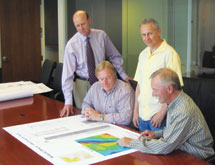 The expression "sell early" is normally applied to the world of Wall Street, but could just as well apply to the approach Cirque Resources LP takes to oil exploration. The Denver-based company looks to identify and then sell off assets early in the production phase.
"Our strategy by design is to build and sell," President and CEO Peter Dea says. The company leases land in oil basins in the Rocky Mountains based on geological data and then partner with other companies to drill exploration wells. Upon discovery, the company sells off the oil-producing asset to medium to large-sized producers.
"We wanted to stay as a small company and focus more on front-end exploration, since we realize that once you have success on the discovery end there's a whole other set of capital needs you have to address," says Dea, who helped found the company in May 2007. "All of us worked for large companies in the past and decided to stay small and nimble this time around."
Before founding Cirque, Dea served as President, CEO and a director of Western Gas Resources, Inc. from 2001 through its merger with Anadarko Petroleum Corp. in 2006. Previously he worked for Barrett Resources Corp., which he joined in 1993 and served as CEO from 1999 until the company's sale in 2001. His previous experience includes management and geologic positions for Exxon.
The experience of Dea and other Cirque personnel also influenced the company's decision to focus mainly on oil exploration. "A few of us had worked for largely gas-leveraged companies in the past," Dea says. "We were looking at the landscape in the Rocky Mountains and noticed a lot of companies were going gangbusters on gas plays and thought we could apply the knowledge we had to oil plays instead."
Cirque's business model places it in what Dea calls a unique situation in that its discoveries are sought after by both traditional oil producers looking to grow as well as natural gas producers looking to diversify their holdings. "The current dynamics of the market benefit Cirque with regard to the interest that's out there in companies buying our projects as we prove them up," he adds.
Since its formation, Cirque has successfully discovered and sold several projects in the Bakken Shale. Other projects that Cirque has brought in partners on include:
The Big Snowy and Castle Rock oil projects in the Heath oil resource play in Montana
The Java and Sure Shot oil projects in the Mowry play in Wyoming
The Pingora oil project in the Niobrara play in Wyoming
The Brennsee oil project in the Codell and Niobrara plays in Wyoming
Current Projects
Cirque Resources holds long-term leases on more than 1.3 million acres in several oil resource areas in the Rocky Mountains as well as gas projects in Utah and California. Land held by Cirque has a total unrisked potential of two million barrels of oil equivalent (BOE).
One of the company's largest current projects is a 275,000-acre holding in the Heath resource play in Montana, oil-prone shale that is roughly as old as Texas' Barnett shale, Senior Geologist Rob Sterling says.
Cirque has a total of four wells there, two of which have successfully discovered oil. One well is in a testing phase, and the fourth is waiting on completion.
The company is also exploring the Bighorn and Powder River basins within the Mowry play in northeast Wyoming, the Niobrara play in southern Wyoming and the Codell sandstone and Niobrara formation in the Northern DJ Basin. The Codell sandstone already has seen some successful production activity from other companies moving between 500 to 900 barrels of oil a day from the area, Dea says. Drilling will begin in the Bighorn and Powder River plays this year, while geological testing is underway on the other sites.
In addition to operating in potential oil producing areas, Cirque is targeting portions of the Sacramento Basin in California, an area that has traditionally produced natural gas. "We're looking at what could potentially be a significant accumulation of unconventional gas there," Sterling says.
Cirque's team of geologists scours well records and examines core samples to determine potential target zones. Once a target is found, the company interprets seismic data and begins exploratory drilling. Cirque uses multi-stage fracing during exploration.
Experience Counts
The collective experience of Cirque's staff is a driving force behind the company's ability to successfully identify and then sell off oil projects. In addition to Dea, Cirque's staff includes:
Executive Vice President, Chief Financial Officer and co-founder Neil L. Stenbuck, a former CFO of Prima Energy Corp. and Basin Exploration, Inc. and Vice President of Capital of General Atlantic/United Meridian Corp.
Executive Vice President of Exploration and co-founder Bradford C. Boyce, the former owner and President of Oso Energy Resources Corp.
Senior Vice President of Operations William B. Lloyd, a former Western Drilling Manager of El Paso E&P, Drilling Director for Conoco Phillips Norway and Senior Drilling Engineer for Arco Alaska
Senior Vice President of Land and Marketing William Nicas, a former project landman and Western U.S. Transportation Manager of ExxonMobil
In addition to its executive staff, the company's technical team has a track record of discovering major oil and gas projects in shale, tight sandstone and coalbed methane resource plays. Cirque's geological staff – which includes Sterling and Senior Geologist Rich Bottjer – has authored a number of technical papers including recent Bakken and Three Forks papers.
"Our team came to us with a lot of experience from different places in the world, and they've helped us do very unique things in the Bakken," according to Sterling. EMI