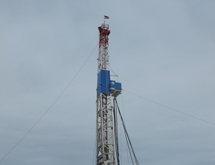 Boasting a crack resource team of geologists, engineers and landmen and the ability to pay for a play, Cirque Resources LP is distinguishing itself in a crowded oil field by moving quickly and outrunning the competition. "We're basically a small, private exploration and production company, largely focused on oil resource plays in the Rocky Mountain region, with one exception," President and CEO Peter Dea explains. That exception is a high-potential natural gas project in the Sacramento Basin.
The primary focus of Cirque Resources LP is the Codell sandstone oil resource play in Laramie County, Wyo., and northern Weld County, Colo. "We control about 225,000 net acres up there," Dea says. "It's really starting to take off right about now. Approximately 10 wells are producing there, and several more are drilling and waiting on completion. 2014 will be a pretty busy and exciting year up there. There are at least 50 wells that have been permitted or are in the process of being permitted."
Despite being a relatively new pure horizontal oil play, the Codell sandstone area has a lot of infrastructure already in place. "There's the intersection of major pipelines, highways, railroad lines, refineries and processing plants," Dea notes. "The Cheyenne Hub is nearby, which is a major gas pipeline hub. So we'll still need to build additional gathering and midstream infrastructure in the field, but it's nice to have a play where the existing fabric is already so strong."
With the drilling area being approximately 30 miles wide by 75 miles long, the distance to facilities can vary from a few miles to 10 miles. "The nice thing with oil is you can truck it," Dea points out. "We have storage tanks on location, and then we contract with truckers to truck the oil away, and there's rail lines and refineries not too far away."
Produce to Prove
Dea estimates that another 50 wells may be drilled by his company and three or four other active operators at the Codell sandstone this year. "Our typical build-and-sell strategy will have us keeping a rig busy through the year to ramp up our production and further prove out the leasehold, and then we'll build a market and sell out so a larger company can implement full field development," Dea says.
"We do the exploration work," Dea continues. "The exploration requires a lot of geology and engineering and then leasing up the land. Then we come in and drill, and as we drill, we hopefully find what we're looking for and produce the oil. So each well will have a production stream coming off of it, to grow the field production." All the drilling is performed by third-party drilling companies.
Cirque Resources LP has another 150,000-acre holding in the Heath dolomite in Montana, where Cirque and other companies have drilled oil discovery wells in the last few years. "We're just waiting to get a couple of new wells hooked up and online, and then we'll be looking to sell that later this year, as well," Dea says.
It's a Gas
Cirque Resources' natural gas project in the Sacramento Basin in California had been drilled previously. "When it was drilled originally back in the 1970s, I think, people were probably looking more for oil," Dea theorizes. "When they found gas back then, there was no gas market, so it was not uncommon for companies to abandon those projects.
"Rob Sterling, one of our senior geologists, had recognized the feature there and put a prospect together, and it looks pretty promising," Dea concludes.
Because of the higher price of oil over natural gas, Cirque Resources has leveraged the company toward oil resource plays. Dea thinks his company's competitive advantage is its technical and land teams and that the company is small so it can move quickly.
Among the industry challenges Dea cites are the license to operate. "As companies drill closer to areas that have residential or commercial buildings, we need to work with multiple stakeholders – people on the ground, local governments, state governments – about just being good corporate citizens," Dea says. "I think another challenge is just to educate the public on the significant benefits of domestic natural gas and oil to maintain their high quality of life."