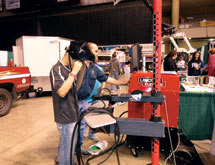 City of Grand Forks, N.D.
It is no secret that the Bakken Shale area is a busy hub of activity. Since the introduction of fracking in 2008, the area has grown its oil and gas wells at a rapid rate. This growth has been an economic force not only for that region, but for the entire state, which continues to work to support infrastructure and workforce demands.
A short distance from Williston, N.D., the heart of the Bakken, the Grand Forks, N.D., region has buildings, land, workforce, services and infrastructure to help its western neighbors develop and maximize their growth potential.
The region is well-positioned to alleviate some of the pressures and challenges the vertiginous growth in the west has posed to companies in the Bakken. "We are not trying to take business away from western North Dakota. We are committed to supporting its growth, and we know we can do that effectively from this region," says Klaus Thiessen, president and CEO of Grand Forks Region Economic Development Corp. (EDC).
Expand East, Do Business West
Two years ago, the local chamber of commerce and the University of North Dakota Center for Innovation organized a trip to Williston to promote cooperation and strengthen relationships between western- and eastern-based communities and companies, appropriately named "East meets West."
"Some of our businesses were very successful establishing those relationships, especially in construction and services," explains Keith Lund, EDC vice president. "That is how we got 110 companies in the eastern region working with companies in western North Dakota. That realization of 110 companies gave us the confidence to recognize that we have the ability to support growth in the Bakken from here."
One of the newcomers to the area is Diverse Energy Systems (DES), a Houston-based company that provides essential oil field equipment, such as oil storage steel drums.
When the company decided to expand its operations to service oil and gas companies in the Bakken with storage solutions, it considered its options and decided to establish production facilities in Grafton, N.D., about 40 miles northwest of Grand Forks.
"We knew we were going to grow tremendously and we knew we were going to need a lot of welders and other personnel, but we could not be competitive if we took up operations in the western side of North Dakota, where the wages are higher," explains Scott Muster, marketing director for DES. "We would be a lot more competitive and our margins would be a lot greater on the eastern side, where we could pay employees a more normalized pay."
One of the things that helped DES establish operations in the area was the help and support of EDC. "If you are a business, you should contact the EDC to help you. We've been dealing with them from the start and they have helped us in many different ways, like helping us make contacts, tax abatement and assistance with finding qualified employees," Muster says.
Poised for Growth
Thiessen and Lund knew that to be able to deliver on their promise to support western North Dakota in its growth and development, they had to build a multi-layered solid foundation. "We have to be able to deliver on our promises, so we have to have the infrastructure in place to keep growing," Lund says
Grand Forks developed multi-pronged strategies regarding its infrastructure.
"We recently expanded our industrial business park by 125 acres," Lund says. And the city is preparing for even more new development along Highway 2, which runs through the city and connects directly to the Bakken's epicenter in Williston.
For companies expanding professional support services, data management, logistics, manufacturing and other operations that don't require daily feet on the ground in the oil fields, areas like the Grand Forks region provide the right environment for expansion.
Some of the elements needed to position Grand Forks as a great location for businesses wanting to service the Bakken area were already in place. "We pride ourselves in the quality of life in our community," Thiessen says. "We have a revitalized downtown, we have a great greenway system with lots of parks. For people with families we have an exceptional K-to-12 educational system. We have theater and arts, and also safety. We are a total package in terms of quality of life."
This statement was supported recently when the city received its sixth recognition as one of America's Promise Alliance's 100 Best Communities for Young People – presented in 2012 by ING – for the city's initiatives to help young people by reducing high school dropout rates, paring educators with students in need and providing community service opportunities for young people.
Pipeline of Professionals
The area's universities and technical colleges offer Bakken businesses and industries access to leading oil researchers and resources, as well as a source of highly trained workforce to cover different production needs, from engineers to welders.
The largest library of Bakken core samples is located at the University of North Dakota (UND) campus in Grand Forks. The UND's College of Engineering & Mines offers the only petroleum engineering degree in the region.
In September, UND announced the naming of the Harold Hamm School of Geology and Geological Engineering in the UND College of Engineering and Mines. Hamm and his company, Continental Resources, are investing $10 million in the school and the Core Sample Library to support continued research, sample accessibility, and educational opportunities.
Diverse Energy Systems is partnering with Northland Community & Technical College to promote awareness among area high school students of the job opportunities afforded by becoming a certified welder.
Access Success
Muster expects his company to double in size in the next year, from 60 employees to 120. "There is huge growth in the area, changes are occurring daily and it is going to last for a long time," he says. "The eastern side of North Dakota doesn't have oil and gas, but there is a shortage of infrastructure in the Bakken area that can be supported from the east."
Steve Burian, the EDC board chair and CEO of AE2S, a water-engineering firm based in Grand Forks, believes his state has always had great things to offer.
Burian believes the workforce in North Dakota is a step ahead. "On many occasions, companies open a branch here and it ends up being their most successful branch because people are such hard workers. It used to be our secret, but with the Bakken explosion, our secret has been exposed and more and more people are hearing about North Dakota and moving to the area."