Energy efficient
Clarke Energy supplies, installs and maintains GE Jenbacher gas engines, with a power range from 330 Kwe to three Mwe.
The company has installed GE Jenbacher purpose designed gas engines in landfill, water industry, coalmines, hospitals, university and factory applications, including combined heat and power (CHP) applications, and enjoys a market share in excess of 75 per cent.
Formed in 1989, The Clarke Group has grown from its diesel engine service and spares routes to become a multinational organisation. "Clarke Energy Limited is the largest independent distributor of GE Jenbacher gas engines, representing Jenbacher in seven countries namely: Ireland, France, India, Australia, New Zealand and Nigeria, having installed in excess of 1300 Mw in these territories," says Alan Fletcher, sales director. "GE Jenbacher is recognised, internationally, as the world leader in gas engine technology."
The company also supplies, installs and maintains HAASE gas flare stacks, gas booster plants, reverse osmosis (RO)/membrane technology wastewater treatment plants, wet anaerobic digesters and mechanical biological waste treatment (MBT) plants.
Acknowledging the continuing quality of Clarke Energy's commitment to safety & quality assurance, the company has recently been presented with a prestigious safety award from one of the world's leading training and advisory bodies for the seventh consecutive year. Following a set of gruelling tests by a strict independent adjudicating panel, the British Safety Council presented it with the esteemed British Safety Award. Only companies with below average accident rates are eligible to apply and winners must also have good safety policies, plans and a commitment to health and safety at the highest board level.
Alan explains: "Quality and safety are paramount. There are many companies that thrive on the PR that awards like this bring, but for us health, safety and quality are part of our ethos and are the mechanics of the business. We take health and safety very seriously and have our own in-house health and safety and quality managers who are constantly auditing the business, as well as our suppliers. They ensure that both employees and suppliers perform to the best of their ability."
Moving on to discuss the opportunities open to Clarke Energy in the future, Alan comments: "Areas such as HAASE gas flare stacks, gas booster plants, reverse osmosis (RO)/membrane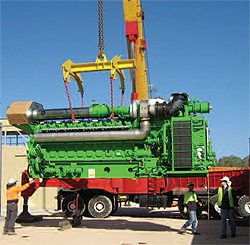 technology wastewater treatment plants, wet anaerobic digesters and mechanical biological waste treatment (MBT) plants represent huge opportunities for us, particularly anaerobic digesters. The UK doesn't have a lot of void landfill space left, and with new EU landfill directives coming in, councils are concentrating much more closely on how to deal with the shortage of available landfill space and starting to consider alternatives to landfill. Anaerobic digestion is a realistic substitute and we expect success in that area."
He adds: "If you look at landfill, or rather generating power from landfill gas, I think we are the clear market leader in the UK with about 80 per cent of the landfill gas market."
Commercial manager, Ian Hill, is equally excited by the opportunities ahead of Clarke Energy, and outlining the current industry state he says: "It is a very competitive marketplace, with a lot of players in the business and a lot of technologies. Thanks to our diversity we are in a good position, with a lot of experience behind us.
"As well as our operating schemes, which are effectively waste to energy, we also combine heat and power schemes. There is a huge possibility of making cost savings with combined heat and power, especially now that the recent increases in gas and electricity prices have opened up that marketplace again. There are a number of schemes being looked into, and I think it will continue to expand in the long-term."
Asked what is essential to the company's current and future success, Ian replies: "It is having the can-do ability to get a good quality job done efficiently and on time. We have a reputation for the quality, speed and competence of our work. We don't offer the lowest cost because if you cut corners at the installation stage, you will more than pay for it in the next 15 years of operation. The marketplace is now mature enough to realise that the cheapest is not necessarily the best option, and looking at the lifecycle rather than the initial cost has put us in good stead over the long-term."
Adding his thoughts, Alan says: "Predominantly, we are a very customer-focused business with a huge after sales focus. You get many companies that are led by sales and as a result fall short on the know-how and the service ethos, but the difference with our business is that when customers are spending millions of their own money, they can be confident that our service-orientation ensures that our equipment will work and achieve unparalleled levels of availability.
"In summary, I think we are the predominant company in gas-to-energy systems based on a combination of our excellent and unparalleled GE Jenbacher product range, together with our knowledge and ability to provide first class installation and life-time aftersales care."
Concluding, Ian identifies clear focus as the true essence of the success: "Jenbacher is product quality focused while Clarke Energy is project quality focused, and having these two different organisations concentrating on these two aspects gives our customers the best of both worlds." This clear approach to business has enabled Clarke Energy to extend its reputation as one of the major players for global renewable energy and power solutions, and will ensure that this particular success story continues into the future.
Clarke Energy
www.clarke-energy.com