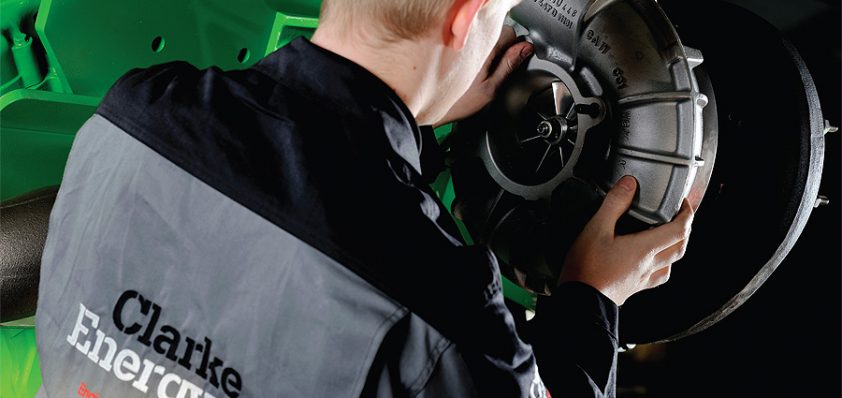 Total efficiency
From its international headquarters 'Power House' located in Knowsley Business Park near Liverpool, Clarke Energy operates as a global leader in the provision of specialist engineering, installation and maintenance services for engine-based power plants. The company began trading during 1989 from a base in Aintree near Liverpool, providing spare parts globally to the end users of marine, industrial and locomotive diesel engines.
Since relocating to its current headquarters in 1992, Clarke Energy has continued to grow and today provides employment for 1000 members of staff across 18 countries globally with a total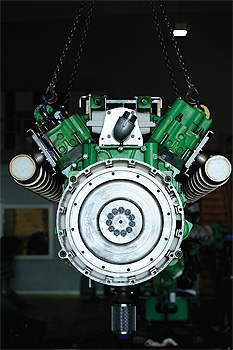 capacity exceeding 5,200MWe. It presently maintains operations within Algeria, Australia, Bangladesh, Botswana, France, Cameroon, India, Ireland, Lesotho, Morocco, Mozambique, New Zealand, Nigeria, South Africa, Swaziland, Tanzania, Tunisia, the United Kingdom and the USA. Present in Africa since 2001, its installed base in the African continent exceeds 500MWe and throughout all of the regions in which it is active, Clarke Energy is committed to delivering the highest quality installation along with a reliable, localised support network.
Operating as a globally recognised specialist in the engineering, installation and maintenance of engine-based power plants, Clarke Energy's offering includes both gas and diesel fuelled technology; it is also the world's largest distributor and service provider for GE's reciprocating engine business. Discussing the company's services and its relationship with GE, Group Marketing & Compliance Manager of Clarke Energy Alex Marshall comments: "We sell GE's Jenbacher Gas Engines, which are known for the highest levels of performance, which is great from the perspective of new reliable technology but that's just providing the generator. What surrounds this is the need to integrate that generator with our customer's facilities with other elements of balance of plant. For example, we may add on heat recovery units, cooling units, or we may recover CO2 from the exhaust and clean it to fertilise tomatoes growing in greenhouses.
"We have the ability firstly to deliver high quality installations that match the core GE product and help ensure that the facilities are of the highest standard; this, in turn ensures the product operates the majority of the time throughout the year and is most suitable for the customer's requirements. We don't just deliver an engine, but also deliver a solution to each client's unique demands," he continues. "In addition to this, we have local installation commissioning teams that guarantee the customer's facilities are up and running as quickly as possible. For this service we don't rely on GE to come in and do this, instead many of our team are trained by GE to the highest levels to do this themselves. Finally, the engine is only going to run if it is well-maintained and GE don't necessarily conduct the maintenance; by having our staff on the ground and having in-country stock-holding and quick response times to both scheduled and unscheduled maintenance procedures, we ensure our customers are satisfied with a complete service."
Since previously being featured in Energy, Oil & Gas in January 2016, Clarke Energy has continued to win a series of key projects, bothin the domestic and international markets, which has resulted in strong growth. One such project stems from the company's ongoing strategic expansion into Cameroon following the launch of its new business in the country in June 2015 as GE's new Jenbacher gas engine distributor in the country. Awarded the project in February 2016 by SCTB Flour Mills, the installation of the 1.4 megawatt Jenbacher J420 gas engine will result in savings of more than $200,000 in annual fuel costs for SCTB and will also provide the company with a more reliable, cost-effective, on-site power. "The Cameroon expansion is a continuation of the success we have had in places such as Nigeria and Tanzania where we develop greenfield operations by utilising domestic staff and highly trained teams of domestic engineers to operate and service the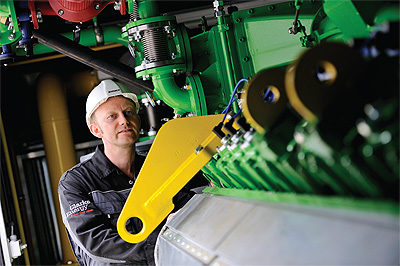 generators."
Alongside this strategic development, the company has also entered the US, focusing on areas such as Iowa, Indiana, Illinois, Michigan, Wisconsin and Minnesota. Operating in 18 countries as the official distributor and service provider of GE's gas engine business, Clarke Energy aims to bring its successful business model of focusing more on facility engineering for the product and also delivering a strong service background to this new market. "As standard we offer fully inclusive maintenance contracts, including preventative and corrective maintenance, which isn't necessarily offered in the US; this makes our offering quite novel and we are hoping to grow and become successful through delivering this service," says Alex.
Progression into new geographical areas will prove a wise investment for Clarke Energy as the biogas market in the UK faces a subdued few years due to lower government support. "This is a key change in the UK market, which is resulting in fewer projects being developed in the agricultural biogas sector as well as the biogas and waste sectors. Despite this, the market overall is growing strongly; with combined heat and power (CHP) and Capacity Market projects. We have seen a number of high profile installations at hospitals, universities and commercial buildings where the buildings benefit from self-generating power for both electricity and heat, which, in turn, saves costs on fuel bills. We envisage the UK natural-gas market growing steadily over the next five years."
Having built a solid reputation for its ability to deliver fuel efficiency and reduce carbon emissions, as well as reliable, accountable aftersales support with a culture for integrity and high ethical standards, Clarke Energy not only boasts a healthy order book but has also caught the attention of the industry. Indeed, after securing the Queen's Award for Enterprise in 2014, the company has been awarded Exporter of the Year award at the North West Business Masters Awards for a second year in a row in 2016; the company has also won Most Outstanding in CHP Projects in the UK in Corporate LiveWire's 2016 Innovation & Excellence awards. "These awards provide a degree of recognition that our teams are working to the highest of standards and really setting the industry field," says Alex.
With ongoing contracts in locations from the UK to Tunisia, Australia to Bangladesh, Clarke Energy is in an enviable position moving forward as it continues with its strategic plans for ongoing global expansion, a significant increase in turnover in 2016 and growth that is both organic and through acquisition.
Clarke Energy
Services: Specialist engineering, installation and maintenance