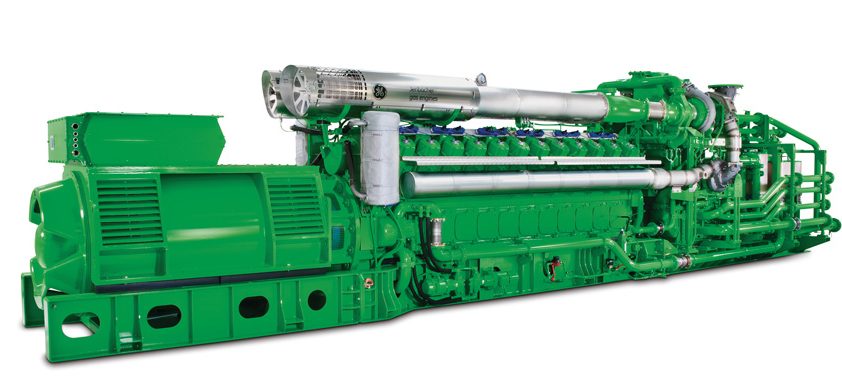 Fuelling growth
Founded in 1989 as a provider of spare parts to worldwide users of marine, industrial and locomotive diesel engines, Clarke Energy has grown from strength to strength to be a world leader in engineering, installation and maintenance of gas and diesel power plants. A major milestone in the company's history came in 1995 when Clarke Energy started a relationship with Austrian firm Jenbacher, one of the world's leading producers of gas-powered reciprocating engines and co-generation units. With the ability to install individual gas engines from 249kW to 9400kW output, and multiengine plants up to 100MW, Clarke Energyhas cemented its position in the global market as a supplier of gas powered generation units, and has recently moved into diesel fuelled generation. Today, with Jenbacher now owned by GE, Clarke Energy is its largest distributor and service provider for their reciprocating engines products. The headline figures for Clarke Energy indicate the high level of success currently being experienced at the company. Now operating in 17 countries and employing over 1000 people, last year it turned over £243 million.
"The segments and countries in which we operate are all very different," begins Group Marketing and Compliance Manager, Alex Marshall. "The core business is in the gasto- power sector and these units can be used for a range of different applications. On the simplest level, with a good supply of natural gas in the UK, France and Australia, we supply combined heat and power (CHP) units, also called co-generation units, which give highly efficient power generation close to the site of use. This can also be expanded to tri-generation (electricity, heat and cooling; CCHP). Within this segment we have worked on a number of high profile installations including the Shard, which uses one of our power plants at its core, Great Ormond Street Hospital and a whole range of others. In the UK we currently have about 60 MW in the NHS, helping them reduce energy costs and spend more on treatments." In France the company maintains CHP units to fill extra power and heat demands that cannot be filled by the country's heavy reliance on nuclear power.
A significant part of Clarke Energy's business is in biogas and the company has built up an extensive portfolio of applications around these systems. "In the renewable side of the business we have a range of applications including agricultural waste, sewage and landfill gas," explains Alex. "Biogas is a renewable source of power that is often underplayed but it is one of the few types of energy that generates stable base-load power – it generates consistently." So far the company has installed around one gigawatt of biogas-fuelled power generator units throughout the world, and it has proven particularly useful in developing countries.
Having securely established itself in developed markets like the UK, France, Australia and New Zealand, one particular area of recent focus for Clarke Energy has been in applying its services to the developing world. "In the developing world, natural gas is used a lot for industrial facilities mainly to ensure stability of supply from unreliable power generation grids, so in Nigeria and India for example where there is a high risk of grid instability, gas power generation can be invaluable," says Alex. "In August 2015, we installed the first large-scale biogas
plants to be used in sub-Saharan Africa near Lake Naivasha, Kenya. The customer operates a greenhouse farm to grow flowers for export to Europe and elsewhere and they have a problem with the stability of the power grid. However, they can use waste taken from a local source, supplement it with farm materials and they are now generating 2.6MW of power, even at altitude."
Examples of recent installations across the African continent are in a positive growth period at Clarke Energy. "Africa is quite an exciting place in lots of different ways with lots of applications going on," notes Alex. In the Nigerian delta, for instance, the company is supplying units on remote oil field terminals to convert waste flare gas from drilling operations into power, rather than venting it. "In South Africa, we are also in the Tronox furnace gas facility, this is the largest full integrated producer of titanium ore and titanium dioxide, which produces off-gases of hydrogen and carbon monoxide. We have eight units generating over 13.6MW of power from their two furnaces, which significantly helps the facility generate its own power, lower carbon emissions and reduce the reliance on the grid," highlights Alex. Elsewhere, the company has installed three of GE's new 616 diesel units into Four Mills of Nigeria plc. "These provide very low fuel consumption and can save significant operational costs where a process relies on diesel for power generation," he adds.
Market conditions for Clarke Energy across the world are generally positive, although Alex does comment on a number of potential markets that could open up over the coming years as natural gas becomes more readily available, such as India, South Africa and Tanzania. "The UK market has continued to grow steadily and over our history we have moved from landfill gas, into natural CHP units for hospitals, and more recently a climb in demand for biogas. The latter could level out, however, now that the government has reduced its subsidies for this type of renewable energy," he says.
In terms of the future, Clarke Energy is very much focused on its continued growth, as Alex concludes: "We will continue to look at growing both organically and through acquisition as and when we see the appropriate markets and opportunities open up, and we look to continue to develop in the countries in which we already operate." As a key distribution partner for GE, the company not only has the robust reputation for quality parts and products from a world renowned industry leader, but also the assurance of being a quality and trustworthy company itself. By remaining committed to offering a complete service from install to maintenance, delivered by team of highly trained engineers with knowledge and experience in a range of sectors and applications, Clarke Energy is well placed in a demanding market to achieve future success.
Clarke Energy Ltd
Services: Global specialists in engineering, installation and maintenance of engine-based power plants, both gas and diesel fuelled
Issue 125 October 2015