Claxton Engineering Services Ltd
Services in demand
Claxton Engineering brings together the best elements of a traditional familyrun business with the energy and progressive thinking of an industry innovator. Providing offshore engineering services for clients around the world, the company prides itself on offering tailored services that rival those of much larger competitors.
The company's values were set out by founder Bob Claxton 30 years ago and while the business may have grown and evolved, these beliefs are still crucial to the business today, as managing director Laura Claxton explained: "Today we have offices in Norway, and the UAE as well as the UK – but we've retained Bob's original ethic: Bob had a steadfast belief that service and delivery is everything to our customers. We always remember that the pace and quality of our delivery can make a massive difference to their projects. So, because great service and delivery are important to our clients, they are essential to us too."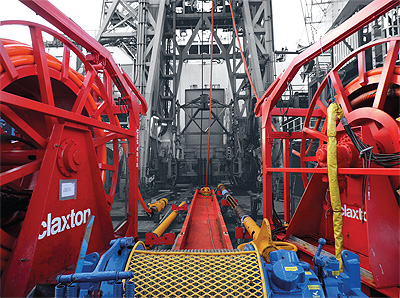 Thanks to Claxton's continued business philosophy, the company has established a reputation in the market for reliability, flexibility and superior technology. It takes great pride in its ability to meet the needs of its clients no matter how challenging the requirements are, and one of the major contributing factors of this success is the skill of its team. Claxton can rely on a wealth of experienced and talented engineers, all of whom are able to bring their knowledge of the industry to support clients' needs. The fast-track in-house design-analysebuild engineering service capability, means also that Claxton can adjust specifications to suit bespoke requirements. This combination of factors is what makes Claxton the smart choice for customers.
Claxton describes its capabilities as 'engineering and services across the life of field' and in reality this translates to a wide spectrum of services, across three broad categories – Risers, Decommissioning and Structures. When we spoke to Laura she was extremely proud of how the portfolio had grown over three decades of operation and she pointed out that the extensive span of items available is now unrivalled in the market: "We have riser and adaptor rental inventory that extends to over a 1000m of riser, 4000 ancillary tooling items and a variety of different connection types, including full-bore API/NACE compliant subsea systems up to 12,200 psi swp," she stated. "No other company can offer this breadth of riser inventory."
She continued by highlighting the benefits of one of the company's state-of-the-art systems: "The Claxton HP Drilling Riser System is an assembly of pressure containing drilling spools with flanged end connections, which are used to connect a jack up rig's surface BOP to the wellhead," she explained. "It allows full-bore, unrestricted access to the well for the deployment of tools and as conduit for fluids, whilst being able to contain maximum reservoir pressure and acting as an environmental barrier, for the purposes of drilling, completing or working over a well in addition to well abandonment."
Claxton also has a long-standing record working on decommissioning projects around the world. An integral part of the offshore industry over the past few years, Decommissioning is an area where the company demonstrates many of its market leading strengths. Laura expanded on this: "Claxton are very experienced in platform, subsea, rigless and vessel based campaigns, and support well decommissioning projects by providing risers, wellhead removal, conductor severance, and solutions to overcome integrity issues with platforms or ageing well infrastructure. We have continually invested in our team and proprietary tooling with the result that today the company has completed over 280 cutting and recovery projects, over 85 wells cut and over 130 suspended wells abandoned."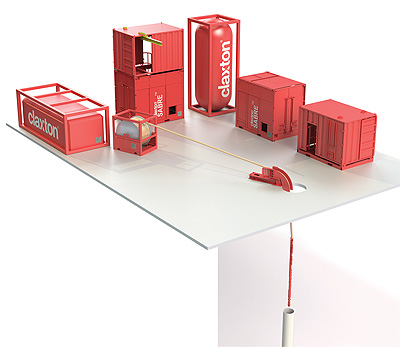 Finally, the business has also worked together with its clients to install over 5000 conductor guide centralizers and over 55 major pre-drilling developments have benefited from Claxton's designed – and installed – drilling templates. Laura stated: "Our experience with structures means we can 'take the pain away' when it comes to your structural and well conductor asset life extension issues. All of our products have been built using significant analysis of the platform structure and well conductor interface. This innate understanding of the well conductor environment, complemented by proprietary tooling and fieldproven procedures, enables Claxton to add significant value at all stages of the process."
As Laura mentioned, Claxton has a dedicated in-house design and research development team, which is continually looking to make improvements to existing products as well as launch new ones. The team also responds to what the market and customers are demanding, as well as looking at what they might need in the future. A prime example of Claxton's approach to product development is the latest evolution of its conductor recovery tower and SABRE™ cutting system. SABRE™ was first developed in 1999, and has proven to be an invaluable tool for the company when working on some of the world's most significant abandonment campaigns. Its abrasive jet exits the tool at transonic speeds – making light work of even composite materials such as cemented casings. However, the upgraded option of this will offer even more benefits. Laura gave more details: "The latest version is fully NORSOK Z-015 compliant, has a reduced system footprint and is modular in design, making it adaptable to a wider range of applications and deck layouts and thus minimising complexity. Its cutting manipulators suit all standard casing sizes down to 6-5/8 inches; it can operate at pressures of up to 20,000 psi and includes a packer system to improve cutting performance."
She continued: "The modular approach and philosophy for SABRE™ also influenced new developments for the Claxton conductor recovery tower. The tower can handle and recover tubulars from production tubing to 30" casing during well abandonment. Designed for operational speed and reduced rig-up complexity, the system increases efficiency offshore. By having a small, lightweight yet powerful system, Claxton can also extend the operational window of the unit and move from well to well more quickly and effectively."
The SABRE™ development reinforces the commitment that Claxton has towards providing new innovation to drive efficiency to its customers. The same philosophy that went into creating SABRE™ is the same approach that goes into all of Claxton's products and services, finding the right solution to meet the needs of its clients within the industry. Having had a successful 30 years' in business, and an increasingly positive period under the current managing director, resulted in Laura Claxton being shortlisted for the Business Woman of the Year Award 2015. The future of the company looks set to continue on its encouraging trajectory and as more and more operators within the industry look to reduce operating costs, Claxton's world leading services will no doubt be in heavy demand.
Claxton Engineering Services Ltd
Services: Bespoke offshore engineering and products