Decommissioning influencer
The rapid fall of the price of oil during 2015 and 2016, almost universally attributed to a combination of oversupply and the lack of agreement between oil-producing member countries of OPEC and non-OPEC countries, has been documented countless times. While it feels unnecessary to once again delve into the impact this event had on companies within the oil and gas sector, what does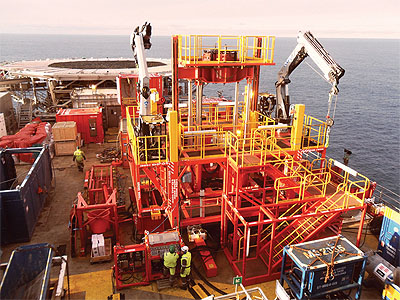 bear repeating is that it reaffirmed that those oil and gas service companies that are able to provide a diverse offering are better placed to withstand economic challenges.
A prime example of such a company would be Claxton. Formed in 1985, it today provides offshore engineering services to upstream clients in the North Sea and around the world. "While it is fair to say that the oil price crash affected all companies and organisations in some way, it was our wide range of services and the steady influx of work in areas such as decommissioning, that allowed the business to absorb the effects of challenges in other product areas in the business," explains Matt Marcantonio, Claxton's Head of Decommissioning.
Claxton has been present within the well decommissioning arena for over 20 years, building up a predominant market share within the North Sea, and was responsible for performing the first-ever rigless platform well abandonment campaign on the Esmond, Forbes and Gordon field. In that time, the company has worked on numerous platform, subsea, rigless and vessel-based campaigns, providing its clients with a full marine package solution, as well as solutions for platform well recovery products and services all under one roof. Ground-breaking decommissioning solutions that have helped propel the company to the top of the market include its SWAT™ suspended well abandonment tool, which has been used to abandon over 120 wells, the SABRE™ abrasive cutting system, and the more recent launch of WellRaizer®, a 300Te rigless well recovery package.
"Our suite of innovative solutions and products means that we can offer a raft of services that others in the market are not able to, and this has directly contributed to a big increase in decommissioning contracts being won over the last few years, which has positively impacted Claxton's revenue stream," Matt continues. There has also been an increase in terms of the quantity and work scope complexity of these contracts, and that has led to the company delivering the largest, most challenging projects, often in what are harsh conditions within the North Sea.
Successful projects undertaken by Claxton include being a key player in the decommissioning of the North Sea Camelot fields and the removal of Camelot Alpha platform, with the plugging and abandonment of the fields' six platform wells and more recently being chosen as the lead contractor for a major severance and rig-based recovery project which is currently ongoing. "This latter project is a massive undertaking that involves the decommissioning of 28 wells and represents a scope of work the size of which not many organisations have tackled before," Matt states. "To date we have completed eight of these wells, which is a huge success story for Claxton in itself, and we look forward to completing the campaign."
In support of the company's commitment to grow and improve its decommissioning business stream, it has conducted a series of internal promotions to ensure that it has the right skills within its business, particularly on the frontline. This has involved not only the development of existing talent and a multi-skilled workforce, but also external recruitment for more specialist technical roles.
The increase in decommissioning activities has also had a positive impact on some of Claxton's other services, for example its asset life extension offering. "There can sometimes be a misconception that an asset needs to be decommissioned earlier than perhaps necessary," Matt says. "Where we can help is by providing clients with insight into how they can extend the life of an asset earlier in the cycle. The range of options available to operators is extensive and investing in improving structural and well conductor asset life issues can potentially increase the working life of a platform by up to 20 years."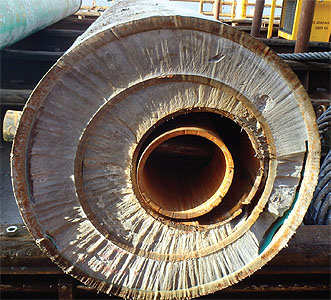 Whether you're adding – or recovering – platform slots, replacing your aged centralizers, or adding a complete retrofit conductor guide array to significantly extend the life of your platform, squeezing more life out of assets as opposed to decommissioning can offer vast savings to operators.
"If the concept of extending your asset's life is not an option, decommissioning must be considered," Matt continues. "Decommissioning an asset is not without its challenges and the process to do so requires lengthy planning. Due to the amount of planning required and multiple processes involved, decommissioning projects often take more than a decade before projects even commence. Take for example Shell's Brent Field: the decommissioning project plan was established in 2006, however, it wasn't until last year that the work started to finally take shape."
Between the years of 2017 and 2025, decommissioning activities are set to take place on 349 fields across the four regions of the North Sea, with £17 billion forecast to be spent in that time. Further afield, there is also great potential for contracts to be won in regions such as South East Asia. "We are tendering for several projects currently that have the potential to be significant for us," Matt reveals. "We have always benefitted from being a flexible organisation, and as decommissioning continues to move forward we will work hard to align ourselves with the operators, in order to provide the comprehensive full service offering that they require. Our ability to reward clients with efficiencies and cost savings has earnt Claxton a positive reputation within the decommissioning sector. Having grown our portfolio offering significantly over the last couple of years, our dedicated team looks forward to continue to influence the industry moving forward."
Claxton Engineering
www.claxtonengineering.com
Services: Upstream and subsea engineered products
WellRaizer® is a registered trade mark of Claxton Engineering Services Limited
SABRE™ and SWAT™ are trade marks of Claxton Engineering Services Limited