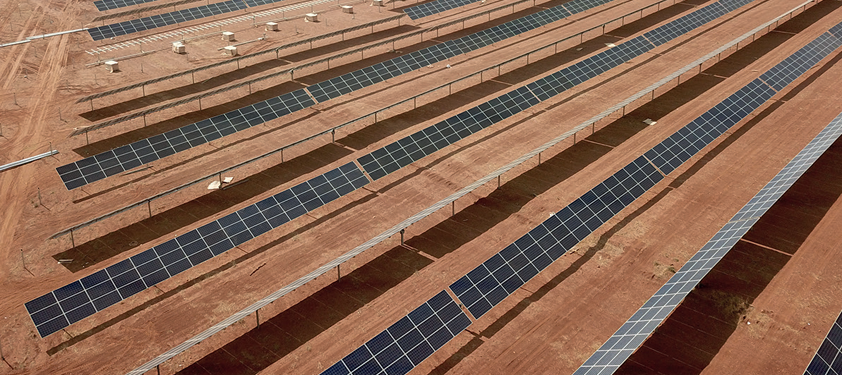 Abdul Latif Jameel Energy (ALJE), through leading global developer of renewable utility-scale projects Fotowatio Renewable Ventures (FRV), has announced the signing of a power purchase agreement (PPA) with Snowy Hydro, one of Australia's major electricity generation and retailing companies. The agreement will permit FRV to deliver solar power generated from the 90MWac Sebastopol Solar Farm in the State of New South Wales, Australia.
This is the second PPA signed by FRV with Snowy Hydro following the successful bid for the 68.7 MWac Goonumbla Solar Farm as part of the Snowy Hydro Renewable Energy Procurement Program in 2018, and which is currently in the final stages of construction.
Located 16km south of Temora and approximately 440km south west of Sydney in New South Wales, the plant will connect to the national grid. Its generation will be enough to supply energy to over 40,000 Australian households and avoid the emission of approximately 77,600 tons of CO2 annually, the equivalent of taking about 27,700 cars off the road each year.
Fady Jameel, Deputy President & Vice Chairman of Abdul Latif Jameel, commented: "This announcement marks a new milestone for FRV in Australia. The devastating Australian bushfires have started 2020 off with a stark reminder of the reality of global warming, and the urgent need to address climate change. Together with our partners, FRV and Snowy Hydro, Abdul Latif Jameel is committed to playing an active role in developing clean energy solutions and ultimately contributing to create a more sustainable future for the world."
Support for German wind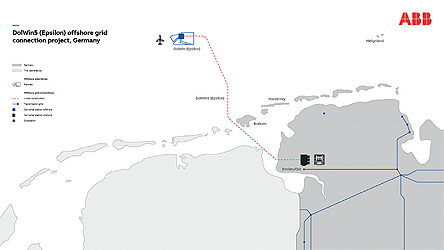 ABB has won a 10.6 million euro order for ABB Ability™ digital products and services at DolWin5 (Epsilon), which will support Germany's energy transition through reliable delivery of enough renewable energy to power about one million homes.
"This order enables ABB to leverage its expertise in remote, unmanned operations and advanced digital services with the shift to a more diversified energy mix," said Per Erik Holsten, Managing Director, ABB Norway. "With our intelligent project delivery experience, ABB is uniquely positioned to assure the safety, security and reliability of renewable assets worldwide. We look forward to supporting the delivery of clean, efficient power for Germany's energy transition."
ABB will provide a comprehensive system for IT infrastructure, OT security, plant-wide condition monitoring, SCADA and remote access services to facilitate stable power transmission to the German national grid.
The DolWin5 (Epsilon) platform will deliver 900 megawatts of zero-carbon electricity from three connected wind farms in the North Sea, 100 km off the German coast. In addition to a converter platform offshore, there is an onshore converter station located in Emden/Ost in Germany
World-first scheme is launched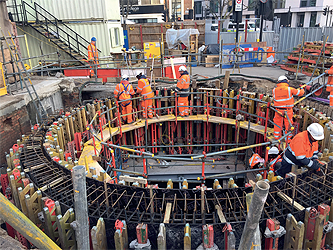 Waste heat from the London Underground network is now capable of providing heating and hot water to more than 1350 homes, a school and two leisure centres in Islington thanks to a pioneering energy centre that opened in early March.
The revolutionary Bunhill 2 Energy Centre – the first of its kind in the world – provides a blueprint for decarbonising heat in potential future schemes in London and around the world, reducing heating bills and carbon emissions while improving air quality and making cities more self-sufficient in energy.
The new energy centre uses state-of-the-art technology on the site of a disused Underground station that commuters have not seen for almost 100 years. The remains of the station, once known as City Road, have been transformed to house a huge underground fan, which extracts warm air from the Northern line tunnels below. The warm air is used to heat water that is then pumped to buildings in the neighbourhood through a new 1.5km network of underground pipes. In addition, the two-metre fan can also be reversed to help with cooling the Tube tunnels in the summer months.
Wind joint venture
Foresight Group LLP and Belltown Power Limited have formed a joint venture to develop Belltown's pipeline of greenfield onshore wind energy projects across the UK under the existing Belltown brand.The JV aims to deliver more than 300MW of incremental clean electricity capacity to support the UK's move to a net-zero power system. The pipeline is focused on sites with excellent potential for wind development, predominantly in Scotland and Wales, and will be developed on a merchant-only, PPA or CfD supported basis.
European expansion
Greencoat Renewables PLC has announced an agreement to acquire a portfolio of operating wind assets in France from John Laing Group for a total consideration of €30.3 million. The portfolio of three windfarms come with 16-year long term fixed rate project finance and have an overall net enterprise value of €95 million. Following the acquisition, Greencoat Renewables' total installed capacity base will increase to 528.1MW.Commenting on the deal, Bertrand Gautier, Investment Manager said he was 'pleased to be making our first investment into the French wind market', and that 'this acquisition further extends the proportion and duration of our fixed-price revenues'.
Floating solar
Saipem and Equinor have signed a co-operation agreement to develop a floating solar panel park technological solution for near coastal applications.
The technology will be based on the in-house developed concept by Moss Maritime, part of Saipem's XSIGHT division.The technology provides the same benefits as already established by solar photovoltaic solutions for calm sea locations (Floating Photovoltaic). However, being designed for more rough weather conditions, additional locations can now be considered.