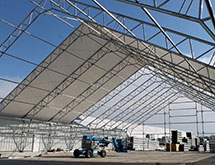 ClearSpan Fabric Structures
ClearSpan Fabric Structures has developed a well-rounded library of building designs over the years. The Connecticut-based design-build company has dubbed itself the "building of 1,000 uses." ClearSpan manufactures long-lasting engineered fabric covers and U.S.A.-made triple-galvanized structural steel tubing to create Hercules Truss Arch Buildings, and its industrial building solutions have been used by a variety of sectors, including agriculture, manufacturing, marine and waste.
Its buildings have served as everything from athletic facilities to equestrian riding centers and from storage facilities to entertainment venues. ClearSpan Truss Arch Sales Specialist Joe Teixeira explains that in the company's early days, taking the basic structure and making adjustments to customize it to a particular client was the norm. Each time ClearSpan created a new design, it was added to the portfolio. Today, the company has a wealth of experience and a large stock of building plans from which to pull.
"Years ago we had a small library of product so we did a lot of customization," Teixeira explains. "As the years have gone on, those customized projects became part of our library. Ninety percent of the time, when a client comes to us they can select from a library to meet their needs. They can either use that design as-is or we can make slight tweaks or modifications to the design."
Two in One
ClearSpan recently introduced another option to its portfolio. It is providing even greater choice to its customers with the launch of its new line of Hybrid Buildings. ClearSpan's Hybrid Buildings offer the option of steel or fabric side walls with the proven durability of Hercules Truss Arch Buildings. The buildings are available up to 160 feet wide for any application and feature an industry-leading 20-year warranty on the cover and a 50-year warranty on the frame.
Since there are no internal support posts, the building allows for maximum usable space. The fabric cover is available in several colors, and its permeable properties make it extremely energy efficient. The polyethylene cover allows the transmission of abundant natural light, significantly cutting costs that would otherwise be needed for supplemental lighting. The buildings start at 25 feet wide and cost as little as $2.99 per square foot. End panels and accessories also are available.
"We're always trying to provide the best product while still keeping costs down," ClearSpan President and CEO Barry Goldsher says.
"Part of our focus is coming up with new designs and we're very excited about Hybrid Buildings," Teixeira says. "It blends the benefit of a traditional building with the versatility of a fabric structure. It can be used for anything, including equipment storage. What we've done with this building is blended the steel frame and traditional fabric roof coverings with the option of steel sidewalls for added security. We can also put in polycarbonate windows for maximum light."
Teixeira says the Hybrid Buildings are made possible by a unique foundation system. "The flexibility of our new anchor system – the helical anchor system – allows construction of this type of building, especially for very remote locations," he explains. "We can avoid the use of traditional, expensive foundations such as concrete, and we can design it all in-house."
Built-in Qualities
Whether it's a traditional fabric structure or one of its Hybrid Building designs, all of ClearSpan's projects come with a number of innate benefits, such as being environmentally friendly. "Our product in and of itself is inherently green," Teixeira explains. "[Customers] are going to get the advantage of a green building regardless of whether or not they are applying for Leadership in Energy and Environmental Design [LEED]. And for those who are focused on LEED in the construction business, every point they can get helps in that process."
ClearSpan's structures boast many properties that are valuable to LEED and green building practices. Its UVI-treated fabric covers are manufactured using a patented weave that is both durable and lightweight. The translucent material reduces the need for artificial lighting, which can boost a LEED score, but it also provides solar reflectance to reduce solar heat gain, leaving the space cooler during summer months. Reducing the solar gain by using ClearSpan fabric adds one point to an owner's LEED score.
"As far as energy consumption goes, our buildings are naturally bright inside so it reduces the requirements for lighting and reduces the overall energy consumption of the building," Teixeira explains. "It also brings costs down by reducing the dependence on an HVAC system to control the building temperature."
Another innate green quality of ClearSpan's structures is its use of recycled and recyclable content. It can vary from project to project, but on average, its steel is made from 90 percent recycled content and its fabric is 100 percent recyclable. Teixeira says the recycled content used in ClearSpan's building materials can add two points to a LEED score.
Designing with Purpose
ClearSpan can take the unique issues facing an owner and come up with customized solution. Depending on the use, the company can produce buildings with a number of add-ons, such as LED lighting and a variety of door options including traditional steel doors, roll-up entrances and engineered fabric doors. If building owners need to keep their structures cool with proper air circulation, ClearSpan can help them choose from an array of ceiling fans, circulation fans, duct fans, exhaust fans, vents, shutters, evaporative coolers, humidifiers and fan accessories. Its AquaCool systems and components also are available for plant watering, animal fogging and workspace cooling. Clients can select the system that best fits their watering and cooling needs or build their own system using its large assortment of AquaCool accessories and plumbing supplies, the company says. Or, if heating is the issue, the company has many different types of heaters, including natural gas heaters, propane heaters, convection heaters, tube heaters, infrared heaters and brooders. It also offers portable heaters that are ideal for use in a workplace, greenhouse, garage or anywhere else that heat is needed on a temporary basis.
Fast and Flexible
Not only does ClearSpan create tailored solutions for its clients, but it does it quickly and efficiently. "We meet as many needs as possible with something that's cost-effective, and we meet those needs quickly," Teixeira says. "That's one of our greatest success factors. If a rail yard or shipping facility that's in need of a large area of storage needs something quick and cost effective, we have done projects from beginning to completion in as little as 30 to 45 days."
ClearSpan's ability to work quickly helped it in the designing and building of a storage facility for the Kuhlman Corp. of Toledo, Ohio. Kuhlman Corp. won a new business contract but found it did not have enough space to accommodate the new business opportunity. Kuhlman Corp. has eight facilities around the United States and offers a variety of services including masonry, concrete, brick, stone, water and sewer services. The company is a wholesale distributor of a wide range of construction materials for the masonry, concrete and sewer trades.
Steve Wagener, director of facilities for Kuhlman Corp., manages all of the company's locations and is a major player in important decisions regarding the grounds and facilities for the company. When Kuhlman Corp. became a part of a new project, Wagener needed to find a new storage building for the Toledo location.
"We bid on a contract to screen salt and didn't have sufficient indoor storage for the product," Wagener says. After talking with some of the company's salt customers, Wagener knew a ClearSpan Hercules Truss Arch Building was the ideal solution.
"We visited several fabric structures and were impressed with the construction and durability of the ClearSpan building," he says.
Wagener says he is pleased with his decision to work with ClearSpan. "Our initial investment was much lower than a wood or metal structure," he says. "We were able to get this building up fast and it is easy to maintain. We are very happy with our fabric structure. You get a lot of bang for your buck with a ClearSpan building."