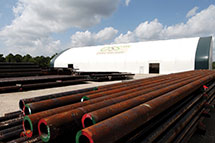 ClearSpan Fabric Structures
As the energy market continues to grow and mining stays steadily strong, many support and service players are acquiring the skills necessary to serve the two sectors. Others are simply taking existing in-house capabilities and translating them into the energy and mining world, which is exactly what ClearSpan Fabric Structures has done.
Connecticut-based ClearSpan Fabric Structures has served clients across the country, manufacturing engineered building solutions using U.S.A.-made and triple-galvanized structural steel tubing for the buildings' frames and long-lasting patented fabric covers. Its industrial buildings have been used by sectors, including agriculture, manufacturing, marine and waste, and have served as everything from athletic facilities to equestrian riding centers. Dubbed the "building of 1,000 uses," ClearSpan's facilities have found a natural fit among mining clients and are gaining ground within the energy sector.
Market Presence
"We've had more exposure in the mining industry than in the oilfield market at this point," ClearSpan Truss Arch Sales Specialist Joe Teixeira explains. "We work a lot with mining operations and the construction companies that build the mines. Sometimes our structures are used as primary supply warehouses, maintenance shops or storage facilities."
The need for storage facilities and warehouses is also seen in the energy market, Teixeira says, especially with those drilling and pumping in the country's abundant shale plays, such as in Texas, the Bakken in North Dakota and the Niobrara in Colorado.
"Our activity in the oilfield sector is growing with the increasing demand for energy independence that we're seeing in the U.S. now," Teixeira explains. "The Dakotas have been a bright spot for us, and we are doing more marketing in the field to reach those potential clients. In previous years, we didn't focus on it as much as we are now."
And the oilfields aren't the only energy players capturing ClearSpan's attention. The company has worked with clean-energy clients, including solar power and wind farm operators. It's also worked with biomass and biofuel clients, manufacturing structures such as storage and manufacturing facilities.
For energy and mining, Teixeira says many attributes make ClearSpan's structures a natural fit. One of those is the design's innate flexibility.
Structural Benefits
"Our buildings are well-suited to these types of markets, because they are engineered for long-term use, but lend themselves to being transported to new locations," Teixeira says. "These industries – mines especially – are always in flux. We know that mines don't last forever, so the ability to move the building to another location and have a complete structure ready to go is a big advantage."
ClearSpan can provide supervisors to oversee the process or clients can handle dismantling and reinstallation of the structures themselves.
"We use a very efficient method of construction," Teixeira says. "Everything is bolted together using traditional tools, and there is very limited loss of materials when you move one of our structures compared to other structures. If you moved a steel or wood building, you wouldn't be able to move the entire building without having to purchase new materials. Our structures can be permanent or temporary, installed with minimal foundation requirements and easily relocated without compromising quality."
Another feature that fits well with the energy and mining markets is the benefit of having wide-open space. Many owners use ClearSpan buildings as storage facilities for resources, such as frac sand and drilling equipment. Due to the unique engineering of ClearSpan Fabric Structures, all of the inside space is useable. There are no internal columns or supports to interfere with interior plans or get in the way of front-end loaders and other large equipment. Offering superior height and clearance compared to traditional metal or wood buildings, the buildings allow owners to utilize as much space as possible.
Clients are able to have free rein with the interior, but also ensure their assets are protected from outside elements. Unlike most fabric structure companies, ClearSpan uses round tubing instead of square tubing, which has proven to be stronger and more flexible at weld points, especially in high wind- and snow-load areas. Its patented fabric covers also contribute to the lasting durability of the buildings. ClearSpan's fabric covers have a patented rip-stop weave that is lightweight yet exceptionally strong.
ClearSpan buildings also reduce outside noise and diminish indoor echoing. Sound-absorbing covers and walls provide a peaceful, tranquil environment for occupants with no harsh sounds of rain or sleet pelting against the roof. Also, there are no hiding places for rodents in a ClearSpan structure. The corner-free design, combined with abundant natural lighting, creates an unappealing setting for nesting rodents. With no traditional insulation or wood, there are also fewer insects in ClearSpan structures.
Teixeira says ClearSpan's structures keep out unwanted elements while still allowing natural light to flow through. This feature not only brightens the atmosphere within a ClearSpan building, but also provides substantial energy savings. Natural light permeates through its covers, reducing the need for daytime artificial lighting and decreasing the amount of lights needed at night.
"As far as energy consumption goes, our buildings are naturally bright inside, so it reduces the requirements for lighting and reduces the overall energy consumption of the building," Teixeira notes. "Our buildings also reduce dependence on HVAC systems as they are naturally cooler in the summer and warmer in the winter."
All of these features and more have helped ClearSpan gain a foothold in the mining and energy sectors.
In Working Order
Just recently, ClearSpan provided an 83-foot-wide by 200-foot-long Hercules Truss Arch Building to Oilfield Steel Supply (OSS), an oil and gas product manufacturing company in suburban Houston.
As a start-up company, OSS was in need of a new manufacturing warehouse. After researching traditional and non-traditional structures to address functionality, appearance and cost, CEO Nick Jones chose ClearSpan Fabric Structures.
"The spacious interior with no support posts is very unique and allows full access to the shop floor," mentioned Jones. "The building also allows a great deal of natural light to flow through. That, paired with cross-breezes from the door openings, ridge vents and exhaust fans, makes it a comfortable working environment for all of our employees, even on the very hot summer days we typically see in Texas."
From concept to completion, the overall cost of the building is one of the things Jones has been most pleased with. "The building is an excellent value. Order to installation was very fast, and the structure provides a very comfortable and safe working environment," added Jones. "ClearSpan was clearly the right choice."