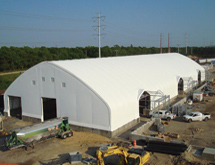 ClearSpan Fabric Structures
Whether it's for lofty dreams of saving the world or simply a way to save money over the long term, embracing environmentally friendly buildings is very much the norm today. And as the world grows evermore green-conscious, building owners often go to great lengths to meet third-party sustainable building requirements or simply to satisfy their own green-guilt standard.
From expensive and complicated geothermal heating systems to quirky architectural elements made from recycled glass, building owners have voted with their dollars that green is the way to go. But depending on the building type and use, going green isn't always that complicated. Some structures are just built that way.
ClearSpan Fabric Structures engineers, manufactures and constructs buildings made from triple-galvanized steel trusses and lightweight, long-lasting fabric. Since 1979, its buildings – dubbed "the building of a 1,000 uses" – have been used in a number of applications, such as athletic facilities, storage facilities, agriculture buildings, manufacturing plants and a variety of other uses. Whether the client was aiming for it or not, each project has built-in green elements.
"Our product in and of itself is inherently green," says Joe Teixeira, a truss arch municipal sales specialist at ClearSpan. "[Customers] are going to get the advantage of a green building regardless of whether or not they are applying for Leadership in Energy and Environmental Design [LEED]. And for those who are focused on LEED in the construction business, every point they can get helps in that process."
ClearSpan's structures boast many properties that are valuable to LEED and green building practices. Its UVI-treated fabric covers are manufactured using a patented weave that is both durable and lightweight. The translucent material reduces the need for artificial lighting, which can boost a LEED score, but it also provides solar reflectance to reduce solar heat gain, leaving the space cooler during summer months. Reducing the solar gain by using ClearSpan fabric adds one point to an owner's LEED score.
"As far as energy consumption goes, our buildings are naturally bright inside so it reduces the requirements for lighting and reduces the overall energy consumption of the building," Teixeira notes. "It also brings costs down by reducing the dependence on an HVAC system to control the building temperature."
Another innate green quality of ClearSpan's structures is its use of recycled and recyclable content. It can vary from project to project, but on average, its steel is made from 90 percent recycled content and its fabric is 100 percent recyclable. Teixeira says the recycled content used in ClearSpan's building materials can add two points to a LEED score.
"Those two major components – the steel and fabric and how they work together – is what makes these buildings what they are," Teixeira says.
Two is Better Than One
ClearSpan's engineered building solutions use U.S.A.-made, triple-galvanized structural steel tubing for the building frames. Unlike most fabric structure companies, ClearSpan uses round tubing instead of square tubing, which it says has proven to be stronger and more flexible at weld points, especially in high wind- and snow-load areas. Its patented fabric covers also contribute to the lasting durability of the buildings. ClearSpan's fabric covers have a patented weave that is lightweight yet exceptionally strong and, thanks to the unique engineering of ClearSpan fabric structures, all of the inside space is useable. There are no internal columns or supports to interfere with interior plans.
Those factors combined with its inherent sustainable features have caught the eyes of many building owners, particularly those within the municipal arena, Teixeira says. Factors such as the White House's Executive Order 13415 and its Better Building Initiative – which seek to reduce energy use as well as water use and waste at federal buildings and private buildings – are helping to fuel this trend. Even at the state and city levels, many governments are making efforts to build greener.
Within the government sector, ClearSpan has worked on projects such as recycling centers, sand and salt storage buildings, school gymnasiums, DOT equipment storage buildings and public works buildings.
The company also is active in the military sector, and has manufactured and constructed facilities such as mobile command centers, housing, mess halls, forward operating bases and field hospitals.
"When we're involved in government projects, we do tend to get asked more frequently about LEED and sustainable features than when working with private consumers," Teixeira says. "The owner of the project typically sets the standard that the project needs to meet and all the components need to come together to reach that goal. We are a portion of that and can add to their total LEED points."