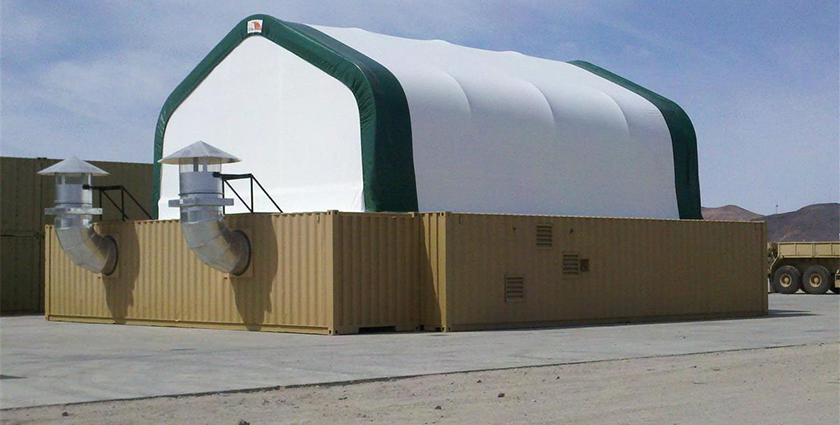 ClearSpan Fabric Structures Inc.
ClearSpan's fabric structures can survive harsh weather – even hurricanes.
ClearSpan Fabric Structures Inc. delivers products that are built to last. "In Fort Lauderdale, Fla., people always ask me what happens when the hurricanes come through," Sales Director Geoffrey Ching says.
He tells them ClearSpan's products can endure such harsh wind loads. "It should do as well, if not better, than any other building there," he asserts.
Based in South Windsor, Conn., ClearSpan provides customized fabric, metal and hybrid structures for domestic and international industries. But Ching notes that the company's roots began in agriculture.
"We saw the tension fabric buildings as really an ideal fit for farm storage," he says. ClearSpan soon saw applications for the structures in other sectors, including municipal sand and salt, industrial mining and even construction.
"Often, large general contractors are awarded projects and need covered storage areas for material storage and workshop activities," Ching explains. "ClearSpan is an ideal fit for these applications, when rapid deployment is needed, use is temporary and structural integrity cannot be compromised."
ClearSpan's versatility, he adds, has made it a leader in its niche. "Our vertical integration also is superior," he adds, noting that the company has its own in-house engineers, production managers and design teams.
"We're doing the innovation as well as the manufacturing," Ching declares. "We're not outsourcing any part of the operations of the company."
Only the Best
ClearSpan uses quality materials to make its fabric structures durable, particularly their frames. "One thing we're extremely proud of is that we use all United States-manufactured steel," Ching says.
This makes the frame stronger than those offered by its competitors, according to Ching. "The frames themselves also carry a 50-year warranty," he says, noting that the fabric in its structures carries a 20-year warranty.
"We're using what we believe is the best fabric solution," Ching says, adding that ClearSpan offers its clients fire-rated material. "It's also good to know that our frames and structures can be designed and engineered by our in-house engineering teams to building codes."
ClearSpan's structures have a positive impact on the environment, Ching says. Thanks to the use of natural light, "You're saving tremendously on electricity, particularly during the day," he says.
"You're not paying for a fabric structure [to have] heating and cooling, so there's savings there," he continues. "It's just creating a more natural environment."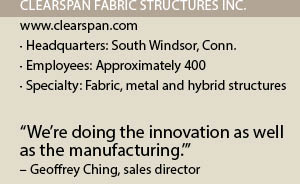 Providing Cover
ClearSpan recently completed a project for Kingsford Products Co. where it provided a fabric structure to cover a large pile of charcoal. The pellets, Ching explains, are put in large piles to be dried out, which helps enhance the end-product.
"They wanted a really open, 250-foot-wide by 260-foot-long space," he continues. "They put in an engineered concrete foundation and concrete wall for capacity, and it turned out really well."
ClearSpan's structure also was built without center supports, which provided Kingsford with more freedom to operate its loading equipment. "If you've got center supports, what happens is it's not as easy for that equipment to move around as efficiently," he says.
The fabric structure also has a very high peak, which enables Kingsford to make a higher stack of charcoal pellets. "You have more storage capacity and volume," Ching says. "The loaders also can be quite larger for their required clearances."
Kingsford is very happy with the structure. "They've gotten to see that what they put into this does pay for itself over time," he says.
ClearSpan also is experiencing a surge in projects for recycling facilities. "We receive 10 calls a week for recycling applications," Ching says, noting that its facilities are a good fit for the industry.
"Oftentimes, with the recycling facility, we need to cover the equipment that's already there," he says. "The height clearance also is ideal for their operations."
ClearSpan also can meet their needs by leaving the ends of the structure open or building a pavilion-style structure. "We also can do all sorts of door sizes as well for processing," he says.
Client Favorite
ClearSpan has nurtured a base of repeat customers including Stronach Group, a leading operator of horse race tracks. "They had us do four large structures in Florida," Ching recalls.
Stronach was so pleased that it had ClearSpan provide another for its Laurel Park track in Laurel, Md. Although the company provided a "bubble"-style tent in Florida, "the A-frame style was a better fit in Maryland for horse stalls," he states. "We created a superior solution that they wanted.
"We've had a lot of regional and national recycling companies as well as contracting companies come back to us," he says. Its repeat customers include Agco Corp., Buzzi Unicem USA Inc., Central Equipment Co., ICM, John Deere and Republic Services Inc.
Ones to Count On
ClearSpan operates with an extremely cohesive and cooperative team, Ching says. "There's excellent communication and high levels of trust between project managers, sales team members and engineers," he says.
"We have strong personal relationships even though we're in different facilities and traveling around the country," Ching says. "I know I can count on them to be extremely fast."
For instance, if ClearSpan needs to quickly deliver 50,000 square feet worth of facilities, "We can do it," he says. "I can make those commitments to customers because of the trust in my colleagues."
He praises Construction and Design Manager Robert Blush, Lead Engineer John Schemmel and Lead Project Manager Alin Muresan. "The three of them work most closely on customizing projects and making the impossible happen," Ching says.
Getting Stronger
ClearSpan is coping with stricter building code and permit requirements. "Construction in general per square foot for industrial and commercial projects also is becoming more expensive," Ching says, noting that this can be challenge for clients.
Some potential clients also require more convincing on its products. "We are constantly fighting the perception that a fabric-covered building is not going to have the structural integrity of a steel building," Ching admits.
"We believe our customers would really promote the fabric cover as just as good if not better," he says. "But we're definitely more ubiquitous than we were when I started here eight years ago."
ClearSpan sees a strong future ahead with the Trump administration's plan for increased infrastructure spending and tax cuts. "We are very optimistic that it's going to be good for all of construction," Ching says.
ClearSpan also plans to triple its sales in the next five years. "We believe we will be stronger within the industries that we're preferred," he says. "The bigger upside is we're going to gain traction in new industries."
Customers in these sectors will become "huge advocates of our concept," Ching predicts, noting that these may include the oil and gas industry. "We would expect oil and gas to be coming back within the next few years.
"We can be a real good fit for everything from truck storage to frac sand storage," he says. "We've also done some recreation centers up in the Bakken."
'Amazingly Pleasant'
ClearSpan Fabric Structures' new hybrid building features metal sides and a fabric top. This meets the needs of clients looking for more than the usual fabric structure, Sales Director Geoffrey Ching says.
"Usually, it's for security reasons," he describes. "You'll get corrugated steel on the sides, which responds to safety concerns, and fabric on the top, which lets the natural light in."
This is a good fit for work involving animals, Ching says. "It adds to an amazingly pleasant environment," he states.