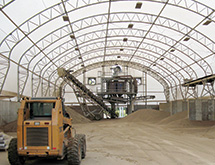 ClearSpan Fabric Structures
Buildings frequently are seen as permanent structures, but in certain situations, making them mobile can be advantageous. This is just one of the many advantages of ClearSpan Fabric Structures. They use a rugged, all-purpose Hercules Truss Arch manufactured from high-quality, USA-made, triple-galvanized structural steel tubing to resist rust and corrosion.
Covering the steel is lightweight fabric with a strong, patented weave that is treated to resist weather and ultraviolet UVI rays. The fabric also can be flame-retardant and carries a 20-year warranty. The metal frames and supports are warrantied for 50 years. Another advantage that creates mobility for ClearSpan Fabric Structures is that they can be installed directly on the ground with little to no site preparation.
The structures can be erected up to 300 feet wide and on somewhat uneven surfaces, on asphalt or concrete, and height can be added by constructing the building on a pony wall, shipping containers or concrete blocks. The Helical Anchors for Hercules Truss Arch Buildings require no excavation and are classified as 100 percent temporary, but they can remain for as long as needed, making them cost-effective, fast and convenient while being environmentally friendly. Cables are added to the exterior wall girders for additional flexible bracing in high wind conditions.
"The structures can be anchored by helical anchors, which are long pieces of steel that are shaped like screws and screwed into the ground," Truss Arch Specialist Joe Teixeira explains. "They hold as an anchor base for the building as an alternative to traditional anchoring methods, such as concrete piers or slabs. The goal is to allow faster, more economical construction and the ability at a later date, if necessary, to move the structure. It's just a matter of unscrewing the helicals from the ground. There is an environmental aspect to it – they disturb the ground as little as possible, plus save enormous costs vs. using cemented footings."
Low Maintenance
Another advantage of ClearSpan Fabric Structures is that they do not require constant ventilation to maintain air pressure and keep the roof up as air-inflated structures without supports do. "If you lose power and there is no backup power, an air-inflated building is coming down," Teixeira notes. "There's nothing to support the frame once the air pressure is gone. It's not an inexpensive proposition to take the building up and down, because you have infrastructure in place and HVAC. Our building is supported by our frame."
Maintenance requirements for ClearSpan Fabric Structures are low. "The building itself is pretty much self-cleaning," Teixeira maintains. Rain cleans most of the building. "A light washing of the outside is really the only maintenance there is," he says.
ClearSpan Fabric Structures also are suited to hybrid applications, in which the fabric roof might be used with traditional steel for aesthetic or security reasons or to match existing buildings. "We use the exact same frames we utilize for fabric roofing," Teixeira says. "It's just another step. The steel siding goes on the sides in place of fabric and on the end wall. The roof structure is normally still covered with fabric."
Keep Moving
Temporary structures are used in mining and pipeline construction. For example, a gold or silver mine may have a lifespan from three to four years or up to 20 or 30 years, but then the mining operation is moved. "They can close up the mine, go to another site and take that structure with them," Teixeira points out. Crews building pipelines are moving constantly and can take a ClearSpan structure with them.
Another type of temporary structure is for wind turbine farms. "If they need to have periodic or scheduled maintenance, they need a building put up very quickly that can be taken down and moved if needed," Teixeira says. "It's just not practical to build a traditional concrete or steel building."
Low Energy
ClearSpan Fabric Structures are energy-efficient. During the day, the translucent, light-colored fabric produces soft illumination inside and reduces the need for artificial illumination. The fabric also provides warmth in the winter and cooling in the summer. "That typically accounts for 15 to 20 degrees temperature-wise within the structure," Teixeira maintains.
In the summer, the light color keeps the structures cooler. "Because you're not getting the UV rays through, it will be cool," Teixeira asserts. "We do recommend that the building be properly ventilated with standard intake and exhaust ventilation. The end walls of our buildings are flat planes so you can install any type of ventilation equipment."
Efficient heating is important, since some ClearSpan fabric structures can be 80 feet high. "Our building users tend to gravitate more toward a radiant type of heating system," Teixeira says. "It's very efficient because you're not heating the air; you're heating objects on the ground floor of the building. The one thing about our buildings is you want to make sure you have the most efficient type of heat and have it where the people are. You don't want to blow heat around in the air in an 80-foot-tall building."
Recyclable Materials
An additional environmental advantage to ClearSpan Fabric Structures is that their materials – steel supports and the fabric membranes – are recyclable. The steel is manufactured from mostly recycled content and is made in the USA.
"Both of the fabrics – heat-welded vinyl and high-density polyethylene – are recyclable," Teixeira explains. "The type of fabric we use depends on the application. All the fabrics we utilize are 100 percent waterproof and UV-proof." The solar reflectance index for the NovaShield fabric that ClearSpan Fabric Structures use is 99, where 100 is the most reflective, cool roof that is least likely to get hot. Reducing the solar gain by using ClearSpan fabric adds one point to an owner's LEED score.
ClearSpan structures which are 100 percent American-made are manufactured in their very own ClearSpan Hercules Truss Arch building, which is centrally located in Dyersville, Iowa. They are used to house construction equipment, fisheries, hatcheries and as agricultural buildings. They also can be used for green industry applications, such as recycling, composting, wastewater decontamination and waste material storage.
The structures can house animals and keep compost or other waste materials from running off land and contaminating groundwater. They have been used as airplane hangars, alpaca housing, riding arenas, garages, driving-range shelters, aviaries, butterfly sanctuaries, salt storage and grain and equipment storage.
Clear Advantages
Because they have no corners, ClearSpan structures have no hiding places for rodents, and because they are naturally brightly lit, the interior is unappealing for nesting rodents. With no traditional insulation or wood, fewer insects nest in ClearSpan structures, the company says. The fabric roofs of ClearSpan buildings reduce outside noise and diminish indoor echoing. The sound-absorbing covers and walls provide a quiet environment for people and animals without the noise of rain or sleet pelting a roof.
The elimination of internal support columns maximizes the space available in the structures, and their simple design reduces production and erection time to a few weeks. The company maintains its structures can be built in less than half the time of a traditional wood or steel building.
Financing and Engineering
ClearSpan Fabric Structures has been in business since 1979 and features an industry-leading warranty. The company also offers its own internal seven-year customer financing instead of through an outside bank. Its finance team gets to know customers' needs and how the ClearSpan building will be used and impact a customer's business. Competition, new business, product development, business growth and projections of income are all taken into consideration.
ClearSpan Truss buildings are available directly from the manufacturer in round, gable, hybrid and metal styles in sizes from 20 feet to 300 feet wide and in any length desired. Custom building sizes also are available.
The buildings are designed by the company's engineering team, which creates a custom building using computer-aided design software. The number of steel trusses and their spacing is determined by wind and snow load requirements, along with other building code factors. The engineers also factor in calculations for customizations, such as additional building height. Instructions for manufacturing and building erection are created from these designs.
Round instead of square steel tubing is used for the trusses and frames. Round tubing is stronger and more flexible at weld points than square tubing, the company says, especially in high wind and snow load areas. Each steel truss is individually constructed in accordance with the design specifications.
It is cut to the correct size using computer numerical controlled machines and, if needed, bent to the proper angle. Once cut and bent, the steel tubes are welded together to create a webbed effect that provides strength to the trusses. Truss components that require extreme precision are welded by a computer-operated robotic welding machine.
Fabric covers smaller than 100 feet wide are manufactured in one piece. The fabric is cut into smaller sections and then lined up, angled properly and heat-sealed into one whole piece. For larger structures, individual fabric panels are made for each section of truss to reduce weight, pressure and therefore stress to the structure. This also allows the fabric to be fastened to individual trusses more securely on larger buildings.
All of the building components are packaged for shipment, properly labeled and arranged for pickup by a third-party shipper. The installation crew can meet the shipment onsite. "Those two major components – the steel and fabric and how they work together – are what make these buildings," Teixeira says.