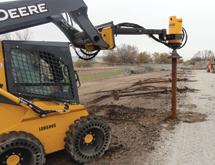 Versatility usually means you're getting the best of both worlds. Durable yet lightweight, easy to assemble but long-lasting – versatility often combines words whose definitions seem to not fit together at first, but once joined tend to create superior results.
"Our buildings are advertised as buildings of 1,000 uses and it can't be more true than that," says Brad Williams, a national sales specialist at ClearSpan, which engineers, manufactures and installs engineered fabric buildings. "Our buildings can be used as temporary housing and coverings for the construction industry and used as laydown or staging for materials. It can be used as temporary storage or permanent storage for warehousing vehicles or transloading operations. We also do an awful lot of buildings for the agriculture market to store commodities and house livestock. Our buildings can be customized to their needs."
Since 1979, ClearSpan has provided engineered building solutions in the form of fabric structures supported by steel trusses. It uses U.S.-made, triple-galvanized structural steel tubing for its building frames. Unlike most fabric structure companies, ClearSpan uses round tubing instead of square tubing, which it says has proven stronger and more flexible at weld points, especially in high-wind and snow-load areas.
The fabric covers contribute to the lasting durability of the buildings. ClearSpan's fabric covers have a patented weave that is lightweight yet exceptionally strong. Covers are also UV-treated and weather resistant for long-lasting use, and flame-retardant material is also available. The white fabric covers reduce the need for artificial lighting, lowering owner's energy consumption. Due to the unique engineering of ClearSpan fabric structures, all of the inside space is useable. There are no internal columns or supports to interfere with interior plans.
All In One
The company offers an industry-leading 20-year warranty on covers and a 50-year warranty on frames, signaling its confidence in the materials and process used to design, manufacture and install its engineered fabric structures. Williams explains the company is also confident in its ability to design structures that meet its clients' exact needs. Between its corporate headquarters located in South Windsor, Conn., where the company's Truss Arch specialists work, and its Dyersville, Iowa, location, where it designs, engineers, manufactures and distributes its engineered structures, ClearSpan is proud of its ability to provide turnkey custom-made solutions.
"We design and engineer all of the projects in-house and then we fabricate all the steel trusses," Williams says. "The fact that we do all that ourselves is part of what makes these buildings so versatile. A customer can call with a building size that we haven't done in the past, but we can customize that project."
After 34 years in the business, Williams says the company rarely sees a project that it hasn't done before, but when it does, it's able to pull from a vast set of resources. "A lot of our confidence just comes from experience on our end," he explains. "We get to draw from years and years of professional experience from working with previous customers. We can all learn from each other's experience and continue to refine the projects for new customers."
Although ClearSpan may not come across too many new requests these days, it is seeing its structures being used in new ways. Some of its largest markets include agriculture and construction. Its structures are also often used in equestrian settings and for seasonal haunted houses. They form the setting for event centers and storage facilities for municipalities or wastewater treatment plants. Today, Williams says ClearSpan is seeing a growing interest in its services among the oil and gas industry.
Booming Industry
Areas such as North Dakota, Texas and Pennsylvania have seen a boom in oil and gas exploration in recent years, spurring the need for more structures to support these growing operations and communities.
"The oil and gas industry has been a huge industry for us in the last couple of years," Williams says. "What we see trending is a lot of the onsite staging areas and areas for vehicle maintenance as well as employee camps. It's the same types of structures that we've done since forever but now we're doing it for another industry."
There are many features innate to ClearSpan's structures that attract the oil and gas industry. One is its fast installation. The oil and gas industry is an opportunistic one that needs to mobilize quickly and capitalize on new finds. Fabric structures are built in less than half the time it takes to construct a traditional wood or steel building and ClearSpan can manufacture complete structures in just a few weeks.
Another appealing feature of fabric structures is their mobility. In the oil and gas industry, today's big find will soon be yesterday's news. Williams says companies need to be able to move from site to site in an efficient manner. Although durable enough to serve as permanent sites, ClearSpan structures can also be easily relocated or taken down whenever a client's needs change. They also can easily be expanded should customers require more space.
"Because of the versatility, oil and gas companies can easily relocate structures," Williams says. "Some companies will put the buildings on shipping containers and enclose the ends and now they have a building. It allows them to move a turnkey structure in a couple of days to a whole new site."
Solid Foundation
But for those looking for permanence, ClearSpan fabric structures can do that too, and without costly and lengthy construction of concrete foundations. Whether for permanent or temporary use, ClearSpan can install a building directly onto the ground with little to no site preparation, even on slightly uneven surfaces. ClearSpan structures can also be constructed on asphalt or concrete. Owners can add height to the buildings by putting them on pony walls, shipping containers or concrete blocks. A recent innovation for the company is its helical pile foundations, which Williams says has resulted in even greater cost savings for customers.
"It's something we designed and engineered and we install in lieu of concrete," Williams says. "Helical piles aren't new to the world, but just new to us. They were developed to hold offshore lighthouses in place of old wooden piles for shoring. We realized with our structures, they can be a great cost-efficient option. So our crews that travel from Iowa can bring the materials along and do the foundation easier and faster for the customer."
ClearSpan recently completed a project in Florida using this foundation system. The Florida casino and horseracing track was renovating the building where it keeps its horses and needed temporary housing for the animals during construction. It took only three months for ClearSpan's crew to install two buildings measuring 83 feet wide and 600 feet long using helical piles as the foundation.
Fast and inexpensive aren't typically words associated with quality products. However, in the case of ClearSpan's structures, the company is proving that sound craftsmanship doesn't always have to come at a high price and with long waits. The company boasts the staff and resources to deliver full solutions for a variety of needs.
"One-stop-shop is an overused term sometimes, but we truly are a concept-to-completion company," Williams says. "We are a true solutions provider, and we have new and innovative ideas such as our helical pile foundations that make projects less expensive and faster and easier to complete without forsaking quality."