Clearing the air
Owned and operated as an enterprise utility by the City of Clearwater, Clearwater Gas System (CGS) is the fourth largest municipal gas system in Florida. In business since 1923, Clearwater Gas serves over 28,000 customers across 20 municipalities and ranks 34th out of nearly 1000 public gas systems in the Unites States. Primarily a natural and propane gas service provider, Clearwater Gas also offers maintenance, installation, repair services, and appliance sales, as well as operating as a Compressed Natural Gas (CNG) fueling station. Speaking to Energy, Oil and Gas, Executive Director Chuck Warrington summarized the energy provider's guiding philosophy.
Our mission statement incorporates the ongoing effort of Clearwater Gas to be a 'provider of choice', which addresses allowing consumers the opportunity to 'choose' either natural gas or propane gas energy," he explained. "Given today's energy and utility climate, most corporations have outsourced several customer service functions, but Clearwater Gas System has continued to offer – for over 95 years – in-house functions such as service and repair,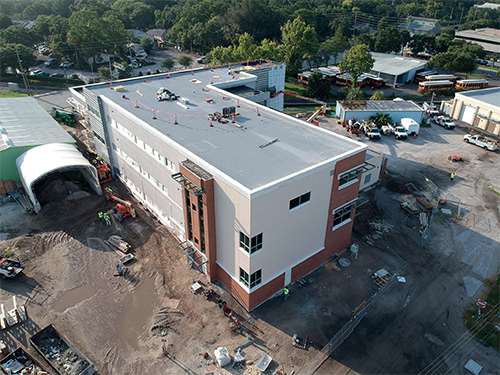 installation, appliance sales, and a 'live' voice during customer calls."
Clearwater Gas has enjoyed impressive growth throughout the last decade and has current annual revenues of nearly $50 million. In 2019, robust marketing efforts resulted in the addition of 1,879 new gas customers and a growth rate of 7.5 per cent. Such significant progress led a report compiled by the Municipal Natural Gas Association to name Clearwater Gas System as the fastest growing gas utility within the state. Building on this success, CGS recently moved into a brand-new utility complex. Funded through the provider's retained earnings, the 57,000 square foot site has been designed with durability, efficiency, and sustainability in mind.
"The new Clearwater Gas campus features enhanced building elements, mechanical and electrical systems, and space planning to create a flexible and effective location with a minimum 50-year service life," Chuck revealed. "Sustainable design features include a main building oriented on the site to maximize daylight on the North and South facades; membrane roofing with a light-color, low albedo surface to reflect heat and reduce the cooling load; interior lighting controlled by occupancy sensors that reduce energy use when rooms are vacant; and finally, gas-fired equipment providing chilled water for high-efficiency air conditioning and humidity control."
The new campus was designed to meet CGS' infrastructure needs and the day-to-day functional needs of 100 employees. Chuck made it clear that the functional business needs of its employees are critically important to motivate and retain good people to support the success of any gas utility.
"The ultimate goal is to attract and hire individuals that desire a long and healthy career in the gas industry," he remarked. "After many years of obstacles with hiring, specifically salary-based issues, the City of Clearwater's Human Resources department decided to conduct a much-needed classification and compensation review. The results of the review showed that about half of the City of Clearwater positions (in comparison to similar jobs) were behind market. We desire to recruit and retain quality staff and we are unable to do so if half our positions are being paid behind the going market rate. To fix the issue, the city council agreed to spend more than $3 million last year to boost the salary ranges for positions that fell below market to where they should be and to address the proper placement of employees in pay ranges based upon years of service in the current position. As a result, this study truly helped the gas system with an ongoing challenge of hiring and retaining qualified individuals."
The importance of a skilled and settled workforce has never been more evident than in 2020 when, like firms across the globe, Clearwater Gas has been forced to contend with the negative impact of the Covid-19 pandemic. Limitations on face-to-face customer visits mean that the provider's employees have been forced to conduct regular customer interactions over the phone, through email, and on social media. Delays in natural gas infrastructure installation and permit procurement have also been common challenges since the outbreak of the virus.
"This period has required consistent messaging, as well as a huge dose of patience from our customers and employees," Chuck said. "We had been told by customers in the past that hearing a human voice on the other end of a phone call is so refreshing versus hearing automated dialogue. Once you provide a detailed explanation, customers are a bit more understanding and that's where our team have stepped in.
"Alongside this, Clearwater Gas System has been doing everything it can throughout 2020 to enhance the safety and wellbeing of its customers and employees. We are committed to providing a safe and reliable service and we do not anticipate any service disruptions at this time. Our internal teams are taking a number of precautionary measures, including wearing PPE to mitigate exposure to the virus, and we are regularly communicating with our employees, as well as posting Covid-19 updates on the gas website for all gas customers."
The focus on safety should come as no surprise to those well-acquainted with the way Clearwater Gas operates. Safety has always been the provider's top priority, and among other initiatives, CGS operates an emergency gas dispatch center open 24 hours a day, seven days a week, which allows customers to report gas leaks and other gas-related concerns.
"Clearwater Gas System is committed to taking every precaution necessary to protect gas lines and ensure a safe environment for our workforce and the general public," Chuck asserted. "According to the US Department of Transportation, pipelines are the safest form of energy transportation, but still, as a gas utility, Clearwater Gas System is regularly safety inspected by the Florida Public Service Commission and the Department of Transportation. As such, our safety measures include training for all gas sections, including Service and Repair, Installation, Cathodic Protection and Construction."
Having made it through the first half of a challenging year, Clearwater Gas is eager to develop the customer connections it has established over the past few years, while continuing to evolve and expand in the future. Chuck highlighted that the provider's current partnership with Habitat for Humanity of West Pasco County highlights the firm's ongoing dedication to maintaining strong customer relationships. Habitat for Humanity offers a unique and sensible formula that makes it possible for limited-income individuals and families to own a home they can afford. Clearwater Gas has, to date, provided natural gas service to 144 Habitat Homes in North Pinellas and Pasco counties. For Chuck and his team, it's a sign of good things to come.
"We feel confident that we will continue to grow at about eight per cent annually, which will possibly add another 10,000 customers in the next five years," the Executive Director stated. "We also believe that our customers will show increasing interest in higher tech gas equipment like gas air conditioning, CHP energy systems, and desiccant systems."
No matter what else the future may hold, Clearwater Gas is determined to become a greener, more sustainable organization by the end of the decade. As well as employing practical initiatives such as paperless billing, CGS regularly shares several approved residential and commercial Gas Energy Conservation programs as tools to promote environmental sustainability practices. It all goes to bolster the provider's efforts to provide energy savings to its customers while helping to create a cleaner planet.
"Our overall message is that natural gas has been a game changer in American energy utilization," Chuck declared. "When we explain our environmental strategies, we talk in terms of annual energy 'savings' when operating typical gas appliances such as water heaters and dryers. At current residential rates, natural gas is 65 per cent cheaper to operate versus electric energy and recent studies show that natural gas produces much lower emissions than those of other fossil fuels like coal or oil. Also, due to its higher efficiency, natural gas emits 52 to 56 per cent less GHG than coal for the same amount of electricity. At present, 130 City of Clearwater vehicles fuel at the CNG station on Hercules Avenue in Clearwater, as well as about 20 customer CNG vehicles. We believe that the consistent use of natural gas is a significant contributor to reducing pollution and improving the climate concerns of our world."
Clearwater Gas System
www.clearwatergas.com
Products: Natural and propane gas provider