People power
CLS Offshore is the UK's leading drilling package, MODU and fixed installation specialist fabrication and engineering company, specialising in fast, turnkey projects that allow major offshore customers to operate at their most efficient.
From modern facilities in Great Yarmouth and Lowestoft, the company provides a complete range of turnkey fabrication and engineering services compliant with the highest industry standards.
"CLS Offshore was originally formed in 1997, with the primary function of supplyin  specialist rig/derrick building personnel," says Steve Johnson, managing director at CLS. "Initially, the company's first projects were undertaken in the Caspian region, but upon completion of these CLS returned to the UK and added additional services of engineering, fabrication and offshore
installation to its existing portfolio.
"The company has progressed steadily since its inception, and the combination of steady growth and a first class safety record has enabled the business to gain contracts from several major UK based drilling contractors," Steve continues. "In addition, over recent years CLS has diversified into other energy sectors, including the onshore power industry, for which it was awarded a three year contract for the provision of Mechanical and E&I maintenance staff at Great Yarmouth Power Station."
CLS provides a complete range of fabrication and engineering services to a broad range of clients: "Our key customers are predominantly the major drilling contractors, or smaller exploration and production companies that have recently taken over fields from the major E&P companies," Steve explains. "We place considerable emphasis on customer focus, and where we differ from our competition is in the attention that we afford to all individual projects, regardless of the size of the operation."
CLS has completed projects for a number of leading drilling contractors and exploration companies who they have call-off contracts with, including but not limited to, KCADeutag, Odfjell Drilling, Apache North Sea, Halliburton, Global Sante Fe, Ensco, Maersk Contractors and Noble Drilling. Alongside this, the business has completed fabrication projects for SLP, Amec, AKD, ODE, Petrofac, Perenco, Noble Denton and Technip.
In order to enhance its position in the North Sea sector, CLS is currently launching a new facility: "We are in the process of opening an office facility in Aberdeen, which should be ready by the end of the first quarter of 2007," says Steve. "The majority of our offshore clients operate from the Aberdeen area, and have identified that CLS needs representation in the sector.
"We feel that our business would be enhanced by recruiting local people in Aberdeen to support our North Sea activities," he continues. "The current market place dictates that there are several years ahead at the current business levels. We aim to increase our client base in the Aberdeen region, and having facilities and representation should enable us to achieve these goals. At present, the North Sea is our main market, but we undertake several overseas projects on a regular basis. Our strategy of taking one step at a time will ensure that we do not overstretch our capacities."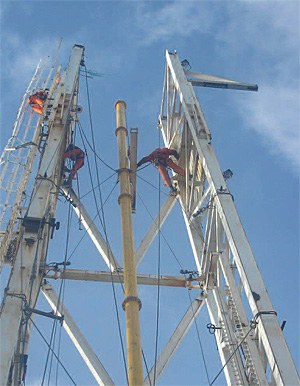 In an industry where safety is the primary concern, CLS has an outstanding health and safety record, being awarded National Safety Awards by the BSC on three consecutive occasions in 2003, 2004 and 2005. Steve elaborates: "Health and safety is the company's top priority. We pride ourselves on having an excellent safety record, and feel that being awarded by the BSC for the last three consecutive years is a remarkable achievement, particularly considering the harsh conditions that we operate in.
"As a service company to many North Sea clients, our personnel are continually dealing with different client Safety Management Systems and safety procedures, which makes them extremely adept in a range of requirements," he continues. "The industry as a whole places full commitment on HSE, legislation and regulations change regularly. To deal with this we have an HSE manager whose responsibilities include ensuring that the company complies with the latest legislation and regulation requirements."
CLS is the UK's leading drilling package/MODU/fixed installation specialist fabrication and engineering service company, providing an extensive range of services and quick turnkey projects. The business is an expert in derrick / mast manufacture and repair, providing installation, upgrades, inspections, surveys and decommissioning. The company's engineers are fully qualified to carry out API derrick inspections and dropped object surveys, whilst also being used as a third party inspectorate for new builds prior to first operation.
Among the company's considerable portfolio of services is a complete range of fabrication and engineering services, including drilling derrick, drilling mast, and flare stack fabrication, repair assembly, installation, outfitting and inspections and dropped object survey to API standards. Additionally, the business carries out the installation and removal of all drilling vendor equipment, such as top drive systems, pipe racking systems, crown mounted compensators, HP mud pumps and all systems associated with an MODU or fixed installation.
Looking to the future, Steve explains that recruitment of experienced staff could prove a considerable challenge: "The key issue will be identifying and recruiting the experienced personnel for both office based, and offshore based positions. We continuously invest in the training of our personnel as part of our competence training programme, in addition to this we currently have two apprentices at the ECITB Training facility in Norwich, and are in the process of recruiting two more that are to be trained by the ECITB."
Despite this, he is enthusiastic about the company's development: "Our sales are up by 100 per cent on 2005/2006, and our current financial year indicates that sales will increase by 100 per cent on 2006/2007. This is not only the result of a very buoyant market, but also as part of our corporate strategy to diversify into other key market areas, such as onshore energy.
"The opening of the new facility in Aberdeen illustrates that we have identified future developments and dependent on our continued success in the North Sea, we will identify the next area for expansion, although the market looks to remain the same for several years. We will continue with our steady growth pattern. Whilst expanding our facilities at our head office in Great Yarmouth. Our success will continue to be down to hard work, commitment, teamwork and attention to our client's requirements," Steve concludes.
CLS Offshore Ltd
www.clsoffshore.co.uk