Fuel of the future
CNG Fuels was founded in 2014, as a spin out from natural gas and engineering services operator, CNG Services. It develops, owns and operates compressed natural gas (CNG) distribution infrastructure including CNG refuelling stations, trailers and vehicles, and currently offers customers both CNG or 100 per cent biomethane (Bio-CNG) at all of its current stations.
CNG dispensed from local transmission system (LTS) connected stations is the lowest cost fuel available to HGVs, as well as having the lowest well-to-wheel emissions of any fossilbased HGV fuel. This makes it a very attractive fuel for the UK transportation market, as Baden Gowrie-Smith, CFO at CNG Fuels highlights: "CNG at our stations is currently selling for around 65p/kg or 48.5p/litre. So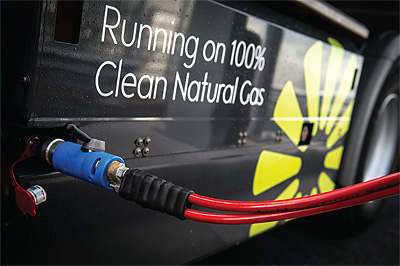 the all in price is lower than just the fuel duty on diesel, which stands at 57.5p/litre and is set to climb. Given the energy efficiency loss of gas engines compared to diesel is in the range of 10-15 per cent, the discount seen by customers is around 35-40 per cent.
"CNG Vehicles are more expensive to purchase, however payback periods for fleets running average mileage are just over two years, meaning there are savings for fleets running even comparatively short vehicle life cycles of four to five years."
So the savings on fuel expenditure alone make a powerful argument for the use of CNG, but as Baden points out, the emissions figures are also very persuasive: "Natural gas vehicles have ultralow particulate and NOx emissions, and provide air quality benefits over even new Euro 6 diesel vehicles. A natural gas vehicle running on fossil derived gas will emit around 20 per cent less GHG emissions based on CO2 equivalent emissions.
"Furthermore, CNG vehicles are up to 50 per cent quieter than their diesel counterparts, making them ideal for running in urban areas, and a potential solution to heavy goods traffic in peak hours.
"Finally, the CNG refuelling experience is as fast as a diesel refuelling at around three to five minutes. Given the absolute number of gas vehicles, and that the stations are dedicated to gas only, with multiple dispensers at our stations, waiting times are negligible too. It is also technically safer due to the secure connection and nature of light gas venting over diesel which pools."
Such are the advantages of CNG for vehicles that customers such as Waitrose, John Lewis, Brit European, National Grid and Howard Tenens already utilise the services of CNG Fuels. "Waitrose currently operates over 40 natural gas powered trucks from our Leyland facility, and has plans to significantly increase the rollout of gas into their fleet over the next few years," added Baden. "Brit European and Howard Tenens both operate their own private stations, and have been early adopters in the natural gas vehicles space. Both are intending to continue to increase their gas fleets as the UK's network of stations continue to improve."
In order to facilitate both existing customers use of CNG and encourage more users into the space, CNG Fuels is rolling out a UK wide network of reliable and convenient refuelling facilities to
service customers' vehicle fleets and their off-grid energy needs. The company is already the operator of the UK's two largest capacity CNG stations, which are located in Crewe and Leyland, serving local fleets and those using the M6 corridor. Both these two stations are accessible to any fleet that registers for use with the company. The stations are unmanned, and refuelling from the dispensers is easily carried out via drivers using their key-fobs to register usage.
Built in 2001, Crewe was the UK's highest capacity CNG station until Leyland opened in 2016. Built with three compressors and significant storage, this station is extremely reliable and serves to back up CNG's other stations, and is able to fill trailers for remote delivery when required.
Leyland is the UK's first high pressure grid connected station; meaning the UK's cleanest, lowest cost fuel available for heavy transport. "The site was delivered from planning to commissioning in under a year, and is the highest capacity station in the UK, capable of serving over 500 trucks a day, with an annual capacity in excess of 30m kgs. It also already dispenses more biomethane into transport than any other facility in the UK," noted Baden.
"We are the first company to utilise the UK's extensive high-pressure gas grid network, which covers over 6300kms of pipeline. Connection to the high-pressure gas grid decreases the kWh electricity consumption of compressors required to take the gas to the usable pressure which reduces both emissions and costs. The capacity of the stations is also increased by up too 300 per cent, leaving significant room for future growth in demand for the fuel at sites."
The new stations that CNG Fuels plans to open include at least six public access CNG stations within the next 24 months, which will be located along major trucking routes, including near the M4/M5, M1 corridor, at industrial parks and several in close proximity to major cities, providing CNG/biomethane to buses and refuse fleets.
"We will also be developing a number of private on depot stations for customers to refuel their fleets where convenience of supply and/or more diverse trucking routes mean that an on depot solution is required," added Baden.
It is clear that CNG Fuels has ambitious plans for the future, but as a relatively young company taking such a strong position in the UK's gas market has been a huge effort using limited resources, so the company is now focusing on solidifying its foundation. "With the Leyland CNG station now showcasing our capabilities as a company, as well as the possibilities for LTS produced CNG, the focus will be on building a team that can best deliver stations that most benefit the UK's transport fleet, and driving adoption by delivering a more attractive solution and better customer experience than the diesel status quo," explained Baden.
"We believe the tide is turning away from diesel as a transport fuel. Even with the inclusion of bio-diesel into the fuelling mix, there is simply no way that emissions targets going out to 2030 will be achievable without a viable alternative.
"Many countries in the developing world have already embraced natural gas as the fuel choice for heavy applications, and there is no reason to believe the trend won't continue. We foresee a future where there is a network of publicly accessible stations serving HGVs, which can also support on-depot refuelling points via trailer at large numbers of truck, bus and refuse depots all over the UK. We would expect CNG Fuels to be a significant market participant, owning many of these, and given our early entry to the market, having a number at the most strategic locations.
"We expect market entrants to be both home grown, and those that have been successful rolling out networks abroad. Evidence from abroad suggests that adoption rates increase exponentially with the number of available refuelling points, which create a network effect. So there will come a point in the not too distant future where we will welcome collaboration and market development beyond our own stations."
CNG Fuels Ltd
Services: Developer, owner and operator of compressed natural gas (CNG) distribution infrastructure