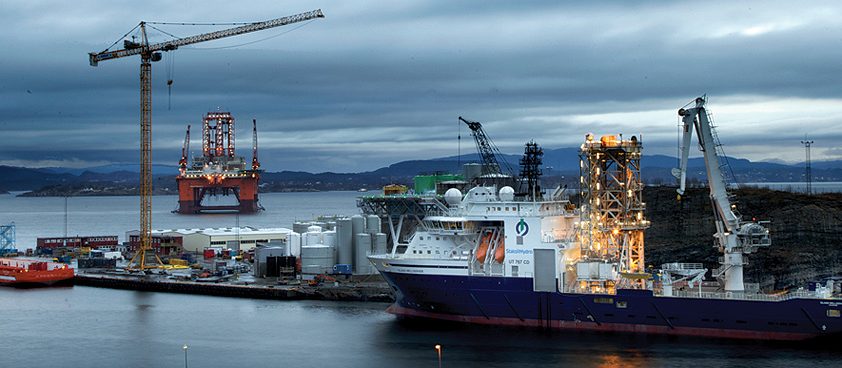 Hub of activity
Located at Ågotnes, close to Bergen, Coast Center Base (CCB) is a leading service and supply base to the oil and gas fields of the North Sea's Tampen area.
This region encompasses some of Norway's most prominent producing resources such as Statfjord, Gullfaks, Troll, Huldra, Veslefrikk, and Kvitebjørn. Having commenced operations in 1973, CCB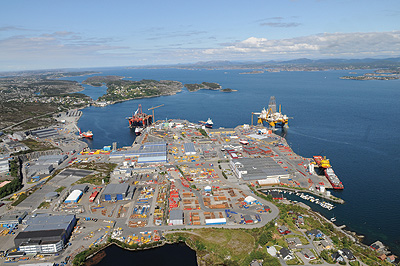 has not only built up considerable expertise as a service provider, but also grown its offering alongside the evolving needs of its target market.
Over this time CCB has also become a central point around which the Ågotnes Industrial Estate has grown up. Today this is currently home to 280 companies, 65 of which are located within the grounds of CCB itself. By drawing upon these various resources CCB operates a flexible multiple use terminal offering complete logistics solutions, goods handling, warehousing, storage, ships clearance, forwarding, and transport services, amongst other day-to-day requirements.
One area that the business has carved a particularly strong position in over the last decade is the inspection, repair and maintenance (IRM) market. Elaborating upon this line of work, managing director Kurt Andreassen says: "Today we have a separate department working with classification, maintenance, rebuilds, and modification of drilling rigs, which has seen us achieve up to a 50 to 60 per cent market share in Norway for these types of work in the past. Already this year we have won five different contracts for drilling rigs, which is an unprecedentedly strong start to the year."
Head of sales and marketing Arne Arvik continues: "The fact that we are quite strong in this type of maintenance work has been a key driver in the strong levels of activity CCB has seen in recent years. Despite the unstable nature of the economy, the last three years have actually been our best ever in the business. Our clients recognise that it is far cheaper and quicker to maintain older equipment than to build new rigs, and therefore there is great demand for these services."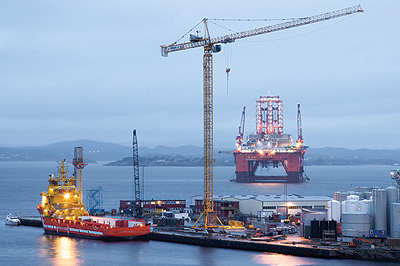 Although not directly a part of the company itself, the NCE Subsea cluster is another field of competence hosted by CCB. This presence makes the Ågotnes area the most complete subsea community within the North Sea and a national centre of expertise in Norway. As such, clients of CCB have access to some of the world's leading professionals in this field, as well as cutting edge research and development capabilities – all within a single location hub.
With the scope of companies based at CCB meaning it is able to offer an almost one-stop-shop service, and many of these trading between themselves as well, the company is keen to continue to develop the base infrastructure to offer greater capacity and more convenience to clients. "Our customers' needs are growing all the time, especially in the subsea business, which has resulted in a tremendous increase in the number of employees, turnover and activity for these companies. Therefore throughout 2012 we intend to invest around 100 million Norwegian krone (NOK) into expanding the harbour, and a further 300 million NOK on different buildings and infrastructure," reveals Kurt.
He continues: "The IRM market will also be getting a boost with a 100 million NOK investment into new equipment, including a one-of-a-kind crane in Norway which will offer huge lifting capacity on the quay front. We are already one of the three major players within the rig market, and despite tough competition we see a lot of potential to expand in this sector due to the number of new build rigs coming onto the market, as well as the older fleets that require repair and classification services every five years."
CCB is also looking at a geographical expansion of its services to best take advantage of the opportunities in the market following the Norwegian government's announcement last year that they will be focusing on the Norwegian Continental Shelf (NCS) in three key areas – the North Sea, the Norwegian Sea, and the Barents Sea. Therefore CCB is looking to take up a position along the coast to provide the same kind of services to these markets as it currently does in the North Sea.
Over the last three years CCB has invested, through ownership in Helgelandsbase, 500 million NOK into relocating the base in Sandnessjøen to a new facility in the Horvnes industrial estate. With the complete scope of activities due to move over to this site this year, and all of the current commercial space contracted out, CCB is very optimistic over the future of this strategically important base. In targeting the north-east Barents Sea CCB has also secured two bases – Kirkenesbase and Vardø Barents Base – to the north of the country, which will be well placed to serve both the Russian and Norwegian parts of this region in anticipation of the next licence round.
Within this strategy though, Arne stresses that there is still very much a focus on maintaining CCB's existing services: "In the last few years there have been both new discoveries in the oil fields, and new technology for developing the existing ones further. This means that many of these fields are being operationally stretched far beyond their expected lifespan, and this is a clear opportunity for our current capabilities."
"Looking even just two years ahead, we are confident that we will remain a key supply base for the North Sea as we are today, as well as being a leading player in the IRM market for drilling rigs," agrees Kurt. "We believe 2012 could be the best year ever for CCB and within this we will continue to develop each of our strategic bases to prepare for the new wave of activity."
Coast Center Base AS
Services: Supply base