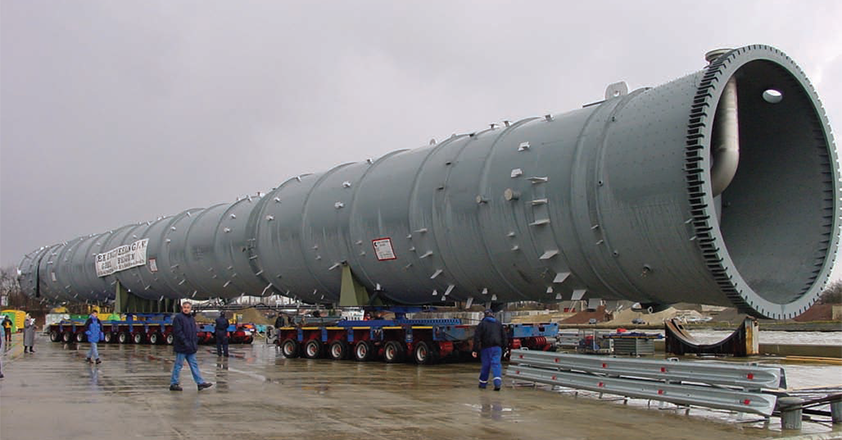 Critical input
Based out of Belgium, Coek Engineering N.V. has almost 50 years of experience in the design and fabrication of process equipment.
Having begun life producing automated flour silos for industrial bakeries, since the 1980s the company has focused onthe petrochemical, oil and gas, chemical, and metallurgical industries. It is also one of the key players globally for the fabrication of equipmentin exotic materials such as titanium, zirconium and hastelloy, combined with large dimensions and heavy weight.
"We mainly work in niche markets," highlights sales director Patrick Van Roy. "Our core business is focused on equipment used in critical chemical processes, where safety and corrosion resistance are primary issues. This includes pressure vessels, columns, reactors, and heat exchangers. Most of this equipment is sold under licence agreements to protect the technology and know-how."
As a smaller company of around 140 people, Coek Engineering prides itself most on the level of experience housed within. "In this way we tend to focus on projects or equipment thatpresent a technological challenge," explains Patrick. "When it comes to normal standard pressure vessels it is much harder to compete onprice, but when it becomes more complicated or risky to implement this equipment we have a good chance of being involved. Many customers, or licensing holders know that when a project orspecific equipment isn't straightforward they can count on Coek for technical support, even when a project is still in the development phase.
Since its very beginning Coek Engineering has also put particular focus on quality control. This is demonstrated in its ASME U and U2, ISO 9001, and PED (97/23/EC) certificates. In practice, it means the company has a long experience of executing every job in a way thatensures the highest levels of quality. Each piece of equipment passes through strict controls in-house including x-ray or TOFD examination,hardness tests, and penetrant and magneticparticle examination, with other processes being delivered by an independent third party.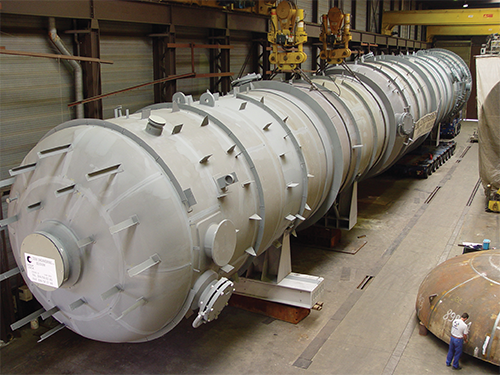 Given the high investment levels in the petrochemical industry, and particularly in coal-to-gas and coal-to-liquid projects in China, Coek Engineering has been able to secure a substantial number of orders. For these types of project the company has worked to expand its scope of supply from not just pressure related equipment, but the provision of complete reactor sections including drive systems, seals, valves, and instrumentation.
"This gives us control over the whole process, and keeps all of the expertise in hand," notes Patrick. "We see this type of package mainly being purchased by Asian engineering companies as it gives them that European competence, and in turn enables Coek to secure a larger share of a project. As some exotic materials, such as titanium, become cheaper we've also seen a change in the types of materialsbeing used in certain applications, which can generate new markets for us in the future."
At around 80 per cent, the greatest proportion of Coek Engineering's turnover is today being generated on the Asian market. Whilst this shift has clearly proved profitable for the business, it has also presented challenges as the company comes up against lower-priced vendors in these markets. "In the last few years, most of the EPC work and detailed engineering work for large chemical and petrochemical plants has moved from Europe towards Asian countries like India, Korea and China," clarifies Patrick.
"As a consequence, it becomes more complicated for European vendors to get involved in these large projects, especially if they are being erected in their home country. Therefore, the added value that we deliver needs to be higher and more sophisticated if we do not want to lose our market share."
As an example in 2007 Coek Engineering saw the price differences between Europe and Korea being between five and ten per cent. Following the financial crisis though this gap has doubled or even tripled, suggesting that those manufacturers may be being supported through the local government. Coupled with this is the issue of technologies being copied and then sold at a lower price.
"We believe that the industry in Europe still has the potential to compete on a global market, mainly through its technological advantage and high level of quality. Unfortunately, technology is copied at a high rate, even by government driven companies, which could see Europe's industry at risk and ending up with only a service economy, which has no added value in the long run," describes Patrick.
"We believe it is time that both private companies and official authorities combine forces to strengthen and protect their values. We are in need of solid European partners that can support our business, rather than having to buy materials and services from low cost suppliers with uncertain quality levels in order to reduce costs. We see prices and cost levels in Asia now increasing much faster than in Europe, which brings that price gap to a more reasonable proportion. As such our goal now should be to keep costs under control, and assure our advantages in technology and reliability, rather than try to start up production in Asia, but this can only be achieved with the correct support," he concludes.
Coek Engineering N.V.
Products: Process equipment