Deeper solutions
Coil Services B.V was established in January 2005, with the intention of becoming one of the world's leading suppliers of coil tubing services.
The company has pioneered a series of technological innovations within the field of coil tubing to offer to clients in the oil and gas industry. Equally, as oil and gas becomes increasingly difficult to locate, Coil Services has developed a range of capillary services that operates similar to large coiled tubing, but offers different, and sometimes better possibilities, and assists with deliquification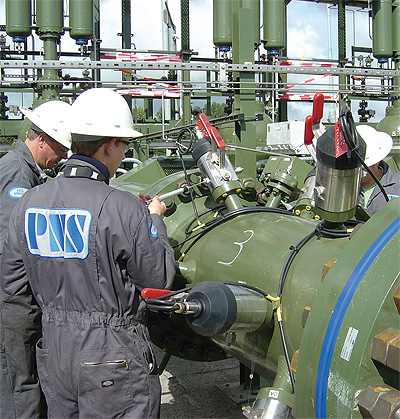 problems at depleted wells. This technological development has invigorated the offshore industry, through the expansion of field and well longevity.
Coil Services is the latest entrant into the coil tubing arena, joining Halliburton, BJ and Schlumberger, who are all already operating on a global level within this market sector. Currently, the company's scope is concentrated on Europe, but Coil Services is ambitious, and has made moves to expand its operations to a global level. This can be seen in the recent establishment of Pipeline Nitrogen Services (PNS), situated in Holland, but primarily operative alongside companies in China and Kazakhstan.
However, it is first necessary to answer the question, 'What benefits can coil tubing offer to the oil and gas operators?' Coil tubing allows a user to pump chemicals through a coil, while being pushed into a hole – which means the system is less reliant on gravity, as is the case with wireline solutions. Coil tubing methods do require more robust rigs in offshore applications, but the systems can also be used onshore via smaller service rigs, designed for light operations.
Coil tubing has many applications, the most notable of which is to aid circulation in the pumping process. For instance, columns of fluids located in a well bore can form 'hydrostatic heads', which can potentially inhibit the flow of oil and gas, potentially putting the well out of action. The safest method of removing this blockage is to circulate the fluid column using a gas such as nitrogen – the coil tubing is run to the bottom of the hole, nitrogen is pumped in, and fluid circulation is reinstated. This method can remove all types of small debris from the surface of a hole, expanding the life of a well.
Pumping via coil tubing can also disperse fluids throughout a well, which allows downhole components such as sandscreens to be cleaned and maintained. As opposed to physically pumping cement from the surface, coil tubing cannot damage any of the components in downhole situations. Coil tubing is also at the forefront of a new drilling technique, whereby a coil is run through casing, production tubing or drill pipe, turning a downhole motor, which is powered by the motion of fluid pumped from the services. One other application coil tubing has is in logging and perforating projects.
Coil Services is at the cutting edge of this technological breakthrough in the oil and gas industry to the extent that it is currently the second biggest supplier of coil tubing services in continental Europe, employing 68 people. Managing director Geert Prins outlines the geographic scope of the company, and Coil Services' aims for the future: "We operate in the North Sea primarily around Holland, Germany, and France, onshore in Holland, Belgium Germany, Austria, France, Poland and Italy. The target for this year is to expand our services into Spain, Romania, Hungary, Denmark and Greece, and, should the requirements emerge, we are fully prepared to expand beyond these horizons."
Geert continues by elaborating on the benefits of coil tubing within the onshore and offshore oil and gas markets, and how Coil Services works with its clients: "It is becoming frequently the case that operators are finding it hard to locate and drill new oil and gas supplies. Our technicians and engineers discuss the possibilities that face customers, and then we work out how to get the coil attached to the rig via boat. Wells are getting deeper and deeper – in some cases, up to eight kilometres in depth – and they can all be serviced using coil technology.
"More often than not, an operator will be faced with a problem when they are designing their drilling programme," Geert states. "Coil Services works alongside them in developing a solution. Not every well is suitable for coil tubing, so we must communicate extensively with engineers before a project begins to ascertain if our available systems are beneficial. Our coil tubing services range between 1.25 and 2.78 inches in diameter, and the average operating depth from a coil is 4000-5000 metres. Recently, the company completed a significant clean-out project offshore for a client, installing 6500 metres of coil at a diameter of 2.38 inches, which demonstrates the scale of work that we deal with. Offshore work is a bigger challenge than onshore projects, because we must transport the coil to the field before operating it on the well."
In 2006, Coil Services introduced capillary tubing systems to the European market, which are used by Flotek to inject chemicals into gas wells to enhance production provided by its chemical operations service centre in the Netherlands. Capillary coils are the latest technological development that the company can offer both to its onshore and offshore customers, as Geert explains: "The difficulty of finding oil and gas is one issue facing operators in the on and offshore industry at this time, but another pertinent challenge facing clients is well depletion. The new capillary coils that we use range between quarter and half inches in diameter, and they are designed to deal with water that is arriving rapidly in most wells. We pump a foamer through the coil into the well, which mixes
with the water (forming foam), making it easier to extract from a depleted well.
"We've seen a lot of success in regards to this coil application," Geert comments. "Many of the well projects that we have worked on have been able to produce gas or oil for another couple of years, which is an obvious benefit for the operator managing the well. So we are offering solutions on two fronts: firstly, assisting in finding new oil and gas reserves, and secondly, getting depleted wells to produce for longer. We are prepared for future growth, but we need to invest in equipment – at this time, we currently have on order two coil units, five nitrogen pumps, and three fluid pumps. Coil Services' order books are full for the next two years, so we are more than capable of meeting the current demands."
To meet the requirements of operators in the both the onshore and offshore downstream markets, including the petrochemical and pipeline industry, Pipeline Nitrogen Services B.V was formed in January 2007. Based in Emmen, Holland, PNS specialises in a range of services for the petrochemical and pipeline industries, such as chemical cleaning, ethylene pipeline pigging, mechanical pigging programmes, testing, and drying, as well as all nitrogen related services including helium leak testing and reactor cooldowns.
Geert describes the development of PNS, and the geographic expansion it has aided: "Several companies operating in our industry have set up similar businesses, in order to look after the upstream as well as the downstream industry. PNS' operations will expand into Kazakhstan and the Far East, primarily focusing on servicing the downstream market and through this expansion and success in this area we will also further develop our network for coil tubing clients. The first step for the company in this area was the set up of a sales office in China for PNS."
Expansion into markets such as the Far East has built upon the competence at every level throughout PNS and Coil Services. Geert outlines the key strengths of the business: "The difference between PNS and Coil Services, and other companies in the industry is, first and foremost, that we are young and enthusiastic – we are capable of bringing brand new technological solutions to the industry. Equally, the people that we employ share this enthusiasm towards the equipment, sharing their ideas about how it could be improved or applied differently. We work very closely with our clients to ascertain their exact requirements, and we are structured in a way that allows us to respond quickly to any changing needs. This flexibility means that we can make investment decisions at very short notice, and underlines our extensive experience within the industry, despite the relatively young age of the company."
The organisation's expertise, combined with its knowledgeable personnel and innovative equipment, has placed it in good stead in regards to industry trends. Turning to the future, Geert remains highly optimistic in regards to PNS and Coil Services' potential within both markets: "We are aiming to double our revenue every year over the next three-year period. PNS/Coil Services have a unique range of equipment within many applications at both onshore and offshore sites. If we are able to continue to employ highly skilled individuals, we will be in a strong position to meet the aims we have set ourselves."
Coil Services B.V. / PNS B.V.
Products and Services: Coil tubing /Industrial Services