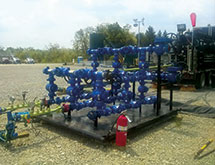 Jason Brooks, general manager of U.S. operations, came to Colter Energy LP because of its core values. "I came to this company from a much larger organization," he says. "This is a smaller operation. We're the biggest small company that nobody's ever heard of. We were not on the map four years ago, and now we've grown to be one of the more prominent testing companies around. A lot of that is because of our people. We try to maintain a high level with our supervisors. Many have 10-plus years' experience throughout western Canada, U.S. shale plays and international operations."
Since 2008, Colter Energy has been providing production testing equipment and services for all well types, from high-pressure, critical sour wells to lower-pressure, sweet wells. The company provides the right equipment and personnel during stimulation flowback, production testing, workover and completion operations.
Colter Energy has doubled its size in the last two-and-a-half years and tripled its workforce in two years. "Two years ago, we were in North Dakota and had 17 pressure tanks there and none in Canada, just our W.A.S.P. platforms," Brooks recalls. "Since then, we've increased our fleet to 14 vessels in Canada and 34 in the U.S."
Safety Program
The Colter Wellhead Access Safety Program known as the Colter W.A.S.P. is a completely self-contained, portable, hydraulic work platform that provides a safe working space for well completion services. Unlike other platform devices, man baskets, scaffolding or even ladders, the W.A.S.P. is designed to be simple to set up and operate and requires no other services to assist in rigging. It addresses wellhead height issues and improves safety.
"It is more convenient and safety-conscious compared to conventional scaffolding on an oilfield location, which is not always perfectly level or dry," Brooks maintains. "There's a lot of risk involved in setting up conventional scaffolding or using man lifts."
In 2010, the Colter W.A.S.P. was named the most innovative safety product by the Occupational Health and Safety Council. "At the time, there was nothing like it," Brooks asserts. "Everything else was skid-mounted or scaffolding and manlifts. That was the core focus of the company's business at the beginning. From that, we progressed into well testing, and we've taken the lead from there."
Unique Equipment
The custom equipment that Colter Energy uses is manufactured by third parties to its specifications. "We've made some innovative changes to our equipment that have put us above competitors," Brooks maintains. "Each company has their own ideas on what should be built into a vessel, and we have a good relationship with the builder we've used for the last three years. We're always making adjustments and adding new ideas. These modifications to our equipment are a major competitive advantage. We use some auxiliary equipment other companies aren't using now. That puts us ahead with the clients that we work for. They see the value of what we've done."
An industry-wide challenge to which Colter Energy is responding is the move toward multi-well pads. "Most larger companies are drilling multiwell pads so that rather than having one per location, they'll have any number of wells per pad depending on spacing," Brooks points out. "The challenges with that are logistics and crew members, getting the equipment to the locations, spacing it out properly and having the equipment to do that.
"It takes a lot of capital to do one multiwell pad," he stresses. "A typical package can range from a simple frac support trailer and – with the addition of auxiliary equipment required for a multiwell pad – can be as large as four to five vessels and associated equipment. It depends on the size of the location and the equipment requirements. People and equipment could be tied up for one week for a short job and up to six months on a larger pad that had multiple wells."