Lifting expectations
Specialising in heavy lifts and project cargo contracts, Combi Lift operates a modern fleet of vessels that is designed to carry a full range of diverse cargoes.
Providing tailor-made heavy-lift transportation solutions, which are characterised by being safe, innovative and reliable, the company can carry hazardous and nuclear loads. Its mission also extends to its employees and fleet, both of which will continue to be improved through substantial investment.
Combi Lift was established in 2000 as a joint venture between J Poulsen Shipping A/S and Harren & Partner. Johannes Poulsen established J Poulsen in 1931 in Korsoer, and today the company is run by his grandson, Finn J Poulsen, the CEO, with Anders Poulsen, COO, and Peter Poulsen, sales and marketing manager from the fourth generation of the Poulsen family, also active in the company. Based in Bremen, Harren & Partner operates a fleet of more than 40 heavy-lift and project vessels, containerships, tankers and bulk carriers. Its in-house expertise extends not only to the operation and technical management of the fleet, but also to the design and financing of its ongoing construction programme. The two companies established Combi Lift with the aim of positioning it as a leading business in heavy-lift ocean transportation and logistics, setting the highest standards through sound business ethics, inspirational leadership and integrated QHSEP best practices.
With rapidly growing demands on oil companies, the need for safe, secure and reliable solutions is more apparent than ever. For this reason, Combi Lift controls a fleet of modern heavy lift vessels, incorporating the latest technology, to provide customers with safe, professional and reliable solutions. The company also has three highly flexible vessels currently in production, which will enable it to expand its service offering within the segments of high capacity LoLo, RoRo and FloFlo.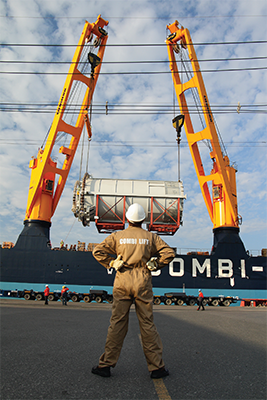 Combi Lift has observed that the demands for specialised solutions have risen considerably in recent years. As these continue to increase, the business will ensure that it has the proper tools to be able to meet these demands. Recently, the company launched a construction programme, which includes dock vessels, as well as more conventional heavy lift vessels that will increase the versatility and flexibility of the fleet. The first of the more conventional heavy lift carriers will be delivered in mid-November 2009, followed by a further five vessels over the next two years. The vessel has two 450 metric tonne cranes, providing a lift capacity of 900 metric tonnes.
The main philosophy of Combi Lift is to combine the best expertise across the business to enable it to lift various cargoes and provide the highest standards and quality at all times. It also provides a range of services to its customers besides lifting operations, including chartering, engineering and technical management. The chartering and operation departments of the business are situated in Korsoer, and with a team of skilled personnel, Combi Lift is able to provide its customers with the most suitable chartering solutions tailored to their individual requirements. The engineering and technical management operation is based in Bremen. Working with an experienced staff of master mariners, naval architects and welding experts, Combi Lift is able to provide solutions that suit the individual customers' demands and expectations.
In February 2009, the latest vessel to be built, the Combi Dock III, was named at the Lloyd Werft in Bremerhaven. It is an 11,000 dwat multipurpose tweendecker vessel comprising three electro hydraulic cranes with a single lift capacity of between 350 and 700 metric tonnes combined, and a third crane lifting up to 200 tonnes. The vessel is designed to take both floating cargoes and RoRo consignments, enabling the vessel to load weights of up to 5000 metric tonnes, depending on the dimensions of the individual piece. The vessel is currently employed at the Singapore Parallel Train project. There is also a fourth ship currently in production that is expected to be delivered by the end of 2009.
The Combi Dock vessels are highly versatile and can be converted into offshore vessels with special offshore features as desired. The second Combi Dock vessel has recently been converted to give the capability of servicing offshore installations. The vessel has been enhanced with a moon pool, fire fighting system, helicopter pad, extended crane, additional accommodation for onboard personnel and dynamic positioning dp2. It is currently running on a time charter for Blue Marine in Mexico, operating under the name Blue Giant.
The Combi Dock I is currently performing eight voyages with modules for the Pluto LNG project in Australia. The company's more traditional vessels, meanwhile, are involved in voyages for Technip, delivering reels with flexible pipes directly to the company's installation vessels.
In 2007 Combi Lift became the first company worldwide within its industry segment to obtain DNV certifications for fully implementing all three management system standards both ashore and onboard its vessels. These include the ISO 9001 for quality, ISO 14001 for environment and ISO 18001 for health and safety. Combi Lift views these certifications as key to upholding and maintaining solid business practices. Since the certification in 2007, the company became the first within its sector to upgrade the health and safety certification to the new ISO 18001:2007 standard.
Based on its near decade of reliable innovation founded on individual customer insights and requirements, Combi Lift is continually growing and developing its fleet to meet customer's specific demands. While the current market conditions are difficult, the company will respond to the challenge by focusing on its strengths and working to make the business more efficient, so it can provide an even more reliable service to its customers.
Combi Lift
Services Heavy lift  transportation solutions