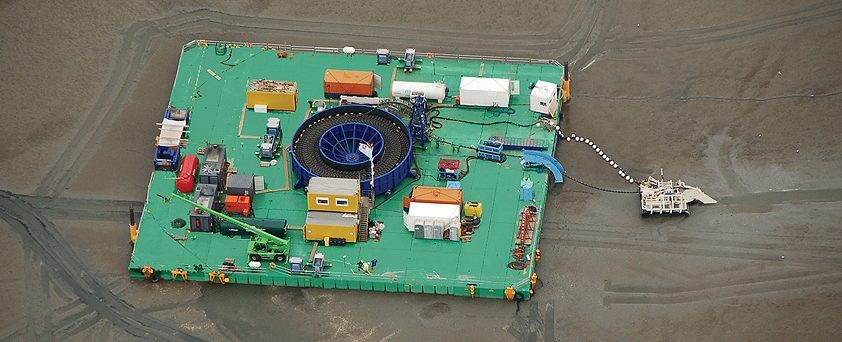 Super module
Flexifloat Systems B.V. is the exclusive supplier of Combifloat pontoons – flexible modular floating and elevating construction systems, suitable for coastal and inland waters.
The product uses a simple coupling and locking system, so the units can be assembled to any project-specific configuration. This unique coupling system is easy to handle and strong enough to be used in self-elevating platforms with deck loads in excess of 800 mt.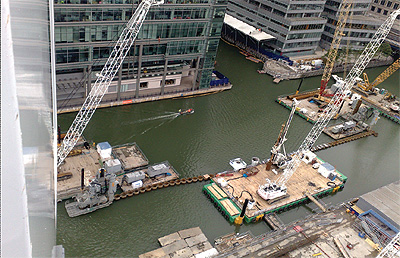 The Combifloat modular pontoon was designed in response to the fact that marine working environments are never the same and equipment requirements vary with local conditions and with the type of job to be performed. With every marine operation there is the challenge of finding the ideal equipment and transporting it to its destination.
For decades, Combifloat has been very successful in meeting the needs of its clients as they face marine challenges, and the company's extensive experience has contributed to its reputation for providing the highest quality, dependable engineering, sound workmanship, and a fast and reliable service.
Flexifloat Systems' managing director, Bas de Jong, elaborates on the company's capabilities: "Essentially, our modular floating construction system is like a Lego system that slots together. The product is a rigid steel pontoon with a 15 tonne per square metre deck load, and is used to assemble jetties, bridges, jack up platforms, drilling barges, pipe and cable lay barges. It is ideally suitable for near shore or coastal and inland water operations and it's built under Germanischer Lloyd rules and regulations.
"We have fabrication facilities in the Middle East, Poland and Holland. The product's 60-year history shows it's a proven concept and it has been upgraded over the years to meet today's requirements for use all over the world. We work as a typical equipment supplier in that we design, build, rent, sell or conduct any other option that is commercially attractive to both customers and ourselves."
Commenting on a recent addition to Flexifloat Systems' offering, Bas highlights an exciting development: "Our range of products is being expanded by this C9 class jack up, which is a major step forward. It is a new modular jack up with a payload capacity of 800 metric tonnes and is rated for 40 metres of water depth. The design has been completed and it will be used for construction works and accommodation purposes. We're talking to various potential customers in the oil and gas, and marine construction industries. Modular jack ups so far have only been capable of taking about a 450 tonne payload, so an 800 tonne payload is a huge step forward."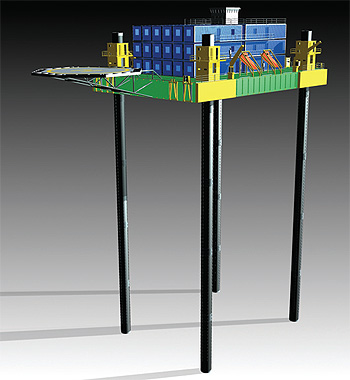 While the organisation has been able to make progress in terms of product development, it has faced the challenge of a declining market as a result of the global recession. "The market has certainly changed since September and October last year; we have seen a drop in demand and a shift from purchase to lease," Bas comments. "The oil price is also affecting the market, albeit to a limited extent, and will do until it settles around the $70 – $80 per barrel mark. The oil price is something that affects our business just like any other business however the market has been affected more by a lack of cash, resulting from the crisis in the banking and finance sector. I feel now though that we have basically hit the bottom, so to speak, and this means we will see the market moving forwards from the end of the third quarter of this year. Therefore, we're fairly optimistic about the market thereafter. In terms of where we'll be active, we are still quite busy in the Middle East, the Caspian, Africa and Europe. We operate on a worldwide basis."
Continuing, he adds: "We're obviously moving at a lower pace compared with last year and utilisation has not been as high over the past few months as in previous years, but we're still fabricating so that we have sufficient equipment available to serve our clients as the market picks up. While it has been challenging, the market has not been too bad for us as a company and we've continued to see good figures."
The company's numerous qualities have contributed to its continued success throughout the recession. Comblifloat, being a modular system, is easy to transport, assemble and operate, and can get into any specific project configuration – the pontoon can be used as a jack up platform one day and a jetty the next. The business truly does have a flexible product that is easily useable in coastal, shallow waters, and Flexifloat Systems boasts facilities in different parts of the world guaranteeing very short delivery times.
From oil and gas drilling barges and hoover platforms to crane pontoons and jetties, Combifloat's successful performance is denoted by its ability to serve a range of purposes with ease and flexibility – accessing locations that others simply can't reach – and is Flexifloat Systems' unique selling point, standing the business in good stead for the future.
Reflecting on how he would like to see the company develop, Bas concludes: "We want to continue to grow step-by-step, through improving and expanding our own product line, and when the right opportunity arises, through acquisitions. Only time will tell, but we're certainly focused on enhancing the company.
Thus far this is what we are doing by adding the C-9 class to our product line. This enables us to operate in water depths up to 40 metres, adding another range of services to the marine construction and oil and gas industry. The new modular 25.4 x 36.6 x 2.90 metre self-elevating platform, with an 800 metre deckload, can accommodate 150 and can be used in the construction of large jetties and bridges in up to 40 metres of water depth, and as a maintenance platform for offshore wind farms. "
Combifloat BV
Services: Modular floating and elevating systems