Combifloat (Flexifloat B.V.)
Raising the standard
With a history dating back to the mid-1950s, Flexifloat B.V. has established a proven track record in the provision of floating construction systems. The company was originally founded as a subsidiary of Houston based Flexifloat Construction Systems, owned by Robishaw Engineering Inc. and was later taken over by its current shareholders during 1999.
Today from its base in Rotterdam Flexifloat Systems B.V. is the exclusive supplier of Combifloat pontoons – flexible modular floating and elevating construction systems, suitable for coastal and inland water. Since 1999 the company has diversified its operations and increased its scope to enable it to reach further clients in more regions, as managing director Bas de Jong explains: "When the present shareholders took over the company there was a change in focus for the business. We had previously operated primarily in the marine construction sector and harbour related industries, whereas we are now increasingly focused on the oil and gas market and related industries."
With fabrication facilities located within the Middle East, Poland, China and Holland the company is well placed to meet the needs of its clients. Flexifloat B.V. was previously featured in Energy, Oil and Gas magazine during September 2009 and has since continued to develop the proven concept of its floating modular platforms and grown the business from around eight staff in 2009 to 16 fulltime employees as of 2015.
As a result of the increase in staff Combifloat will move on September 1 to its new headquarters in Capelle aan den Ijssel, conveniently located just one mile away from its present location in Rotterdam, The Netherlands. At the same time the company name will be changed into Combifloat Systems BV.
The design of the Combifloat floating construction system makes it an ideal solution across a diverse spectrum of applications and projects including, self-elevating platforms for marine construction or offshore projects; selfpropelled work/push boats; oil and gas drilling barges; transport barges; hoover platforms; crane pontoons; ferries; bridges; jetties; exhibition platforms and so on. The Combifloat modular pontoon was originally designed in response to the fact that marine working environments are never the same and equipment requirements vary with local conditions and with the type of job to be performed. Indeed, with every marine operation there is the challenge of finding the ideal equipment and transporting it to its destination.
Further elaborating on the design and application of the Combifloat system, Bas reveals that: "Essentially, our modular floating construction system is like a Lego system that slots together. The product is a rigid steel pontoon with a 15 tonne per square metre deck load, and is used to assemble jetties, bridges, jack-up platforms, drilling barges, pipe and cable lay barges. It is ideally suitable for near shore or coastal and inland water operations and it's built under Germanischer Lloyd rules and regulations."
Previously Bas discussed the exciting addition of the C9 class jack-up to its existing fleet of existing designs. Today C9 platforms are joining Combifloat C5 and C7 designs in taking part in operations around the world and further reinforcing the benefits of the Combifloat system. "We have recently deployed a C9 class construction jack-up in Iraq and we are in the process of mobilising a similar structure for well workover activities within the Caspian Sea. A lot of our traditional C5 and C7 platforms are busy undertaking Combifloat's traditional services, including jetty construction work and survey operations all over the world," Bas says. "The C9 class jack-up is becoming a very popular vehicle with our clients and we will begin to produce more of these designs over the months to come."
The C9 Self Elevating Platform Jack-Up has hull dimensions of 36.6 metres lengths by 27.4metres breadth and a depth of 2.91 metres. Four hydraulically controlled units power its jacking system, each providing 600 tonnes of lifting capacity at a speed of 14 metres per hour. The platform is lifted on four 58 metres spuds, with a diameter of 1.9 metres. These are split into three sections to allow for ease of transportation. As such the design incorporates a maximum free spud length underneath the hull of 48 metres. The C9 class of jack-up represents a significant step forward for Combifloat and its clients in that prior to its development modular jack-ups where only capable of supporting payloads of around 450 tonnes, where as the C9.5 can carry a maximum deckload of 1200 tonnes in an elevated position with a deck point load of 15 tonnes per metres squared.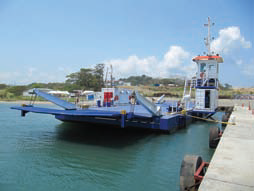 All Combifloat pontoons are easy to assemble and offer extreme levels of durability. They can be assembled by inexperienced crews of as little as two employees, using no tools other than a hammer, pry bar and short sections of rope. Furthermore, all mating female couplings are opened using a crowbar while the floats are pulled into position using ropes threaded through elbows mounted at intervals in each pontoon. The couplings are then mated until theupper and lower components are near contact at which point, the locking bar is driven into place using a hammer until the unit is seated. The locking bar also performs a wedging action that pulls the pontoons into the final mating position. Once assembled Combifloat pontoons are proven to have a lifetime of more than 25 years and also require little or no maintenance.
Presently Combifloat is active all over the world with clients operating within a host of industries and across several applications. "When we took over the ownership of Flexifloat Systems B.V. the company was predominantly doing business inside Europe," Bas details. "Today 95 per cent of the business is in export to locations all over the world. We have also seen some change in demand as far as specifications are concerned, with clients moving into slightly deeper waters and module units being required carry larger cranes for pile driving and so on."
During December 2013 Combifloat successfully delivered a modular self-propelled ferry for the French client VINCI Construction Grands Projets on behalf of the Panama Canal Authority. VINCI was tasked to operate the ferry during the Panama Atlantic Bridge project. Combifloat was awarded the contract to deliver a modular ferry during July 2013, to be used in the construction of a bridge spanning the Atlantic entrance to the Panama Canal. With the construction of the bridge slated to be completed by autumn 2015, it was clear that VINCI required a rapid solution. The Combifloat system was able to offer the most flexible and economical solution according to the clients' unique, project-specific configuration. A further important factor was the ability to reuse the modular Combifloat pontoons after the completion of the project in a variety of applications.
The ferry, named 'Concepción', incorporates ten modular Combifloat C7 class pontoons with a total combined length of 48 metres, a width of12 metres and a deck capacity of 150 tonnes. In order to allow the vessel to make beach landings in the shallow water banks of the Panama Canal, two 160kW built-in Ballegooijen bow thrusters have been positioned in the pontoons on each side of the ferry. This resulted in the necessary maximum allowable draft of only 80cm, maintaining excellent manoeuvrability of the ferry. Due to the simple design of the Combifloat coupling and locking system, the ferry can be rapidly assembled in less than ten days of delivery.
Commenting on the project Bas stated: "This contract award demonstrates the flexibility and versatility of Combifloat modular pontoons. Completing this project from concept to delivery in only ten weeks is a major accomplishment of everyone involved. Due to the excellent performance of our subcontractor, Groeneveldt Marine Construction and Saltwater Engineering in Papendrecht, we were able to overcome the challenges accompanied by a fast-track project like this. This successful project execution will create future business opportunities for Combifloat, as this modular concept can be adapted for a wide variety of applications. We are proud to be able to deliver a high-quality product in such a very short period."
Over the years Combifloat has demonstrated the advantages and versatility of the Combifloat floating pontoon system. Despite the financial crisis of 2008 and the current low cost of oil, the company has continued to grow through a combination of innovation and excellent client service. "We are very client orientated and service oriented. We can respond very quickly to customers and we maintain large inventories so that our lead times in starting projects are very small. Furthermore we also have a wide variety of products available to the market and we are just about to complete the design of a new semi modular platform with hull dimensions of about 45 metres by 60 metres and a spud length of over 80 metres, The deckload capacity will be in the 1500 tn range," Bas reveals. "We will continue to grow the business and make sure that we cover its interests in both the oil and gas sector and the maritime construction market. To do this we will also look to increase our portfolio by adding different sizes of platforms as well as looking at new manufacturing facilities in South East Asia and South America. As a start to facilitate and accommodate this we will move to our new office as mentioned earlier."
Combifloat (Flexifloat B.V.)
Services: Floating construction systems
Issue 122 July 2015