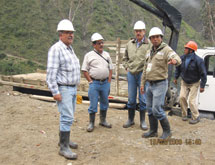 Compañía Minera Poderosa S.A
From its location at 10,000 feet above sea level, Poderosa sits on a gold mine, literally. Compañía Minera Poderosa S.A is celebrating 32 years operating in the district of Pataz in Peru. Despite great fluctuations in gold prices over the years, Poderosa has been able to maintain steady growth, develop its workforce and continue its plan to improve the environment around the company's mines and the well-being of the neighboring communities.
Through investment in exploration and development, Poderosa has grown its workforce from 120 employees to more than 2,500 in the last three decades. The two mines it operates in the area – Marañon, the original mine, and Santa Maria, located 23 kilometers south of Marañon – produce a combined 1,000 metric tons of minerals a day. In the next five years, the company plans to open a third plant and increase production to 1,800 tons a day. Once the company is able to treat 1,000 tons per day, their production will be 200,000 ounces of gold a year.
Marcelo Santillana, general manager for Poderosa, feels optimistic about the present and future of his company. He has seen aggressive investment in mining recently and he is sure that mining development will benefit other sectors of the Peruvian economy, as well. "Peru is 100 percent a mining country," Santillana says. "Mining brings income to develop our country, eliminate poverty and forge ahead as a nation."
To continue that growth, the company is taking advantage of the current high value of gold to invest in workforce development, exploration and different ways to lower its operational costs and maximize benefits. "We don't control the price of gold," Santillana notes. "What we control is our operational costs, so that we can withstand low price fluctuations."
Investing in people
Poderosa has implemented two work philosophies to ensure quality and help its workers perform to the best of their abilities. The first, based on the Japanese concept of 5S is called COLPA (for its Spanish name) and encompasses the principles of classification, order, cleanliness, prevention and self-discipline. All employees apply these principles across the board to promote order and discipline.
Santillana says the company also applies a continuous improvement process where groups no larger than 10 employees each work together to enhance a particular production process, whether for the plant, drilling or any other field of operation. "This principle has an impact in the improvement of the processes which in turn results in lower cost for the company," Santillana explains.
Poderosa's forward thinking earned the company in 2009 the ISO 9001 certification for quality management and the OSHA 18001 certification for occupational safety and health. Both of these certificates were updated in 2012 to reflect the company's improvements.
Green development
The mining company is investing in two projects to lower its operational costs and save energy. The projects, scheduled to be completed by 2014 and 2015, respectively, are a mineshaft to reach the lower levels of the mine and a hydroelectric plant to power the facilities.
The mineshaft will reach 1,000 meters deep below the surface and transport workers to their stations. This project will be completed by 2014 and it is expected to reduce transportation costs and time for workers. It will also be a more efficient way to access the lower levels of the mine.
The cost of powering the Marañón and Santa María plants will be significantly reduced in three years by a hydroelectric plant that will produce clean energy and make the plants self-sufficient. The new hydroelectric plant has been designed with room to grow and it will accommodate the third plant the company will open in the next five years.
Tree energy
Until the hydro plant is online, the company will continue to use wood-burning boilers to power the mines. Poderosa consumes 500 tons of wood a month in both of its facilities. To lessen the impact this consumption has on the environment, the company has been replanting trees since 1984. Since then, Poderosa has planted 3 million trees, covering more than 2,000 hectares.
"It takes the trees 15 to 20 years to grow into usable wood," Santillana explains. "We now have forests that we planted ourselves and we will continue doing it." There are multiple benefits of this approach, he says. "This [reforestation] not only helps replenish wood; trees also improve the environment and lower pollution, which has a positive impact on the communities," Santillana explains.
Poderosa's efforts to keep its production environmentally friendly earned the company the ISO 14001 certification in 2009, which was renewed in February of this year.
Three decades after he started working for Poderosa, Santillana has not lost his enthusiasm. "What I like most about Poderosa is that we live with a spirit of growth and improvement," he says. "You can see that in each and every worker in the company. We are always trying to better ourselves." And that attitude is worth its weight in gold. EMI