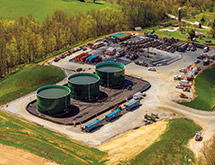 Comtech Industries President and CEO Dean Grose has little difficulty describing what separates his company from competition. "We are not a commodities company," he says. "We are a specialty company. We try to continually come up with novel solutions."
The Canonsburg, Pa.-based company has an exceptional track record when it comes to achieving that goal as it has proven since Grose started Comtech Industries 20 years ago. Grose's work in the Marcellus Shale in western Pennsylvania is just one example.
Seeking a Solution
Grose drove by the Marcellus Shale development each day on his way to work and wondered about the condition of the water used for horizontal drilling and fracking. Eventually, he saw a sample of the water. "It was grimy, murky, salty water," he recalls. "I immediately recognized and knew that a solution would be required to treat it."
Grose examined the existing water treatment solutions before calling on the experience he had garnered in the manufacturing industry to create a solution that resulted in 100 percent remediated water. His approach involved chemically treating and filtering the water until it was clean enough for continued use in the wells, he says.
"It could be used to frac another well," Grose notes. "We remediated it to the point that it could be used again." He adds that Comtech Industries is the only company in the world that can provide 100 percent remediated frac water. Additionally, the company eventually was able to clean water to the point that it could be reused, again and again to complete additional wells.
The cost savings to drillers has been substantial, but the impact on the environment is what makes Grose most proud, he says.
'Pad of the Future'
Comtech Industries also has created the "pad of the future," which would once and for all eliminate the safety hazards as well as the large-pad footprints required of open pits and treatment lagoons. The Comtech DYNA Tank, a 1-million-gallon, relocatable and scalable-water storage tank, allows flowback to be treated at the well site instead of being shipped offsite for remediation or disposal, Grose says.
The coded AWWA D103-9 tanks are beneficial because they eliminate the potential for leaks and spills that can occur in typical ASTs and will not collapse from high winds or seismic activity, as ASTs have been known to do, he says. Additionally, the tanks are designed to reduce the size and cost of a well pad. The tanks are 39 feet tall, 72 feet in diameter and hold up to 23,810 barrels of water with a 3-foot freeboard. They are designed in accordance with American Water Works Association standards, Grose says.
The company also has developed the industry's first mobile lab solution, a truck-trailer-bed lab that is pumping water through a cleaning manifold set up on the site. The company provided that solution to Cabot Oil & Gas Corp. six years ago to treat its wastewater for reuse in drilling and fracking, Grose says.
There are numerous advantages to the solution, including less need for alternative water sources, a reduction in trucking and water storage costs, maintenance of clean and safe environmental standards and elimination of the need for wastewater disposal.
Grose explains that means Comtech Industries is more than a water treatment specialist.
"We are not just a water treatment company, per se," he says. "Water treatment is one small component. Water management is 25 percent of the cost of a well. The treatment is only a small part of what we do. We're a water management company, and the tanks allow us to do that. We manage the complete lifecycle of produced water from start to finish, cradle to grave."