Below deck lifting
Established in 1993 as a local structural engineering company, Conbit has since grown into a leading name with unique competence in high-level structural engineering and specialist lifting solutions.
The company is headquartered in Eindhoven, where it employs around 45 members of staff that manage the execution of highly technical engineering and unique heavy lift projects around the world. Its Netherlands team is divided in structural engineers, draftsmen, project managers and supporting staff that embody the company's reputation as a committed, co-operative and highly approachable partner. "Structural engineering and specialist heavy lifting remain the main pillars of the business and are our main areas of focus," says sales manager, Bram van Oirschot. "We have in-house structural engineers as well as offshore crew in several teams that can handle specialist offshore lifting projects, and it is this unique combination of competencies that gives Conbit a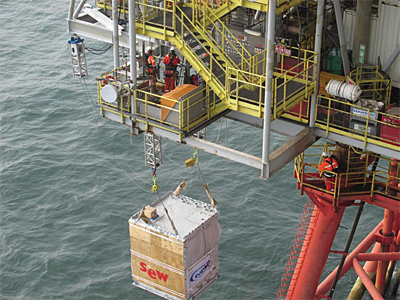 competitive edge on the market."
Further to its main base within the Netherlands, Conbit maintains an office of six supporting engineers in Slovakia and has recently invested in a new office in Aberdeen – Conbit UK Ltd. These businesses have allowed Cobit to grow successfully in a number of sectors and today the business is recognised for its expertise within the oil and gas, petrochemical, infrastructure, logistics, construction and telecom markets.
Conbit was last featured in European Oil & Gas Magazine during May 2014, and although the falling price of oil and the turbulent tides of the offshore energy sector have resulted in a slowdown in some of the world's markets, Conbit has remained highly active during the later half of the year, as Bram elaborates: "We have seen a growth in demand from clients in Asia and Africa and although the North Sea has been quiet, we have done some interesting projects including a lift for Centrica on the Grove platform where we installed a storage tank underneath the weather deck. This was a very interesting project because we carried out the engineering of the lift as well as the execution and we provided specialist equipment for the lift, which was successfully undertaken on the first attempt.
"The main challenge is always dealing with the weather constraints in the North Sea," he adds. "We can lift in conditions of up to around Beaufort force four wind speeds. In other markets such as Africa for example, there are logistical challenges in transporting specialist lifting equipment to some regions inside of Nigeria and Angola."
Indeed the often isolated and hard to reach nature of assets within the oil and gas industry make the sector an ideal base for the specialist structural engineering and lifting services provided by Conbit. As such the North Sea and its aging fleet of offshore rigs is increasingly an important market for the company, where it can offer clients a unique and highly sought after solution. "We are
focused on specialist lifting on rigs in hard to reach areas, such as lifting below another deck. This is very difficult because it is not possible to use a crane or a heavy lifting barge in these areas, which is where we see the potential for our solutions. We supply temporary lifting solutions and specialist lifting equipment that allows us to carry out lifts with high-speed winches, aluminium lifting booms and finally after the lift is completed, we bring everything back to shore at the end of the project," Bram explains.
"We opened the Conbit UK office because we still see a lot of potential in the UK market and we want to commit to this by investing in a new office in the area," he elaborates. "We see a lot of potential in modifications to existing platforms, where there is limited space to install a new piece of equipment so it is often installed underneath the weather deck or under the helideck for example. Besides that the decommissioning market will emerge over the coming years, and that is where our structural engineering and specialist heavy lifting services come together quite nicely.
"The challenge over the next couple of years in the North Sea will be the decline in new projects so a lot of the activity will be in brownfield sites, where the industry will see a lot of improvements to existing platforms and work to extend their operational lifetime. The operational life of many North Sea rigs has passed, since often they are certified for a period of 25 years and to certify them for the next ten years will require extensive structural analysis. The aging of the platforms will be a challenge over the coming years as will keeping them economical to run."
As the trends with the oil and gas sector shift and change, Conbit will continue to operate as a leading presence within the industry. This is because its services are both vital and flexible in as much as they provide an effective solution to challenging lift operations that can be applied from construction and installation through to maintenance and finally decommissioning. As such, Conbit will remain a vital industry partner for years to come.
Conbit
Services: Structural engineering and specialist lifting services