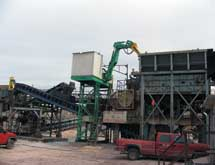 Conception D. Bedard Inc.
Conception D. Bedard Inc. (CDB) does not simply produce one style of product again and again on an assembly line. "Buying a rock breaker from us is not like buying a car," Vice President of Sales Marc Boivin says. "Before we get an order, we want to know where it will be installed, look at a sketch and go and visit the site and give our expertise. We adapt our equipment for the environment. Working in northern Canada where it is minus 50 degrees is different from Peru, where it is in a high altitude, or in Arizona, where it is 40 degrees [Celsius]. We always listen to customers to get the best productivity for them."
The Longueuil, Quebec-based company designs and manufactures specialized equipment for heavy industries around the world including mining, quarrying, aluminum industry, energy industry and waste management. CDB's line of heavy duty and standard hydraulic arms can be fitted with any brand of rock breaker hammers, grippers and other tools and are typically used to break rocks in mines and quarries around the world, Boivin says.
"With the mining industry and quarries booming, around 20 percent of our business is producing hydraulic arms," he adds. "A lot of companies call us because of our 30 years of expertise in that business, and it's a product that is well-received by customers."
Design Experience
CDB is celebrating its 30th anniversary this year. Founder Daniel Bedard started the company in 1981 as an engineering firm designing projects for heavy industries before establishing its first manufacturing and fabrication facility in 1989. Bedard sold the company in 2007 to three key employees, each of whom had 20 years experience with the company.
Engineering and design remain at the core of the company's operations, as staff regularly uses computer-assisted design (CAD) programs and 3-D to meet customers' needs. CDB employs eight engineers, six mechanical designers and 15 manufacturing employees. "We're focused on listening to and designing for our customers and being very flexible in developing their products," Boivin says. "Our end-users are important for us and we keep in contact with them to improve our product as per their request. Our customers have also told us that we design projects quickly."
In addition to its hydraulic arms, CDB produces specialized chain conveyors, chute manipulators, mill liner robotic systems and any customized bulk material handling solution equipment for the mining industry. "Our team is renowned for the reliable and dependable equipment it provides to mining industry enterprises," it says.
CDB's worldwide markets include Canada, Colombia, Mexico, Peru, Chile and the Middle East, with other prominent mining countries targeted for future expansion. "Our goal within the next five years is to double our business numbers," Boivin adds. "To do this, we need to attract more steel works and aluminum companies in the United States and attract the South Africa and Australian mining and quarry markets."
The company also has a goal of providing heavy lifting equipment to customers in the oil, gas and power sectors in the near future.