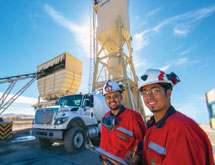 Concreto Lanzado de Fresnillo
Concreto Lanzado de Fresnillo S.A de C.V opened its doors March 4, 2002, in Fresnillo, in the state of Zacatecas in Mexico. By July of that year, the company had a contract to do work for Compañía Minera Fresnillo S.A. de C.V, the largest primary silver producer in the world. The concrete company that started with 10 employees embarked on a rapid growth plan that would have it staff up to 267 workers divided into more than 10 crews just 10 years after it was founded.
Guillermo Martínez, general manager of Concreto Lanzado de Fresnillo, attributes the success of the company to hard work, a focus on safety and the high quality of the company's products. He also says they found a niche market with low competition.
"When we started, the market was virgin, there weren't many cement companies that specialized in stabilizing mines using concrete," Martínez explains. "We experienced very rapid growth."
Martínez also admits that the rise in the price of precious metals helped the mining industry in Mexico and, by association, Concreto Lanzado de Fresnillo. "With prices going up [for gold and silver] a lot of projects that had been put on hold got the green light, and we were hired to finish them," Martínez explains.
The Right Product
The company initially did dry and wet mix applications, but they soon decided to specialize in high-end equipment for wet-mix shotcrete applications. "The new machinery enabled us to have better control of the concrete and a more exact application to achieve the consistency and strength required in mining," Martínez explains. This application method allows the company to have an average mine development of 1,250 meters per month.
Shotcrete wet-mix is a concrete application in which mortar or concrete is conveyed through a hose and pneumatically projected at high speed onto a surface. Compressed air is introduced at the nozzle to impel the mixture onto the receiving surface.
There are several advantages to this method, one is that the concrete is placed and compacted at the same time due to the force with which is projected from the nozzle. Another advantage of shotcrete wet-mix is that it allows larger volumes to be placed in less time. This method also produces less rebound, waste and dust than the dry-mix procedure. The company deemed this method more effective for subterranean mine applications, where poor ventilation and high concentrations of dust can become hazardous.
Other mining companies are following the company's line of application, staying away from dry applications because of the dust it generates and the difficulty providing adequate ventilation for employees.
CERTIFIED QUALITY
Concreto Lanzado strives to be at the forefront of services for its clients, while maintaining a healthy respect for the environment. To address these issues, the company set out to obtain two certifications in 2010 from the International Organization for Standardization (ISO).
The company's focus on service ensured that they received the ISO 9001 certification in 2010. This certification makes sure that companies meet customer needs and also statutory and regulatory requirements related to their product. The ISO 9001 cemented Concreto Lanzado de Fresnillo's compromise with product quality and employee care and well-being.
To ensure safety and environmental health, the company is currently in the process of obtaining the ISO 14001:2004 certification, which maps out the framework for a company to set up an effective environmental management system.
The ultimate goal of the company is to set a positive example and establish parameters that others in the industry will follow. "When Minera Frenillo or Minera Quiñones see that we are certified, and they notice the quality of our work and methods," Martínez explains. "They request other companies to become certified as well."
Employee Care
Working in a mining environment means that Cemento Lanzado de Fresnillo has to take additional steps in terms of safety that other concrete companies in different fields don't have to consider.
"The difference between our company and other concrete companies is the environment where we work," Martínez explains. "Normally, shotcrete is used for roads and other low risk construction projects. Mining is a high-risk environment. The potential for fatal accidents is higher, with falling rocks, gas leaks, etc. So we put more emphasis on safety than concrete companies in other fields."
Concreto Lanzado de Fresnillo plans to achieve the highest level of security by adhering to the safety measures of the mining companies where they work and establishing their own procedures, involving the families of the workers in the process. "We show safety videos not only to our workers, but to their wives as well," Martínez says. "That way we make sure they are fully informed of the risks and they take the necessary safety measures at all times." Martínez hopes to be able to avoid fatal accidents to the best of his ability this way.
Concreto Lanzado de Fresnillo is in the process of obtaining OSHA 18001 certification; the most widely recognized occupational health and safety management standard in the world. The company also is working with the Secretaría de Trabajo de Zacatecas (the Secretary of Employment in Zacatecas) on some programs to ensure the concrete company is recognized as a clean company with a focus on worker and family safety.
In order to ensure the well-being of its employees, Concreto Lanzado opened a clinic for its workers. The healthcare facility, although not very large, has capacity to treat any injury the workers can potentially sustain during work hours. It has state-of-the-art equipment, with X-rays machines and a doctor on staff to address any health issues that might affect its workers. The clinic also is available for the workers' families if they are unable to go to the public hospital.
"No other mine has a clinic," Martínez says. "This is unique to our company in our industry."
Martínez expects Concreto Lanzado de Fresnillo to keep growing. "We have several invitations to supply our services in many mines in the region, Minería Velardeña has approached us and we have another mine interested in our services in Guerrero state, to name a few," Martínez says. "For the next year we are expecting a 20 to 30 percent increase in revenue."
The strong position of the mines in the area, with the raise in market value for silver, and the company's unyielding compromise with quality and safety will ensure the concrete company continues achieving its goals for years to come.
The concrete company sees a bright future in great part due to the quality and commitment of its employees . As Martínez explains, "At Concreto Lanzado de Fresnillo, our reason for being is our people." EMI