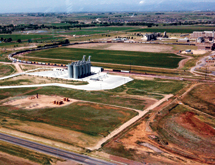 Homeowners, developers and multinational oil and gas producers alike have sought out Connell Resources Inc. to take care of their heavy civil construction needs for more than 60 years. The Fort Collins, Colo.-headquartered company self-performs heavy/highway and site development work including site clearing, earthwork, piped utilities, asphalt paving and trucking. The company also produces aggregates, aggregate base courses and hot-mix asphalt.
Connell Resources' paving experience includes county and highway road construction, as well as paving, patching, parking lot and driveway work. "Connell's paving crews can turn their expertise to patching, parking lot paving and driveway paving to fit the needs of any client," the company says. "We guarantee all work we prepare and construct."
The company is licensed to work in all the cities and counties along Colorado's Front Range, and is pre-qualified with the Colorado and Wyoming departments of transportation. "Connell prides itself on its ability to bring projects in on time and within budget for our clients, as well as our forward thinking, partnering, collaborative construction efforts with our owners, designers and subcontractors."
Connell Resources was founded in 1949 as Loveland Excavating Company in Loveland, Colo., changing its name to Connell Resources Inc. in 1982. Connell Resources moved its headquarters from Loveland to Fort Collins in 1991. The company also operates an office in Steamboat Springs, Colo., on the state's Western Slope.
Recent Projects
The company, in conjunction with USA Tanks, completed site work in March 2013 on a 54-acre frac sand storage terminal for Halliburton in Windsor, Colo. Work began in early 2012.
The project included the placement of more than 12,000 cubic yards of concrete, 25,000 tons of aggregate base course, 36,000 square yards of eight-inch concrete pavement and 3.5 miles of rail installation.
The plant is linked to two of the nation's largest railroad companies – Burlington Northern Santa Fe (BNSF) and Union Pacific – through the Great Western Railway network. Sand is discharged from trains to 10 storage silos, each with a capacity to hold four million pounds. The silos then load sand trucks, which deliver it to drill pads in the Niobrara Shale, according to Halliburton.
Connell Resources is also performing site work including grading, excavating, utilities and asphalt paving for general contractor FCI Constructors at Halliburton's Fort Lupton Field campus in Fort Lupton, Colo. Work on the 60-acre campus, which serves as a fleet maintenance and training center, started in spring 2011.
Other recent projects for which the company is providing site work and other services include:
A crude oil transloading facility for client Musket Corp., which Connell Resources is performing as a subcontractor to contractors Creel Co. The facility is located in the Great Western Industrial Park in Windsor, Colo., near the Halliburton frac sand storage terminal, and will tie into the same railroad network;
A water storage and unloading facility for Blue Water Resources in Windsor, which has a storage capacity of 55,000 barrels of water which can be pumped into water trucks serving drilling sites;
A railroad expansion for clients Great Western Railroad and Omnitrax, being performed in the Great Western Industrial Park;
An ethanol plant for Front Range Energy in the Great Western Industrial Park; and
Multiple contracts with energy-related companies on the Western Slope of Colorado.
Relationship Builders
Connell Resources prides itself on establishing close ties on its projects as well as in its industry.
"We maintain excellent relationships with contractors, subcontractors and suppliers for goods and services required for projects," the company says.
Connell Resources is an equal opportunity employer, a member of the Colorado Contractors Association, the Better Business Bureau and supports the American Society of Civil Engineers.
Expansion is a priority for the company. "For the future, Connell is always watching for market opportunities to expand our western and eastern slope operations, and hopes to continue to grow and better serve our clients in both the private and public sectors," the company adds.