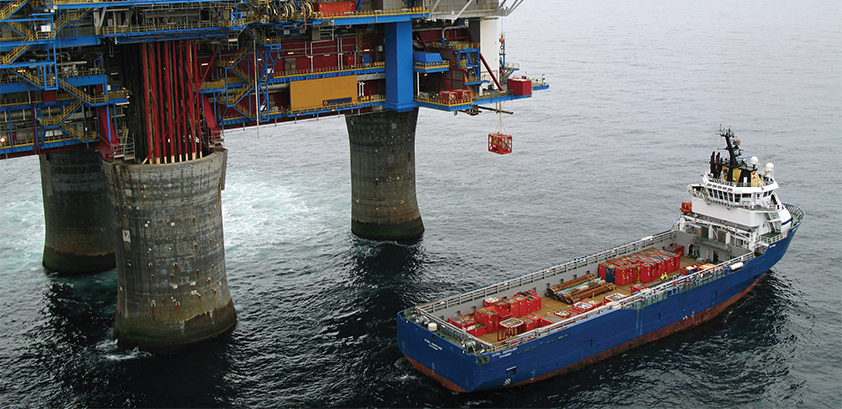 Conserve Oilfield Services Limited
Flexible and capable
By definition, offshore oilfields are often in remote regions that can be many hundreds of miles from the nearest shoreline.
Logistically this is not only a challenge for personnel, but also for the transfer of necessary equipment, which is often highly specialised and expensive in nature. As the challenges associated with such developments grow, so do the specifications for this type of plant, meaning a safe and efficient method of transportation is of paramount importance.
Conserve Oilfield Services Limited is a long-term partner and market leader in the rental of offshore containers, cargo carrying units, and offshore chemical tanks, for this purpose. With a reputation for being capable and flexible when meeting the challenges of clients, Conserve can provide offshore container that are designed specifically to suit certain equipment, or requirements.
The company's experience in this field has led it to develop a number of innovative and conceptual products within the field of cargo carrying over the years. With Conserve's fleet of units often tasked with the transportation of hazardous materials the company has long been concerned with reducing the risks associated with this type of equipment. As such, after attending a series of industry work groups, Conserve launched the patented Safety Chemical Tank, which is an innovative reduced height safety chemical tank offering significant risk benefits.
Over the last few years Conserve's rental fleet has been expanded by around 1500 units, the majority of which are designed, manufactured and certified in the UK. Elaborating on the importance of quality in this supply chain, Chris MacPhee, managing director of Conserve says: "In recent years we have secured most of our offshore equipment from UK manufacturers. For a while we had been purchasing containers from overseas countries such as Poland where steel and labour costs are both lower, however the quality of the goods was not always as high a specification as we require."
The company's new build programme going forward is a reflection of this quality commitment with around £10 million earmarked for adding various new items into the existing fleet. In order to maintain this reputation Conserve is currently undergoing accreditation by The British Standards Institute (BSI) for its integrated management system, which covers the three facets of quality, health and safety, and environment. This forms a major part of the business given that each of these concerns are top priorities for the offshore industry.
"Our biggest challenge is being able to supply top quality equipment to the clients' location," explains Chris. "The North Sea is very much a mature industry, as opposed to a growing area, and this means that operators are keen to watch their expenses as much as possible. Therefore we have to ensure that we continue to secure the right kinds of unit for the fleet, of the highest quality, and then supply this at a decent rental cost to the client."
Conserve has in fact been supplying the UK and Norwegian sectors of the North Sea with offshore container rental for over ten years. Although the company currently only maintains an office facility in Aberdeen, its equipment is present across the world in those areas currently targeted by its international clients. "With new emerging markets opening up, we're also seeing many of the major service companies based in Aberdeen moving out to these areas, which means they have a requirement for units to transport equipment and goods to the offshore platforms and rigs in these regions," adds Chris. These overseas locations have also given rise to a number of new clients, and in certain cases Conserve is assisting and working with local companies as a technical partner. In particular Conserve is seeing growing activity in the West Africa region, and secured new contracts in the area, through its relationship with Cavmont Leasing Nigeria Ltd.
At the end of 2011 Conserve moved into a new larger head office at its wholly owned eight-acre Hillview Base site in Aberdeen. This was a natural next development for the business based upon its growth in recent years, and given that these new premises are adjacent to its previous site. "As well as our own offices at Hillview Base, we also have other tenants that we rent space on the site, offices and warehousing too. When the office block next to our old site became available we took this opportunity to move into a more modern and purpose-built building. We also have major plans to expand and modernise the base on a general basis across the eight-acre site in the next few years," highlights Chris.
Although a mature area, Conserve clearly sees a good number of years left in the North Sea, with activity certainly not dropping off over night, or even in the next ten to 20 years. However the company also intends to use this base to capitalise on other markets, as Chris concludes: "We are the largest company to offer offshore container rental in Aberdeen, and we still see potential to grow our market share in this region and the North Sea in general. Likewise, we see major opportunities in a lot of overseas markets such as West Africa, Brazil, and East Africa, which is touted as one of the next places to take off. Wherever the major oil and service companies are, our equipment is needed, as in order to transport equipment from the shore to offshore platforms or rigs in a safe manner they need to utilise certified cargo carrying units. However, this is not necessarily based upon going directly ourselves and opening offices in these regions, but through the indirect supply of our equipment or working with local agents and companies in the marketplace."
Conserve Oilfield Services Limited
Products: Rental of offshore containers, tanks and cargo carrying units