Conserve Oilfield Services Ltd
Delivering innovation
Founded in 1998, Conserve Oilfield Services Ltd has developed a market-leading reputation as a supplier of containers, cargo carrying units and chemical tanks as well as associated equipment and services for clients operating within the offshore oil and gas sector.
The business is currently part of the SCF Partners group of companies after being purchased by the group during 2012.
As such Conserve has the backing of a parent company with a reputation for investing in companies that display high long-term growth potential and a team of executive directors with more than 60 years of experience within the oil and gas industry. The company's primary business concern is focused on the rental of offshore containers, cargo baskets and offshore chemical tanks – a market in which it excels. Conserve has had a strong presence in the North Sea working with operators based in the UK for over a decade, however the company has also supplied cargo carrying units for clients operating in as diverse regions as Alaska to Australia, and from Africa to Azerbaijan. Further to this Conserve is able to offer additional support services to clients including maintenance and re-certification of their own container or tank fleets, adding greater value added service to the Conserve portfolio.
Both Conserve's service portfolio and global reach were recently expanded by the acquisition of Rentair Offshore by the SCF Group, which saw the bringing together of highly complimentary companies underneath the SCF umbrella. Headquartered in Aberdeen, Rentair Offshore is the trading name for the registered company Rentair Ltd, a well-established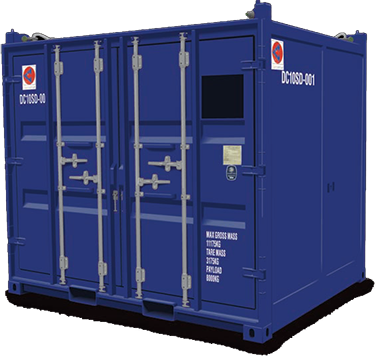 specialist offshore rental company with a history dating back over two decades in offshore, and today the firm continues to deliver an extensive range of Air Compressors and associated products and support services to clients throughout the world, with facilities in Aberdeen, Great Yarmouth, the Netherlands and Singapore. Co-operation between the two brands will see Conserve containers and tanks combined with Rentair specialist products into turnkey solutions packages that, with the added value provided by each company's individual expertise, will result in an incredibly robust service for new and existing clients. The first client to benefit from the partnership will be Venko Offshore, which was recently awarded a major offshore contract for rig fabric maintenance on the West Sole Bravo for Perenco UK Limited.
Andy Waite co president at SCF said: "SCF is excited to acquire RentAir Offshore and to have the opportunity to work with the company's talented management team and employees. We believe this will be an excellent platform for both organic and acquisition based growth opportunities. We also believe there may be excellent synergies to be realised with other companies in the SCF portfolio."
Conserve has itself been the focus of significant investment in terms of its hire fleet and general facilities in recent years, which have likewise added to the company's strength in providing a premier service to its clients. Just prior to the company's acquisition by SCF, Conserve announced that it had moved to a larger headquarters in Aberdeen during December 2011. 'Hillview House' is a large modern facility that houses the Conserve management team, operations, HSEQ, sales, IT and finance departments under one roof. Additionally the facility is located next to the Conserve 'Hillview Base,' which provides options to develop the eight-acre site over the coming years.
Responsible and efficient operation are the corner stone of the way in which Conserve does business. During 2014 the company was successfully recertified in internationally recognised OHSAS 18001 Health and Safety, ISO 14001 Environmental and ISO 9001 Quality management standards with zero non-conformances. Additionally, following a three-yearly audit the business and its employees were praised for their contribution to HSEQ achievement and performance. BSI commended Conserve for a traffic management plan implemented at its eight-acre site, which regularly transits 40 plus lorries through the facility in one day.
Presently Conserve Oilfield Services manages a sizeable fleet and is set to extend its service offering and engage with its parent and sister companies to expand into new markets. "We've recently purchased additional land next to our Aberdeen facility in order to extend our yard and storage area for additional container fleet," concludes Chris MacPhee, managing director. "Achieving high HSEQ standards is paramount to our successful growth and I'm delighted with our recent successful recertification audit, the results of which pay testament to the efforts of our entire team in implementing and practising the highest levels of safety each and every day. We continue to explore new technologies and innovations that will deliver safer operations, equipment and solutions for our growing client base."
Conserve Oilfield Services Ltd
Services: Rental of offshore containers, cargo carrying units and IMO chemical tanks