Terminal velocity
For Houston, Texas-based bulk liquid storage and logistics experts Contanda Terminals, 2017 marked a period of transition and growth, while 2018 is poised to be one of, if not the most exciting years in its history. This sense of excitement is certainly palpable when speaking to its President and Chief Executive Officer, Jerry Cardillo: "We have a great team of people assembled here who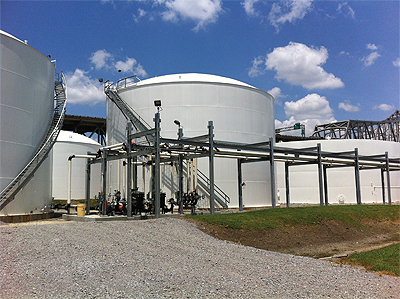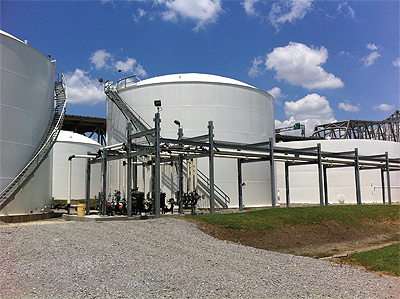 are involved in a number of excellent business growth projects, making this a fantastic period of time for the business."
While 'Contanda' is a relatively new identity for the company, having been introduced in 2016, the legacy of thebusiness dates back more than 60 yearswhen it was established as a horizontal arm of the Industrial Molasses trading company. In the decades that followed, this company developed various terminals, primarily for the storage of its own commodities. In 2009, the arm would be taken public under the name Westway Terminals, before being purchased in 2013 by Swedish private equity firm EQT. It was then, in April 2016, that Jerry joined the business, and in the time since he has overseen the accelerated transformation of Contanda.
"For the last 18 months, we have not only been focused on our continued growth in our traditional chemical commodity framework, but also accelerating our movement into the petrochemical and hydrocarbon markets," Jerry explains. "At the same time, we have successfully negotiated the relocation of our headquarters to Houston, rebranded ourselves to give us our own unique identity, and widened our commodity base into what I call our 'growth commodities'."
The range of commodities handled by Contanda can definitely be described as being diverse, ranging from calcium nitrate, calcium chloride and caustic soda,to sulphuric acid, base and vegetable oils, biodiesel and petroleum products. This mix of products is handled across Contanda's 15 bulk liquid storage terminals and single bulk steel storage terminal, strategically located throughout North America. Said terminals can be found in cities including, but not limited to, Baltimore, Cincinnati, Jacksonville, Philadelphia, Port Allen, Stockton and Grays Harbor, as well as Houston, where the company has three facilities located in the city's busy shipping channel.
Since coming into the business, Jerry has been very open about his own ambitious growth plans for Contanda, which will see the company striving to double its storage capacity in the five years from 2016. "WhenI arrived in April 2016, we had around seven million barrels of storage capacity in our tanks in North America," he reveals. "It is our belief that this can double this capacity over a five-year period, but key to that, in my opinion, is the transformation of our commodities portfolio.
"At present, approximately 60-70 per cent of our commodities are what I would call 'food-based' commodities, with theremaining 30-40 per cent being made up of petrochemicals and hydrocarbons. As our growth vision matures in the coming years, we expect these shares to reverse, especially if the petrochemical and hydrocarbon markets continue growing at their current rates. This trend, coupled with the fact that the shale plays in North America have created an abundance of natural gas, has helped drive the demand for the terminal and logistical services that we have become experts in delivering."
Optimum logistics
This increase in demand has seen Contanda pursue a number of business prospects in the last 12-18 months, which has included the expansion and modernization of its existing facilities, and the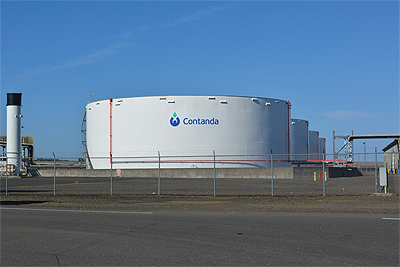 acquisition of new land and infrastructure. As Jerry goes on to detail, it has been a carefully plotted course that the company has travelled. "When it comes to how we choose a location to set up in, the most important aspect is to have optimum logistics capabilities, with modes of delivery into and out of our asset infrastructure. Traditionally, this would come in the form of rail, highway and water access, however when it comes to our more recent, large-scale undertakings we have to also consider the pipeline flow to and from the facility in question. For us at Contanda, this facet has become by far the most important aspect when it comes to our goal of improving our logistical capabilities, allowing the volume of product movements to increase dramatically."
The city of Houston is home to some of the company's previously noted 'larger' projects, and in October 2017 the location took on even greater significance with the announcement that Contanda had secured a multi-year commercial agreement with the Port of Houston for 339 acres of prime deepwater access property based on the Houston Ship Channel. Further strengthening itspresence along the United States' Gulf Coast, this acquisition of land will go a long way towards achieving its objectiveof doubling its terminal storage capability. With this project, the company will take a further stride in establishing its position as a leading storage provider in the growing petrochemical and hydrocarbon markets.
When embarking on a project of such size, Jerry knows that a lot of its success comes down to not only his own business, but the actions of those who provide variousservices and support in order to make Contanda's plans become reality. "With undertakings like those that will be taking place in Houston over the coming years, you are very much dependent on third-party infrastructure, as well as your own expertise," he states. "We call upon a network of companies and vendors that we are 100 per cent reliant upon in order to achieve our objectives."
A number of these vendors have partnered successfully with Contanda onits projects across the length and breadth of the United States. "When it comes to both our growth projects and those involving the maintaining of the integrity of our assets, we always look to work with those that we believe align with us strategically and share a common goal," Jerry enthuses.
The 12 months ahead are set to be a period in which Contanda lays thefoundations that will make it possible forthe company to double its tank storagecapacity, and indeed move beyond this and onto its next phase of growth. "Thisis going to be such an important, active year for us," Jerry adds. "As well as projects that are commencing in places such as Stockton, Port Allen and Grays Harbor, we are currently evaluating projects at two of our terminals in Cincinnati and Toledo.
"In the meantime, we are also working hard to co-ordinate our resourceallocation in order to meet our demandsas we enter into a period of constructionover the next 24 months. Taken together,this will make for 2018 being a trulyexciting year and one that will probably be the busiest we have ever had as a terminal business."
Contanda LLC
Products: Bulk storage and logistics services