Conti Solar, a leader in distributed generation solar facility construction, announces 44.5MW of DG projects underway in Massachusetts.
With a large market presence in the Northeast, Conti Solar has found a great deal of success building distributed generation solar facilities. DG facilities are generally under 20 megawatts (MW) in size. "The DG market is unique in New England. Conti's ability to leverage its extensive infrastructure, deep solar expertise and flexibility has expanded our opportunities," Regional Manager Sean Harrington said.
"Contractors entering the DG market may struggle with inherent fast pace of solar projects [with] their intricate complexities," he says. "Our turnkey services, $1.2 billion bonding capacity, cost management and seasoned leadership has led to The Conti Group's leading position within this market. It has also spurred our growth into newer DG and utility scale solar markets in Minnesota, the West Coast and Southeastern United States."
Based in Edison, N.J., Conti Solar is a true EPC, providing engineering, procurement and construction services for solar power and energy storage projects, as well as power plant operations and maintenance. Harrington explains that Conti Solar started in 2006 as a division of The Conti Group, a 111-year-old, third-generation infrastructure engineering and construction company.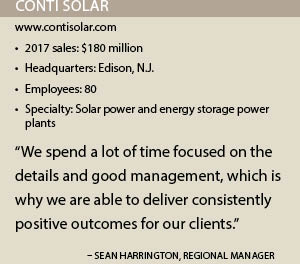 "With over 400 MW of solar projects completed, Conti will build another 250 MW in 2018," Harrington says. "As our portfolio of successful projects grows, so does our geographic diversity. We have completed projects in 11 states and we are planning to double the number of states we are working in by the end of the 2018.
"We focus on building a diverse client base, a mix of private and public clients," he states. "One of our strengths is our ability to work with utility clients. We have successfully completed projects with some of the largest utilities in the U.S. Utilities choose Conti Solar because of our safety culture, solar expertise and infrastructure experience, all of which reduce project risk and ensure projects are successfully completed. That translates to an ultra-reliable operation that ultimately saves clients' money."
Powering Up
Conti Solar recently completed a portfolio of projects for electricity and natural gas provider Eversource Energy, which is the largest utility in the region serving New Hampshire, Massachusetts and Connecticut. "Eversource saw an opportunity to save customers money and petitioned the Department of Public Utilities to develop, construct and operate 70 megawatts of solar facilities in Massachusetts," Harrington says.
Conti Solar won the contracts to engineer, procure and construct 15 DG solar facilities in Massachusetts that will collectively produce 44.5 MW. The facilities range from a 1.2-MW canopy installation to a seven MW ground mount project, with site development ranging from 5 to 35 acres. That's an average of five acres per megawatt. "They will be owned and operated by Eversource, feeding distribution circuits in Massachusetts and providing the region with sustainable, clean solar energy," Harrington explains.
The company has extensive experience building in the region. "Conti Solar's experience with local site, soil and climatic conditions help us to optimize the site designs and maximize projects' green power goals. In the end, our success is based on how well we helped our clients achieve their goals. Coupled with our engineering team's expertise, our vast network of subcontractors and vendors really allowed us to bring very competitive pricing to the portfolio which helped us to build all these projects in under four months," Harrington states.
Building 33 MW in New England late in the year can present a lot of challenges. Conti Solar relies on its relationships with subcontractors and suppliers, including Mass. Electric Construction Co., which supported the electrical construction on nine of the facilities. "Mass. Electric Construction's focus on safety, their DG solar facility construction know-how and their integration into our team, really helped make the projects a success," Harrington said.
This was especially critical since the projects needed to be delivered by the end of 2017. Site selection and local permitting was completed by the client. Some of the locations were along transmission easements and in some cases were forested areas while the canopy projects where mainly built at the Eversource facilities. "The management of the site development includes land clearing, grading, storm water infrastructure, underground and overhead distribution circuit upgrades and also includes the equipment needed to interconnect into the local grid," he explains.
Conti Solar and its project team had to overcome many challenges with site logistics, harsh weather and vendor management to keep the projects on schedule.
In the end, the company's hard work was rewarded, and projects successfully met completion. Conti will build more Eversource solar facilities. "There's five additional projects that are going to start in April," Sean said, noting that the five other will provide an additional 11 megawatts of clean solar power and are expected to be completed by the end of June.
Solid Subcontractors
Conti Solar takes a competitive approach with subcontracting. The company has strict requirements for its subs. "These projects are not technically complicated, but often they have very aggressive schedules. We look for contractors that have extensive experience, safety records and access to the labor resources needed to keep the projects on schedule and drive costs down," Sean says. "Conti can bring a lot of value to large portfolios due to these strategies."
When evaluating new vendors, "We're looking for best price and value. Our prequalification process looks into the aspects of the company's financial health, operational success, safety and culture. It's important to us that companies are a good fit culturally. We see our subcontractors as partners and we want to work with organizations that see value in that."
Core Culture
Harrington is a longtime veteran of construction and began working in the commercial and industrial general construction industry in 1998. "I first entered into the residential and commercial solar market in 2008 and distributed generation solar power plants in 2012," he recalls. "I joined The Conti Group in 2016."
Sean notes that Conti Solar maintains a well-organized work environment. "There are significant core cultures that flow down from Conti Group," he says, noting that these include being quality-driven and dedicated to the project's success. "Conti has never not completed a project, no matter the situation. We focus on the client first."
The Conti Group's parentage has nurtured a strong focus on safety, which is managed at the project level. "We have an in-house safety department that is managing our safety plan and the expectations coming from our owners," Harrington says, noting that the department also oversees the safety of its subcontractors.
Conti Solar's strong focus has kept the company safe. "Today, we have 25,000 self-performed hours in the first three months of 2018 with zero recordables," he comments.
Clearing the Hurdle
The company is seeing impacts on its market with the recent tariffs on solar modules, steel and aluminum. "The indecision and threat of the tariffs were impacting the market. Any tariff, on any industry, is not an optimal situation, but our industry is moving forward and expects to continue to see growth across the United States," Harrington reports.
"The solar industry," he asserts, "has reacted without much of a downturn. Our revenue goals for 2018 remain unchanged and we see many of the markets that we are currently working in continuing to integrate renewables and adding battery storage."
Sean adds that, "The company plans to grow into new markets. As of today, we have constructed in 11 states and are pursuing work in 10 more. We're closing in on a 50 percent footprint across the country."
Keeping Up
Conti Solar keeps its staff up to date with constant training. "Everyone's OSHA 30, first aid/CPR and NFPA 70E trained," Regional Manager Sean Harrington says. "Conti is a learning organization and encourages participation in industry educational opportunities. We are always encouraging our team members with webinars and spending time in our internal meetings discussing new technologies or having vendor presentations. Being in a fast moving industry we have to remain on the leading edge of technology and cost-reduction strategies."
He notes, "This training keeps Conti Solar's employees attentive throughout the day. It's not just do the work and go home. We encourage the team to remain intellectually curious, which keeps people engaged and responsible for the outcomes of the projects."
High Achievers
Based in Edison, N.J., The Conti Group started operations in 1906 as a construction firm and has grown to represent multiple industries, including engineering, renewable energy, real estate and technology. "Our entrepreneurial spirit propels us to continually grow and innovate as a company, and our history and ethics keep us grounded in our core values," says Eric Millard, Conti Solar's vice president of business development.
The Conti Group notes that its holdings are diversified geographically and by sector. This allows the firm to follow opportunities when it sees fit. "Our holding company structure provides strategic support services to maintain continuity and efficiency across our organization," Millard notes. "However, the most important thing to know about The Conti Group is the quality of our people. We are a positive, high-achieving community that can be counted on for our honesty and integrity, as well as our delivery of successful results to all key stakeholders."