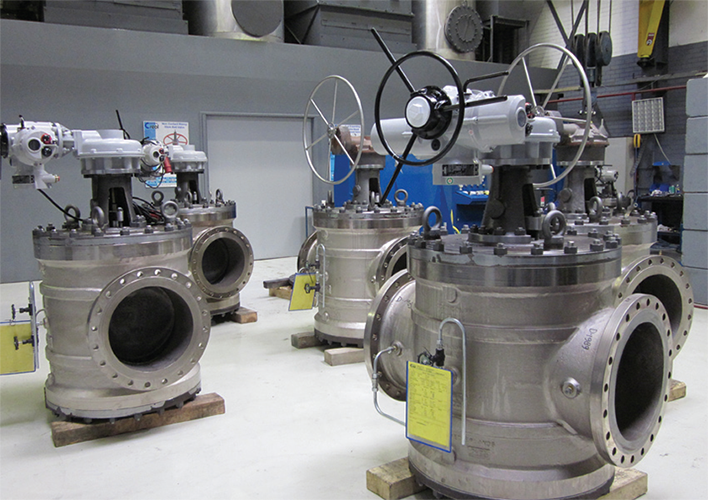 In control
One hundred years of tradition in precision engineering, and over 25 years of experience in valves is just part of the heritage ControlSeal B.V. has behind its name.
The current success of the company is based upon this expertise in the design and manufacture of valves, and the ability to deliver both standard, and customised solutions, at cost effective prices. In particular the company ranks among the world's leading manufacturers of its two core product lines – Rising Stem Ball Valves (RSBV), and non-lubricated Double Block and Bleed plug Valves (DBBV).
All production is carried out between two company owned facilities in the Netherlands, located in Montfoort and Appingedam. These valves are then utilised in applications across the world, due to the broad range of sizes, pressure classes and materials available. As an independently owned business, Control Seal benefits from greater flexibility in assisting its customers with their specific needs.
Over the last five years Control Seal has made great strides into the larger LNG projects of the world, carrying out work in Australasia, the Middle East and Qatar, and Indonesia. The company is also working very closely with the major engineering, procurement and construction (EPC) contractors of the world in achieving results for the end client.
Besides the core business, Control Seal is also a co-producer for the original equipment manufacturer (OEM) industry. Assisting in these endeavours is the company's modern CNC machine park. Quality is further assured with a conditioned 3D CAD measuring room, where these systems are able to offer 0.005 mm accuracy and high precision. "The types of valves that we produce are not of a standard type, with a multiple range of different specifications requested. As such, no two valves or projects are the same, which means that each time we have to design a solution that is project specific. Nowadays our clients are also often looking for 3D design templates that they can use to check against their plans for space or weight issues, which we are able to supply using these systems," explains Paul Imrie, sales director of Control Seal.
With the company's products often being found in some of the most extreme operating and environmental conditions on earth, Control Seal is recognised for its exceptionally high quality standards. The oil and gas industry in particular demands such credentials given the critical nature of the processes employed in this market. Commenting upon particular requirements Control Seal's product range fulfils, Paul says: "In terms of the RSBV our biggest market is the gas industry, such as gas processing and the LNG drive. This is a major trend we are seeing at present as LNG activities continue to expand, with a lot more international companies embracing this kind of technology in transporting reserves.
"Our DBBV has also seen great success off the back of the rise in air travel across the world. As a result, a lot of airports are expanding and investing in new fuelling systems, where this type of valve is employed." The DBBV is also used in the metering of fluids and in tank storage facilities.
One constant stream of work for the business is to modify and ensure that this range of valves comply with the latest international standards. This includes the selection of the most suitable materials for individual components, stress analyses on newly designed valves, and testing of valves and parts to verify suitability for specification. In this respect, after an already successful completion of ISO 15848 accreditation, Control Seal is currently working towards AHSAS 18001, ISO 29001 and SIL accreditation due to the huge demand in the market now for such quality standards
Through its knowledge of applications and delivery of special solutions over the years, Control Seal has developed a number of new valve designs, the first of which – the Axial Flow Valve and its derivative the SwirlValve – which is due to be launched within the next few months. "We are not a company that produces commodity products," notes Paul. "We look at the market and see what niche opportunities there are for valves that we and the market can benefit from. The Axial Flow Valve is in a very specific market where we see potential for our business. The SwirlValve is a low shear/coalescing valve that improves downstream separation. We're also working on a four-way diverter valve, which actually compliments to some extent our existing DBBV range, and is a logical diversification into related components."
The introduction of these three new product lines are a key aspect of Control Seal's growth plans for the next few years. However, clearly consistent growth is also continuing in its more established product ranges, as demonstrated by the recent expansion of its production facilities to keep up with demand. With the underlying ambition of being the best in the business, Control Seal is continuing to challenge the valve market with designs that fulfil the demanding criteria of today's industry operators.
ControlSeal B.V.
Products: Valves