Corus Tubes Energy Business
Precision in pipeline
As one of Europe's leading suppliers of innovative pipe solutions to the global energy sector, Corus Tubes plays a key role in the extraction and distribution of the world's key oil and gas resources.
The company's innovative products, which have very tight dimensional tolerances and feature innovations such as pipe-in-pipe design and cryogenic pipes, are specially tailored to meet the most demanding requirements of customers in the offshore and onshore pipeline, process plant, and oil country tubular goods sectors.
Tim Bird, director at the business, elaborates: "Corus Tubes Energy Business is a market focused company, which operates as part of Corus Group Plc and provides offshore and onshore pipeline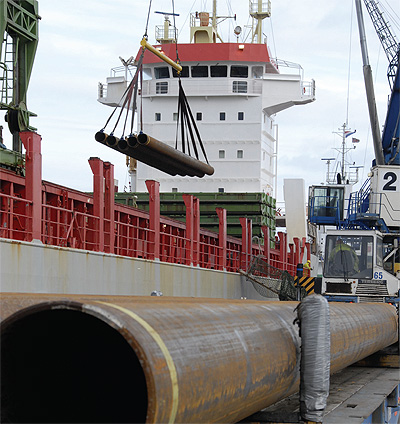 solutions to the energy sector. We offer a vast range of specialist pipe products that are used in the global energy industry by customers such as Shell, BP, Williams and Total. Our key strengths lie in our technical capabilities and experience, particularly in manufacturing high strength pipe products to the tightest tolerances."
Tim expands on the company's range of innovative pipe solutions: "We offer a very wide catalogue of products and services across a broad range of sectors. We are a renowned leader in the manufacture of large diameter, submerged arc welded (SAW) pipes for offshore gas and oil pipelines. These pipes are used in the deepest waters and harshest environments, meaning that they need to meet the most exacting client specifications.
"Tight tolerances are an essential aspect of the pipe, as they not only help with collapse resistance, but also allow the laying process to be conducted quicker," says Tim. "We are able to achieve excellent, world-leading tolerances that give a much quicker set-up on the pipe laying vessels, which saves our clients a great deal of money."
In addition, the company is a leader in the development and manufacture of high frequency induction (HFI) linepipe, which is used for high integrity offshore application pipelines, and is ideally suited for offshore environments. The company's HFI linepipe offers considerable cost savings in terms of design and installation, and is available in strengths up to API 5L X70, and toughness to 40 Joules minimum. "We manufacture HFI linepipe up to diameters of 20 inches in our site at Hartlepool, which is one of the world's leading HFI mills," Tim explains.
A growing feature of the offshore industry is the need to bring into production stranded oil reserves, this means that high-quality pipe-inpipe solutions are becoming increasingly popular. Corus Tubes provides a project managed portfolio of pipe-in-pipe solutions: "Our suite of innovative, fabricated pipe-in-pipe products has made us the European Market leader in this sector," says Tim. "It is a sophisticated product that enables clients to exploit stranded oil reserves by insulating the oil against heat loss to stop it waxing thereby maintaining flow through the pipeline, and delivering the oil to market more rapidly."
Tim explains that to retain its leading position in the market, the business places the highest emphasis on R&D: "It is extremely important, and something that we continuously strive for as the offshore sector will continue to present new challenges, with areas such as the Arctic waters, and other deepwater regions becoming the new frontiers.
"Our job will be to keep developing new solutions that help our clients to move forward, and to face these challenges," he continues. "This means that we will have to implement continuous improvement in our manufacturing operations to make sure that we maximise our production efficiency, have a competitive cost base, and continuous product development." In-line with its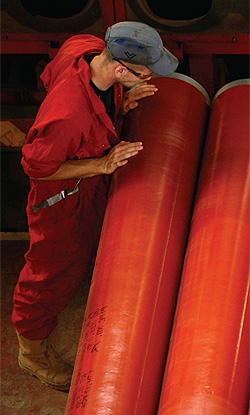 continuous focus on development and improvement, the company has recently invested in updating its facility in Hartlepool. Tim comments. "Over the last three years we have invested over £14 million in new equipment to ensure that our site at Hartlepool remains at the leading edge of large diameter pipe technology. In particular we have invested heavily in leading edge plate milling and NDT Technology.
"Additionally, we have relocated a specialist 84 inch pipe mill, which predominantly focuses on the manufacture of process pipe products for refineries and LNG plants, from our site at Stockton to Hartlepool," Tim continues. "As a result we now have all of Corus' large diameter pipe operations at one site, which reinforces Hartlepool as the world's leading centre of pipe making excellence."
Tim believes that continuous investment in the company's employees is an equally important factor in its success: "We spend a great deal of time in the training, and improvement of our workforce, and implement improvement programmes at our mills for areas such as manufacturing efficiency. Our competitors do not stand still and the market is continuing to attract new entrants, but through continuous investment we are able to keep ahead of the field."
Reflecting on the current industry conditions, Tim believes that the coming years will see exciting opportunities for Corus Tubes: "There is little doubt that there is a huge increase in demands on the world's energy supplies, particularly with the growth that is happening in China and India. In terms of transportation requirements and power generation, oil and gas will continue to be the dominant supply of energy for the foreseeable future.
"However, it is generally believed that future resources will be increasingly difficult to develop forcing oil and gas companies to source in more hostile environments," he says. "This means that for a company like us there are long-term opportunities to continue to develop innovative products that help our customers. The demand will always be volatile, but there is little doubt that we are in a growth industry.
"It is a challenging market to operate in, so we have to ensure that we continuously invest in our technical know-how to develop products and deliver solutions for the future of the industry. We cannot afford to stand still, as with any European manufacturer we have to ensure that there is continuous improvement across our business, including manufacturing, to make sure that we have world-class processes to back up our world leading technical know-how," Tim concludes.
Corus Tubes Energy Business
www.corusenergy.com