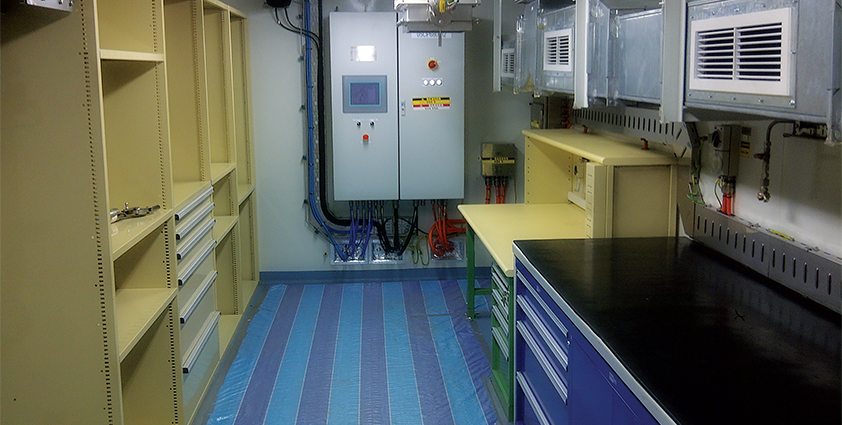 Coruweld Engineering Services Pte Ltd
Super modules
"Established in Singapore in 1981, what was at first a humble fabrication company that occasionally carried out the refurbishment of container offices for rigs stationed in nearby shipyards, quickly went from strength to strength to become the highly sought after design and fabrication engineering company it is today," explains Ivan Hee marketing director of Coruweld Engineering Services Private Limited.
Offering expertise in relation to a wide range of engineering solutions for the oil, gas and petrochemicals industries, the company operates from a well equipped engineering, design and sales office based in Tradehub 21, Singapore. From here it discusses each of its customers' individual needs before designing proposed projects with the latest computerisation tools. The company also boasts a fully equipped fabrication facility located in nearby Johor Bahru, Malaysia, with an impressive 7000 square metres operational floor space, which is expected to expand in the coming months to accommodate an increased demand for containerised modules.
"Central to Coruweld's business is the design, fabrication and installation of DNV 2.7-1/BS EN 12079-1 offshore certified containerised modules," Ivan continues. "Furthermore, the company's product range also includes containerised modules for remote area operations, electrical and instrumentation installations, desert and forest camps, construction site offices, drilling operations, laboratory and testing, refinery installations where blast resistance is a requirement and onshore/offshore living quarters, amongst a multitude of other capabilities and services.
"In addition to being a fabrication specialist, Coruweld also offers a related range of specialised services that includes container module refurbishment and repair, on-site troubleshooting, supply and installation of explosion proof equipment and third party
inspection services. Over the years the company has worked with a number of notable industry figures, including the likes of Shell, ExxonMobil, Maersk, Halliburton, Baker Hughes, Weatherford and Schlumberger, supplying project-specific modules that are able to meet even the most stringent requirements."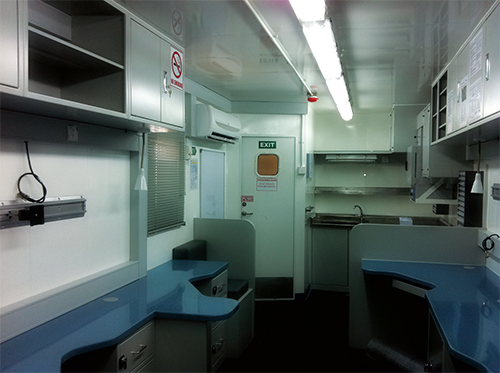 Consistently, Coruweld has endeavored to maintain the highest standards of quality for all of its containerised modules, complying with all the relevant international standards and regulations: "Every project undertaken is done strictly in accordance with the company's in-house quality control guidelines, ensuring that all work procedures are properly planned, controlled and co-ordinated in the utmost professional manner," emphasises Ivan. "Every single item or solution designed by Coruweld is done so with the end-user in mind. Our goal is to help end-users with solutions that will solve their technical problems and meet their required standards. The design and fabrication phase is always a two-way process, whereby Coruweld actively listens to its customers before striving towards solutions that are both functional and robust."
In 2006 the company was approached by Shell Global Solutions and asked to build modules that are capable of withstanding an external blast, while at the same time protecting the occupants inside. This request came as a result of the need to place containers that would boast a rigid and robust structure in areas where the likelihood an explosion is high: "One of the reasons that made Coruweld best placed for such a project was its ability to leverage against, and incorporate various design aspects from its vast experience of building containerised modules for the offshore market," Ivan states. "The result of the company's efforts can be seen today in its Blast Resistant Module design that has been proven to provide blast protection to its occupants whilst complying with API 752 standards, as set by the American Petroleum Institute.
"Since it's unveiling, Coruweld has supplied these special modules to Shell affiliates all around the world as well as to ExxonMobil and its refineries in Singapore. Based on the success of these modules as well as the well-documented spate of industrial accidents that have occurred in recent years, which in turn has brought about an increased emphasis on industrial workplace health and safety, the company has great confidence that the need for such blast resistant modules will only continue to rise."
Increased demand for the company's services in 2012 is expected to continue in the Asia Pacific region, particularly in emerging markets like China, India, Russia and Brazil. In order to further strengthen its own position in these areas, Coruweld intends to expand its production capacity by establishing an assembly line in China. It is believed that with a strong local base in Asia, the company will be better geared towards providing the same high quality to these countries as it does presently to its home markets.
"Going forward, the company's strategy is to continually adapt and evolve by taking on different projects while still remaining committed to providing customers with the highest quality products and services that Coruweld has come to be known for. Further ahead it envisions a future where it will be recognised as the go-to company in Asia and the rest of the world when it comes to the building of offshore certified containerised modules and providing the type of swift engineering solutions its customers have come to expect," Ivan concludes.
Coruweld Engineering Services Pte Ltd
Services: Design and fabrication of containerised modules