Energy from Waste: A Sustainable Alternative
The River Thames has been inextricably linked with Cory Riverside Energy's business ever since the company came into being in 1896. As the 19th Century was drawing to a close, eight coal trading businesses formed William Cory and Son Ltd, immediately beginning to use the river to transport coal into London. Later on, Cory developed oil distribution capabilities in the first two decades after World War II, before entering the waste management field in the 1970s, which today is the company's only focus area. From 2016-2017 Cory sold several subsidiary businesses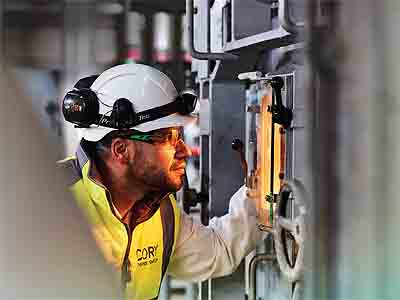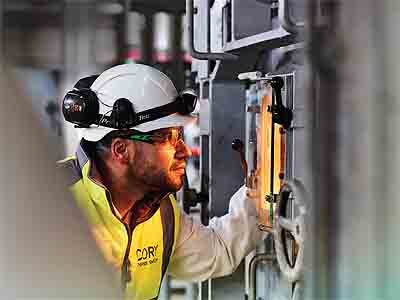 including its collection business and landfill sites to focus purely on Energy from Waste (EfW).
"At first, we were filling empty barges with residual waste to send to landfill, but since 2011, we have been operating one of the largest Energy from Waste plants in the UK, in Belvedere, where we transform the capital's residual waste into electricity," begins Andy Pike, Strategic Infrastructure Development Director at Cory.
To highlight the numerous benefits of using the River Thames as a 'Green Highway', Andy provides us with a set of key figures that emphasise the advantages of water transport over its road alternative. "We are saving over 100,000 lorry journeys per year, which helps to reduce traffic congestion and, of course, makes the process of waste transportation a lot more carbon efficient. For example, we can move up to 2000 tonnes of waste in one go from Central London to our Belvedere facility using one tug that pulls four barges, as opposed to the plethora of vehicles you would need to move the same amount of waste through the city's congested roads."
Once the waste has reached Cory's Riverside Resource Recovery facility, the company then converts it into electricity. Cory processes around about 750,000 tonnes of residual waste every year, generating circa 525,000 MWh of electricity, which is enough to power 160,000 households.
"The construction of the Belvedere plant followed one of the longest public inquiry processes for a waste management facility in the country. We were given permission to go ahead with the project in 2006 and after securing financing in July 2008, we had a 39-month period of construction and commissioning, before taking operational control of the facility in October 2011. The whole project amounted to a c.£500 million investment and at the time of its opening, the plant was the largest of its kind in the UK," discusses Andy.
Encouraging recycling
He then reveals that Cory is currently undertaking an examination in public with the Planning Inspectorate for the construction and operation of a second facility, which will almost double the company's electricity generation capacity and will include both additional EfW capacity as well as renewable energy sources and battery storage. "This is the major task that will be occupying our minds in the coming years. The proposal for our Riverside Energy Park is with the Planning Inspectorate at the moment and we are hoping to receive development consent order in April 2020, which will trigger another 36-39 months of construction. We are seeking to build a new two-line energyfrom- waste plant, which will be processing a further 650,000 tonnes of London's residual waste per year that is presently either being sent to landfill or shipped overseas. Essentially, we want to repatriate the material and generate low-carbon electricity for a further 140,000 homes."
The debate around single-use plastics has held a prominent position on the public agenda for the past few years. As well as running the Belvedere EfW plant, Cory also operates a large Materials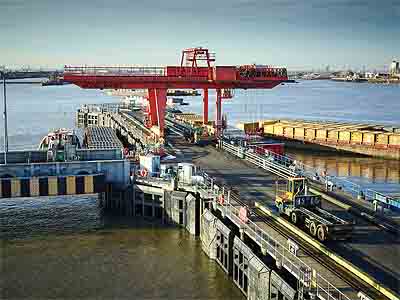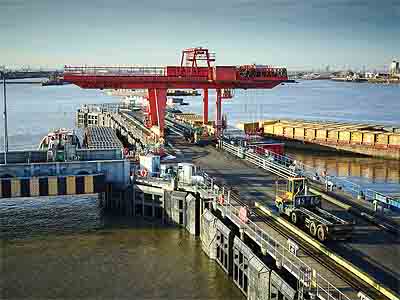 Recycling Facility (MRF) in Wandsworth. This means that the company is a staunch supporter of every initiative that helps recycling become a habit for households in and around England's capital, and has invested significantly in improving London's recycling infrastructure.
"Our Materials Recycling Facility has the capacity to process 70,000 tonnes of recyclables, including plastics," Andy points out. "Therefore, we fully encourage London citizens to segregate recyclable waste from their non-recyclable waste as much as possible, and to wash the plastics before they dispose of them. We can also envisage the introduction of deposit return schemes for bottles and glass in the future, so recycling is definitely going to grow in importance and our mission will be to educate the people on how exactly to separate different recyclable items for us to make the best use of them."
Visualising the scale of London's future energy requirements, Andy reiterates the need for efficient waste management in the light of the city's increasing capacity gap when it comes to both electricity supply and waste processing. "The decommissioning of all coal-fired power stations, coupled with the struggle to process residual waste effectively due to landfills closing, pits London against a capacity crisis," he analyses. "There are currently 11 landfills around the city, but by 2025, only two or three of those will remain open. The question is: where is waste material going to go in this case?
"It is our firm belief that we need to be utilising more of UK's waste in facilities here, in this country," Andy continues. "As it stands at the minute, the waste that does not go to landfill is sent overseas, which deprives us of the opportunity to make better use of it. This being said, we are confident that our proposed investment in a new Energy from Waste plant is a timely step to ensure that more low-carbon electricity is being generated in the UK, thus adding significant value to the country's economy," he concludes.
Cory Riverside Energy
Services: Resource management, recycling, and energy recovery