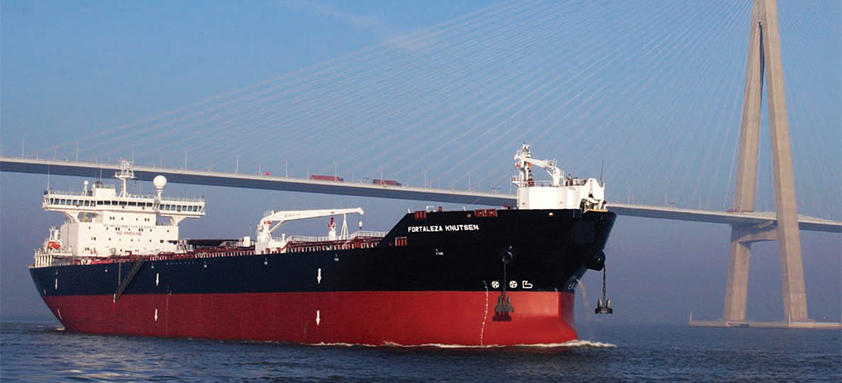 Healthy development
Founded in June 2001, COSCO Shipyard Group is a subsidiary of the China Ocean Shipping Company (COSCO).
In itself a large enterprise, the company specialises in offshore newbuilding/upgrades, the building of large vessels, marine engineering constructions; and provides ship repair and building services and offshore engineering.
The global offshore industry has seen huge development, and China's capacity to build offshore facilities has evolved with this. The COSCO Shipyard Group has now reached a level where it is competing with global shipbuilders in repair and construction of offshore facilities. In recent years, the COSCO Shipyard Group has taken the lead in grasping the growth opportunities generated by the emerging market. Based on technological innovation, the yard has successfully transformed itself from a ship repair company to a globally renowned offshore equipment manufacturer, having finished the design and construction of a number of world-leading offshore products.
From as early as 2006, with a global vision, COSCO Shipyard set up an offshore research and development (R&D) centre with over 30 overseas experts, which set the foundation for a successful transformation. In 2009, COSCO achieved a crucial breakthrough in design and manufacturing technology when the world's first cylindrical ultra-deepwater offshore drilling platform 'Sevan Driller' was built by the COSCO Nantong Shipyard, achieving a number of firsts in the world and winning the National Science and Technology Progress Award in 2011. In August 2012, 'Sevan Driller' (chartered by Petrobras) caused a stir in the global offshore industry when it discovered the largest ultra-deepwater oil and gas field in the world.
With the delivery of a number of major offshore projects, the COSCO Shipyard Group further strengthened its brand image in the offshore segment. Currently, the COSCO Shipyard Group handles one-third of the total order book in China, and has a large number of projects under construction.
When it comes to facilities COSCO Shipyard Group has a total of 15 working docks, ranging in size from 50,000 DWT to 300,000 DWT, access to over ten kilometres of deepwater coastline, and is able to carry out approximately 600 large ship repairing and rebuilding projects in a single calendar year. These facilities allow the company to undertake the entire spectrum of conversion and repair works on a diverse range of vessels, from LPG tankers to container vessels and VLCCs. The expertise of the company extends from marine projects that included the world's first drilling production storage oil vessel, to cylindrical rigs, self-drilling platforms and semi-submersible offshore oil platforms.
One of the most celebrated contract wins for COSCO Shipyard in the offshore sector was the construction of the newbuild deepwater drilling rig 'Sevan Brazil'. This was of the same design as 'Sevan Driller' (mentioned previously) and was delivered on 6th March 2012. 'Sevan Brazil' is contracted to Petrobras S.A. on a six-year contract for drilling operations offshore Brazil, with start-up occurring in the second quarter of 2012.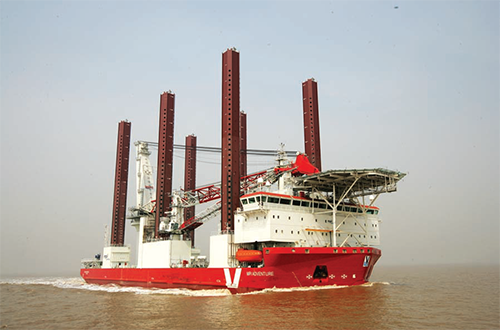 'Sevan Brazil' is a cylindrical semi-submersible offshore drilling platform with advanced capabilities to meet the requirements of ultra-deepwater drilling in water depths of up to 12,500 feet (3810 metres) and a total vertical drilling depth of 40,000 feet (12,192 metres).
In fact, the 'Sevan Brazil' fulfilled its potential in March 2013 when it was announced that the rig had discovered rich reserves in block BM-S-50 while drilling in ultra-deepwater areas in the Santos Basin.
The BM-S-50 block, located in the west of the main oil-bearing zone of the Santos Basin in 1871 metres of water, is operated by Petrobras, which owns a 60 per cent stake in the block. The oilfield has rich reserves stored in the carbonate reservoirs 6150 meters below the salt layer. The oil quality in the area reaches API 31. 'Sevan Brazil' will continue to drill in the area to determine the basic reserves of the field.
By working to a business model that promotes professional services and a strong, modern management style, COSCO Shipyard Group has become the preferred partner for many of the biggest offshore oil service providers and shipping companies in the world. It works out of locations including Nantong, Qidong, Dalian, Zhoushan, Guangdong and Shanghai.
Of the many different offshore projects built by COSCO Shipyard Group, some of the notable examples include an accommodation barge for Exmar Offshore, an ultra-deepwater drillship, 'Dalian Developer', a semi-submersible drilling rig, three ultra-large offshore wind turbine installation jack-up vessels, eight VLCCs upgraded to Floating Production Storage and Offloading Platforms (FPSO), four self-erecting tender assisted drilling rigs for Seadrill, two premium jack-up rigs for KS Drilling Pte Ltd and top side modules for ATP Oil & Gas (UK) Ltd. It has also won contracts for FPSOs, pipe layers, platform supply vessels and an offshore wind turbine installation vessel.
The ultra-large offshore wind turbine installation jack-up vessel, which was designed and built by COSCO Nantong Shipyard and recommended by the Science and Technology Department of Jiangsu Province, was included in the 2012 National Key New Project Plan. This was the first COSCO Shipyard project to enter the National Key New Project, which is designed to encourage independent innovation, promote the development of new products and the transformation and industrialisation of technological achievements.
As recently as March 2013, the COSCO (Zhoushan) Shipyard successfully delivered the 57,000-DWT bulk carrier N384, named 'Oceanmaster', to the Oceanstar Company. The bulk carrier measures 32.26 metres in breadth and is the second 57,000-DWT bulk carrier to be delivered to Oceanstar; N383, the first vessel in the series, was successfully delivered in early 2013. The two companies began co-operating in 2007, when the COSCO Shipyard successfully repaired 'Marilia', and since then the yard has secured four construction orders from the company. Construction of the other two vessels, N385 and N386, is now progressing smoothly in the yard.
March also saw a successful three-day sea trial completed for the 35,000-DWT bulk carrier N366, built by COSCO (Guangdong) Shipyard for Harbor Shipping. While meeting all conventional construction specification requirements, N366 is equipped with a new set of ballast water treatment systems, which meet the new requirements of the NK classification society, making it possible for the ship to sail smoothly in Southeast Asia and Australia, as well as other regions and countries.
Harbor Shipping has worked with COSCO (Guangdong) Shipyard on a total of four construction projects, among which a 57,000-DWT bulk carrier has already been delivered, while the construction of two 35,000-DWT bulk carriers started in May 2012.
In recent years the COSCO Shipyard Group has also completed detailed risk assessments and quality control programmes in relation to LNG repairs. Furthermore, a special LNG ship repair team has been established and trained in SCM Sembawang Shipyard in order to learn the best practices, safety standards and cleanliness control methods that go alongside LNG repair work. The department employs over 100 technicians and engineers, some originally hailing from Japan, Korea and Singapore, who together have helped make the company one of the world's most distinguished offshore marine fabricators.
As a part of the COSCO Shipyard Group's strategy to achieve sustainable growth it has spent the last decade investing heavily in its technology department, one that helps it differentiate itself through the manufacturing of new products and innovative processes. The engineering office of the company was opened in August 2002, and is made up of experts from the company's engineering office and those of several subsidiary companies.
In order to be recognised as a true one-stop-shop, providing its customers with total satisfaction, the COSCO Shipyard Group works to not only upgrade its own services, but also establish strategic partnerships with specialised service providers who themselves are well known in the maritime and offshore industries. On top of these efforts, COSCO Shipyard Group also possesses voyage repair facilities and employs teams based in several major ports along the Chinese coast that are able to provide quick and professional voyage repairs and after sales services to all of the company's customers.
COSCO Shipyard Group
Services: Offshore and vessel newbuilding, repairs, conversion and maintenance