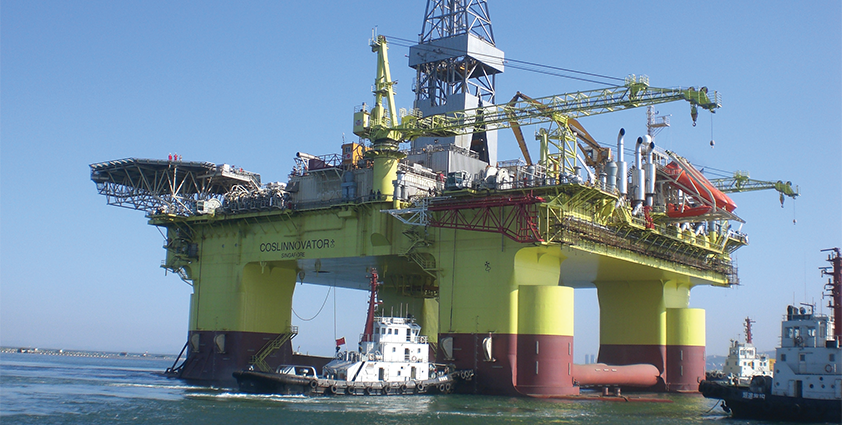 Knowing the drill
Beginning its activities in 2005 as Offshore Rig Services, the vision that would go on to help create COSL Drilling Europe was to build and operate fit for purpose semi-submersible drilling units for drilling in mid-water down to 750 metres.
In August 2006, the company changed its name to OffRig Drilling ASA, before Awilco Offshore acquired 100 per cent of its shares in February 2007. It was then a little over one year later that COSL Drilling Europe AS became the company it is today, following the acquisition of Awilco by China Oilfield Services Limited (COSL).
Parent company COSL is the sixth biggest supplier of drilling services for the global oil and gas industry, providing 90 per cent of all the services used on the Chinese Continental Shelf. With activities in more than 20 countries and regions, COSL operates 31 rigs as well as a number of tankers, supply vessels, tugs and seismic vessels.
At present COSL Drilling Europe operates a total of eight jack-up rigs from Singapore and two accommodation rigs, COSLRigmar and COSLRival, both operating for ConocoPhillips UK, in the North Sea. In November 2010 the company took delivery of what was its first new build drilling unit, COSLPioneer, and this can now be found conducting operations on behalf of Statoil in the North Sea, on the Skinfaks Sør field, as part of a five year contract. This marks the second well to be drilled by the rig since its start up and follows its excellent performance on its first undertaking.
In November 2011 delivery was taken of the second of these semi-submersible drilling units, COSLInnovator, which will go on to arrive in Norway during the first quarter of 2012. A third unit, COSLPromoter is currently under construction at Yantai CIMS Raffles Shipyard and like its predecessors is already attached to a firm contract with Statoil on its Troll Production License. The fixed contract period on each of COSL Drilling Europe's rigs is eight years with an additional eight one-year extension options.
A further step along the company's road to growth will soon occur with the order of a fourth drilling unit from the same yard, which has constructed rig no. 1-3 in China, the difference being that this new unit will be capable of working in water depths of up to 1500 metres, double that of the company's current capabilities. Furthermore, this rig will be specially equipped to partake in operations in harsh environments such as those experienced in Arctic areas like the Barents Sea, Greenland and Canada.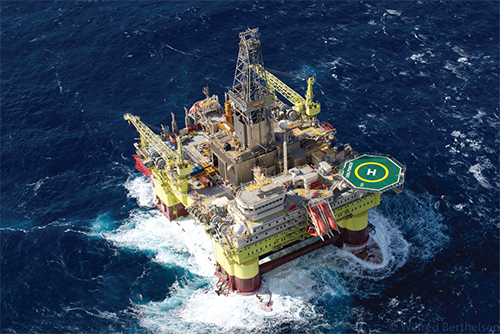 Throughout 2010 and 2011 the company has managed to reach a number of important milestones, while at all times maintaining its steadfast focus on its own HSE&Q performance. 2011's HSE&Q programme has taken into account the company's zero fault philosophy, meaning it has worked to manage all of its activities and risks in such a way that no harm came to any of its personnel, its equipment or the environment. There are a number of ways COSL Drilling Europe seeks to achieve this philosophy. Identifying and preventing risk exposure in all areas of operation on the basis that all accidents are preventable is one such way, as is the integration of HSE&Q in all activities and work processes. On a continuous basis the company is developing the competence of its employees, motivating employee participation and always monitoring the entire company's HSE performance.
Maintaining a strong degree of professional loyalty, security and confidentiality, as well as remaining a fair player that operates in an ethical manner, is equally important. However, the company is just as quick to acknowledge that despite all possible precautions being taken, non-conformities, incidents and accidents may still occur. In such a case COSL Drilling Europe is committed to reporting and following up all such instances, at which time it conducts its own investigations that allow it to learn from such occurrences in order to prevent reoccurrence or similar incidents happening.
What also separates COSL Drilling Europe from other companies working within its field are its core values of honesty, motivation and co-operation, and the fact that it is the first to admit that its success depends upon the abilities and the best efforts of all of its employees. Retaining honesty in all of its operations helps create security, confidence, a good atmosphere in the workplace and makes it a place where everyone is free to speak their mind. Motivation creates satisfaction and growth, makes the company thrive and promotes the growth of fresh ideas, while co-operation creates results, helps the business as a whole develop and goes a long way to building an organisation that promotes self pride and determination.
Staying true to the characteristics and qualities that have been instilled since the company's first day of operation, COSL Drilling Europe is entering a very exciting period of time. Over the next twelve months its two newest rigs, COSLInnovator and COSLPromoter, will enter active service, expanding the company's reach and brand recognition further across the Norwegian Continental Shelf. These will be followed up by its fourth rig, named COSLProspector, which, with its extended drilling depth capabilities, will surely increase the opportunities ahead, making COSL Drilling Europe one of the most exciting new players in the European oil and gas world.
COSL Drilling Europe AS
Services: Semi-submersible rigs and accommodation units