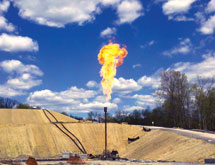 Countrywide Energy Services
When Countrywide Energy Services entered into the Marcellus Shale gas play in 2010, with intentions of specializing in water transfer services, HDPE (high-density polyethylene) pipe was not a popular choice among clients because there were more cost-effective products on the market. However, once owner Jacob Howery came into the scene with a pipe that promised to transfer water with nary a leak, customers began calling Countrywide for its services.
"We are using a HDPE pipe that creates higher volume that allows us to make a more direct path of the draw point or source of water to well a location," Howery says "Instead of having to fight geographical issues of up and down and around, we are basically making a straight line from one place to another. By having a higher-pressure system, it allows us to minimize the distance that we have to move."
Countrywide Energy Services was founded in January 2010 in order to capitalize on the booming Marcellus Shale play and to serve the major natural gas producers who required roustabout and water transfer services. The staff boasts numerous years in the oil and gas industry, which is leveraged in numerous contracts throughout the Marcellus and Utica shale with clients such as Rice Energy, Range Resources, Triana, EQT, Devon Energy and Grenadier.
Environmental Benefits
One of the strengths of Countrywide Energy Services, Howery says, is its minimal impact on the environment and the surrounding communities involved in the shale. The company prides itself to remain a step ahead of state and federal government regulations by employing its own rigorous standards.
"We strive to be ahead of the game as far as knowing what can potentially become of the environment," Howery explains. "So we do our best to stay above any current or future regulation changes. We strive daily to stay a step ahead of regulations."
Countrywide Energy Services guarantees the delivery of a leak-free system that is environmentally friendly. Any fluids being transferred will in no way be exposed to ground or water, according to Howery. "Our focus on the environment is very attractive to our customers," Howery says.
As for the impact on the community, Countrywide Energy Services systems eliminate the need for water trucks to traverse residential areas in the rural regions surrounding the shale plays.
"Truck traffic has a negative impact on locals and small, tight country roads in rural areas where well sites are located," Howery says. "The constant impact of water trucks to local roads are astronomical, so we offer an affordable and smaller solution to that."
Costs Coming Down
Although Countrywide Energy Services products are costlier than its competitors, those costs are decreasing with the help of improved technology. Howery says some of the new products available for his company's systems include flex pipe or fiber woven pipe, which is fused together to decrease the number of large pumps and expensive pipes necessary to transport water.
"Depending on the location of the job, it can be a great savings by having the ability to get water safely from one place to another," Howery says.
Future Considerations
Countrywide Energy Services has plans to expand beyond the Marcellus Shale and into other properties around the country. The company has already moved into the Utica Shale, and Howery says Countrywide Energy can potentially enter into North Dakota, Texas, Oklahoma and Colorado.
No matter where the company is geographically, though, Howery expects his company to work towards being No. 1 in the industry.
"We strive to be No. 1 in everything that we do," he says.
"We have extension potential in a number of different places, but we keep it a small-family atmosphere," Howery continues. "I'd like to know each and every one of my employees, and I still get out and on the job with every one of my pipeline contracts." EMI